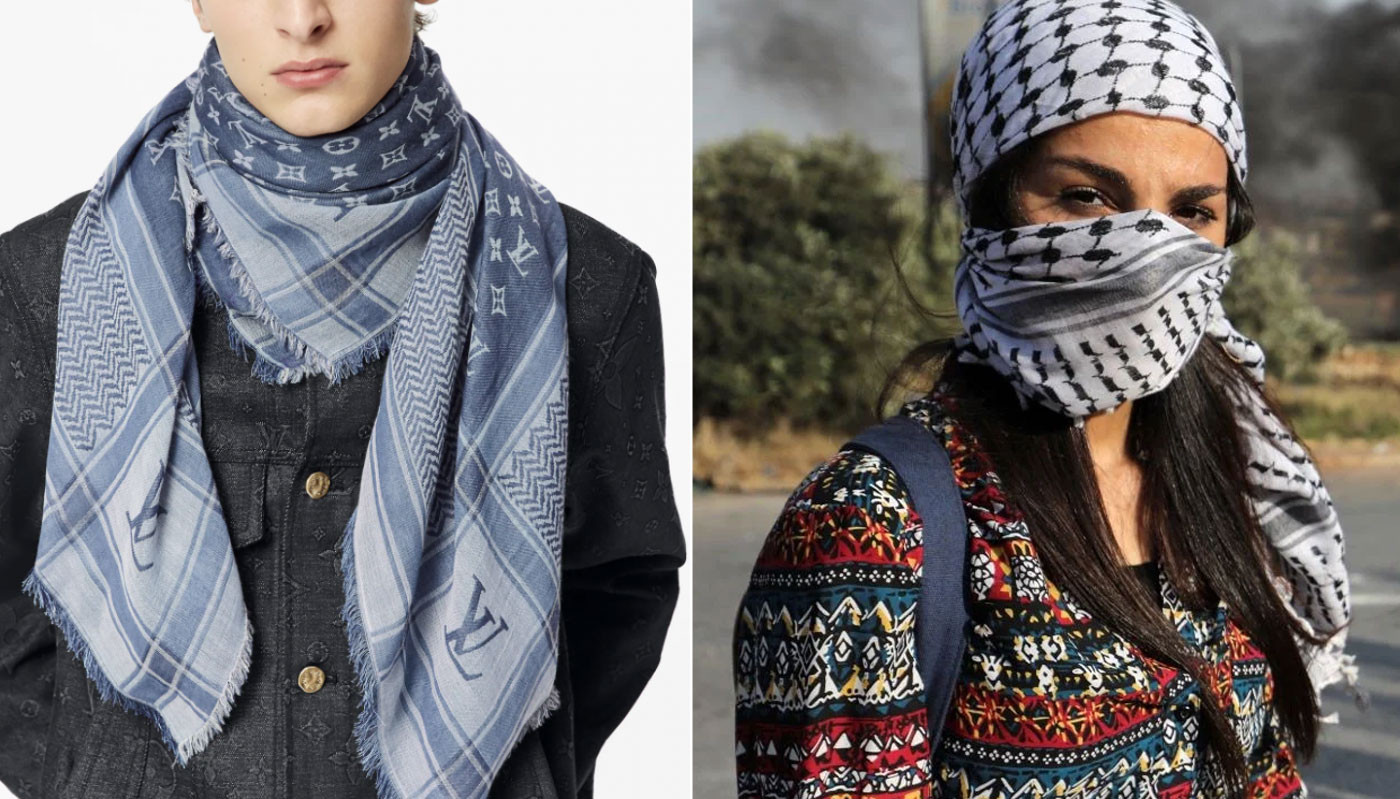 ---
When Bella Hadid was spotted marching at a Pro-Palestine rally in NYC, many lauded the supermodel for her firm stance on ongoing Israel's atrocities in Palestine. While a plethora of celebrities and fans supported Hadid for her take on the matter, rumour had it that she had been ousted from prominent brands due to her untiring support for Palestine.
It was earlier was reported that luxury brand Dior had reportedly cut ties with Bella after her participation in the aforementioned protest. However, leading French design house Louis Vuitton (LV) seemingly backed Hadid's activism - albeit proving that the brand's stance on politics is neutral. Now, LV is facing backlash for selling a Keffiyah-inspired scarf for over PKR109,000 ($705).
The article was brought to attention by Instagram watchdog Diet Prada, where they called out LV's position in the political scenario and slammed the brand for making money off of Palestine's cultural symbol.
"So LVMH's stance on politics is "neutral," but they're still making a $705 logo-emblazoned keffiyeh, which is a traditional Arab headdress that's become a symbol of Palestinian nationalism," the post read.
Providing further substance to the subject, Khaled Beydoun, an author and lawyer, went on to shed the light on the importance of Keffiyeh. "This is more than just cultural appropriation. This is something viler. Far more exploitative," he penned, adding, "First — the amount Louis Vuitton is charging for this mutated and mangled Keffiyeh is insane. Second — the timing of it, given what's happening in Gaza and across Palestine, is also curious and absurd. But so are these times that we are living in. Third — the blue and white colours are either tone-deaf or an insidious form of passive political commentary. Or a disastrous attempt at political irony ("Stole") matching the glib look on the model's face. Fourth — you can get the real deal, original article for no more than $10. And far less from a souk in the Arab world."
He further added, "The very substance (or lack of it) of the LV version clashes head-on with the essential meaning of the Keffiyeh, and everything it represents and aspires to symbolise: liberation, the oneness of a people scattered across economic and geographic lines, and most profoundly, solidarity. What LV is peddling here is everything the kaffiyeh is not, and never will be: superficiality, excess and unbridled materialism."
"Symbols matter. Especially for oppressed people," Beydoun concluded.
While LV isn't the first brand to have been called out for cultural appropriation. Earlier, Diet Prada also highlighted that LVMH is not the first fashion brand to do this. To name a few, brands like Chanel and Fendi have also been a part of making keffiyeh a staple design in the past. Fendi's similar scarf has been retailing for a whopping $1350 (PKR209,000).
Have something to add to the story? Share it in the comments below.