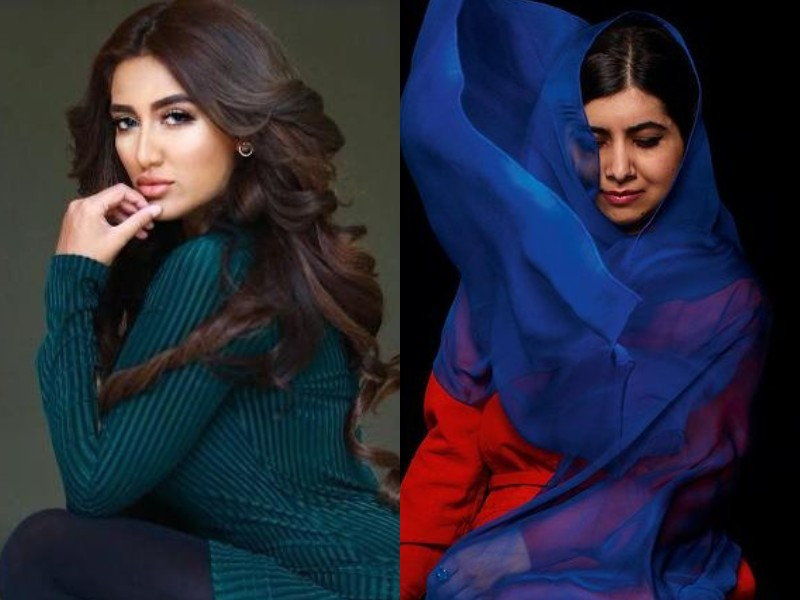 ---
Malala is a top trend on Twitter since yesterday and it's no surprise, provided her extensive Vogue interview which highlighted many aspects of her life and beliefs.
But some of those beliefs were difficult to digest for people, especially her views on marriage and why it may come off as a scary concept given the uncertainty surrounding it. So while touching upon the subject, Malala asked why a marriage is necessary and why can't a relationship be simply based on a partnership?
In response, many on Twitter and other social media handles, called out the Nobel Peace Prize laureate for putting out an "irresponsible" statement which may harm the institution of marriage and thereby, the importance of having a family with a "legitimate partner". Many also accused her of propagating a "modern" narrative.
So Mathira, who's known to speak her mind loudly and proudly, also took to her Instagram and shared her two cents on Malala's statement.
"I love her cover for sure, it's very [pretty]," she wrote. "Malala, please we should be teaching this generation that nikkah is sunnah, it's not just about signing a paper – you aren't buying a plot, lol," added the television personality. "It's about praying and getting your new beginning blessed in a proper way," she claimed.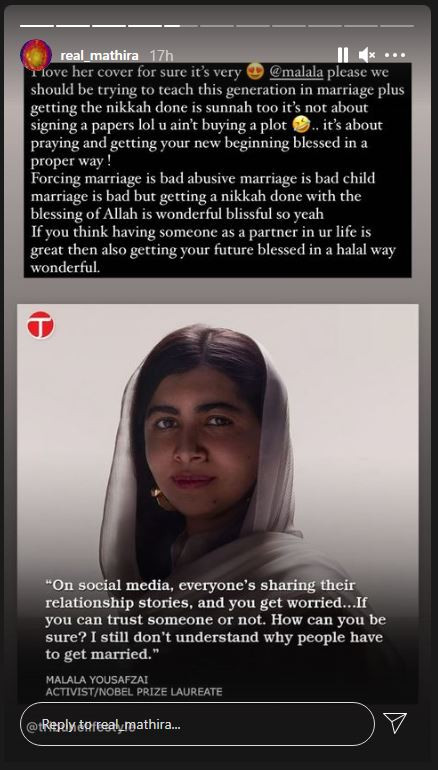 Mathira then acknowledged that forced marriages and abusive marriages are bad, but tying the knot with the blessings of God is 'wonderful'. "Forced marriages, abusive marriages, child marriages are bad. But getting a nikkah done with the blessings of Allah is beautiful. So if you think having someone as a partner in your life is great, then getting your future blessed in a halal way is wonderful," concluded the social media star.
Questioning the reasons behind marriage, Malala had inquired, "Thinking about relationships, you know, on social media, everyone's sharing their relationship stories, and you get worried…If you can trust someone or not, [and] how can you be sure." She went on, "I still don't understand why people have to get married. If you want to have a person in your life, why do you have to sign marriage papers, why can't it just be a partnership?"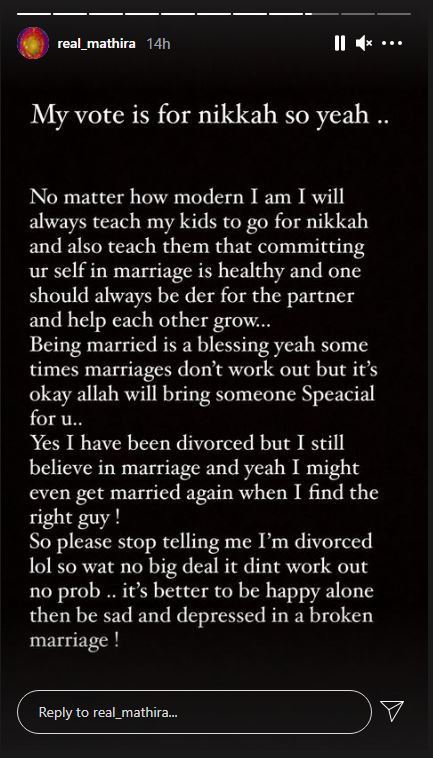 In another Insta story, Mathira told her followers that just because her previous marriage did not work out, does not mean she does not know the value of marriage. In fact, her admiration for it may even lead her to tying the knot again. "No matter how modern I am, I will always teach my kids to go for nikkah and also teach them that committing yourself in marriage is healthy. Yes, sometimes marriages don't work out but Allah will bring someone special for you," she said.
Reinstating how a divorce should not tarnish one's faith in love, she added, "And yeah, I might even get married again when I find the right guy. So please stop telling me I have been divorced, no big deal. It's better to be happy alone than be sad and depressed in a broken marriage."
Have something to add to the story? Share it in the comments below.