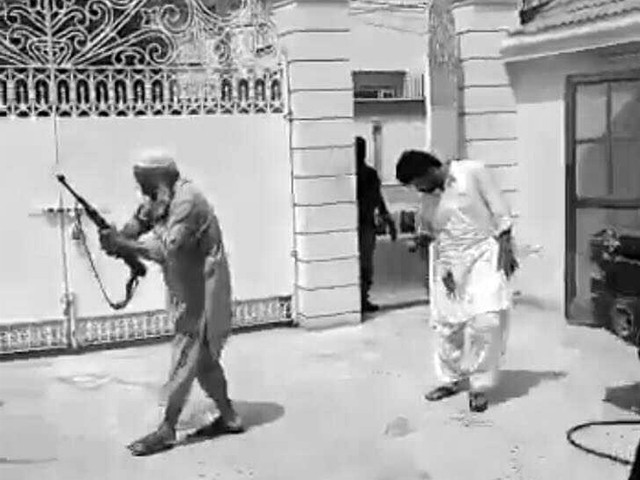 ---
KARACHI:
At least nine people were injured in Defence Housing Authority (DHA) on Wednesday, when a security guard opened fire on the set of a television drama serial at a bungalow on Khayaban-e-Shujaat.
A quarrel between the security guard and the production crew, which was on the premises for the shoot, escalated to firing, said South SSP Zubair Nazeer, quoting initial findings.
Also read: Police chief visits station as common man in Karachi
The guard, identified as Gul Bai, was arrested immediately while the injured persons were shifted to Jinnah Postgraduate Medical Centre (JPMC).
The SSP said that crew members were having lunch on a porch in the parking area of the house, which had been rented out by a private production company. The security guard told them that the owner of the bungalow has restricted people from eating in the parking area and asked them to move, said Nazeer.
But the crew members ignored Gul and this enraged him, according to the SSP. The guard fired shots at the ground and the bullets ricocheted, hitting crew members.
Health officials said that at least one of the crew members was hit by a bullet shell while the nature of the other crew members' injuries was not immediately shared. Some were reportedly injured in the panic that spread after gunshots were fired and others by shrapnel.
They were identified as Muhammad Owais, 22, Muhammad Shehzad, 24, Akbar, 25, Zahid Ali, 27, Qamber Ali, 31, Farhan Alam, 34, Muhammad Yousuf, 37, and Shehzad, 37.
The police collected a spent bullet shell and other evidence from the crime scene besides confiscating the security guard's rifle and launched further investigation.
Later an FIR was lodged at the Clifton Police Station on the complaint of the production company's technical director.
One killed, two injured near Lyari Expressway
At least one person was killed and two others were injured by gunfire in Pak Colony Garden area, near the Toll Plaza on Lyari Expressway.
According to police, men on a motorcycle opened fire in the area, killing Shabbirur Rehman, 55, and injuring his son, Waqarur Rehman, and relative Asad Kabirur Rehman, 35.
The police have launched an investigation into the matter.
Clash with guns, iron rods
A group of men brandished guns, iron rods and sticks as they attacked each other during a dispute in Mianwali Colony in the limits of Pak Colony Police Station.
According to SHO Nadeem Khan, the clash was between brother-in-laws and their relatives and at least four people were injured.
Khanzair, 43, son of Azeem Khan, and Sehzad, son of Azeem, were shifted to Dr Ruth Pfau Civil Hospital sporting gunshot wounds. Sajjawal Khan, 27, son of Azeem Khan, and Haibat Khan, 36, son of Haq Nawaz, who were beaten by rods and sticks were also brought to the same hospital.
The police were investigating the matter further.
(With additional input from DNA)