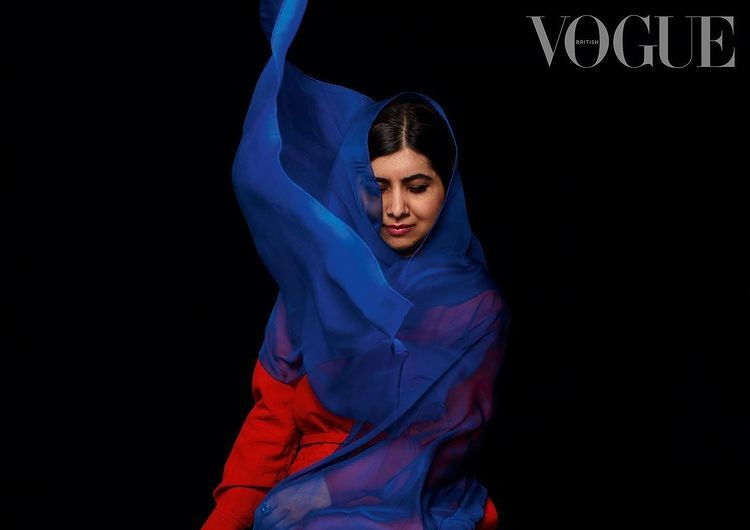 ---
World's youngest Nobel Peace Prize laureate, Malala Yousafzai, graced the cover of Vogue UK's July 2021 issue, stunning fans in a red and royal blue ensemble while donning another supple plain white ensemble for the pictures. Speaking in depth about her life and future plans, Malala tells the outlet that she lies awake in bed for hours, asking herself, "What am I going to do next?"
Malala published her autobiography, I Am Malala (2013), a year after her attempted assassination, and it became an international bestseller. At the age of 15, she launched Malala Fund, for which she traveled around the world advocating for girls' education. Malala, who has sat with presidents and prime ministers, addressed the United Nations Youth Assembly on her 16th birthday and became a "one-word lightning rod for change across the globe," according to the magazine. Receiving a Nobel Peace Prize at the mere age of 17, while achieving a string of A* grades in GCSE, Malala went on to join Oxford University to study politics, philosophy and economics, and graduated with honours.
Power of a young girl
But her journey truly began when at 11 she started blogging for the BBC under the pseudonym Gul Makai. She shared what it was like to live under threat at all times. And like the Sussexes and the Obamas, who have turned to broadcasting to connect with the public, after finding the means and resources, Malala started thinking about making her own programmes.
She met with major streaming platforms who were irrevocably interested in working with her and in March this year, Malala announced a multi-year partnership with Apple TV+, along with the launch of a brand-new production company, Extracurricular. "I want these shows to be entertaining and the sort of thing I would watch," she says. "If I don't laugh at them or enjoy them, I won't put them on-screen," says Malala, who recently made an appearance on the Friends Reunion as well.
Details of the shows she'll be putting out are still being kept under wraps, but we can expect to start seeing her output next year. Animations, dramas, children's shows, it's all in the works – and the young star also hopes to give a platform to talent from around the world. "I come from a different background and I also wonder, if a woman from a valley in Pakistan had made South Park, what would that look like?" she remarks.
According to the author, Malala is already an elder stateswoman of sorts for the Gen Z activists, since she is also friends with 18-year-old Greta Thunberg, who visited her at Oxford, and 21-year-old gun control campaigner Emma González, both of whom text her for advice. "I know the power that a young girl carries in her heart when she has a vision and a mission," asserts the public figure.
Importance of marriage
But when asked about love, Malala appeared embarrassed and horrified; only to later address the subject with concerns any young adult would raise about long-term relationships. Questioning the reasons behind marriage, Malala inquires, "Thinking about relationships, you know, on social media, everyone's sharing their relationship stories, and you get worried…If you can trust someone or not, [and] how can you be sure."
She goes on, "I still don't understand why people have to get married. If you want to have a person in your life, why do you have to sign marriage papers, why can't it just be a partnership?" Like all desis, she assures that her mother keeps telling her about the beauty of marriage too. She also reveals that her father gets emails from suitors who flex their land and money to get him to marry their daughter to them.
Malala then reveals that her biggest fear, is failing the voiceless girls who rely on her; the girls whose parents save their money to send their brothers to school, the girls who are married off to men much older than them, the girls who can't read. Malala thinks about these girls all the time.
A normal life
Malala also recalls how when she joined Oxford, she wanted to be seen as "any other student." And so her college principal offered to write an email to other students who would interact with her, informing them "to respect Malala's privacy."
She says that she didn't want them to see her as someone they saw on television and wanted to be in the company of people her own age. So she lived her college life like any regular student, who hangs out with friends, stays up late and shops.
"I was excited about literally anything, going to McDonald's [a sweet chilli chicken wrap and a caramel frappe is her go-to order] or playing games with my friends or going to a talk or an event. I was enjoying each and every moment because I had not seen that much before," she informs. "I had never really been in the company of people my own age because I was recovering from the incident and travelling around the world, publishing a book and doing a documentary, and so many things were happening. At university I finally got some time for myself," adds the activist.
She also relays how carrying a dupatta, for her, is a symbolic representation of empowered Pashtun women, as opposed to women who are oppresed or forced to cover themselves. "It's a cultural symbol for us Pashtuns, so it represents where I come from. But when we Muslim, Pashtun or Pakistani girls follow our traditional dress, we're considered to be oppressed, or voiceless or living under patriarchy. I want to tell everyone that you can have your own voice within your culture. And you can have equality in your culture."
Have something to add to the story? Share it in the comments below
COMMENTS
Comments are moderated and generally will be posted if they are on-topic and not abusive.
For more information, please see our Comments FAQ