 ---
President of Tajikistan Emomali Rahmon reached Islamabad on Wednesday on a two-day official visit to the country.
Federal Minister for Industries and Production Khusro Bakhtiyar received President Rahmon at Nur Khan Airbase. According to Radio Pakistan, the Tajik president is accompanied by a high-level delegation.
A formal welcome ceremony in honour of President Rahmon was held at the PM House in Islamabad where Prime Minister Imran Khan received the visiting head of state.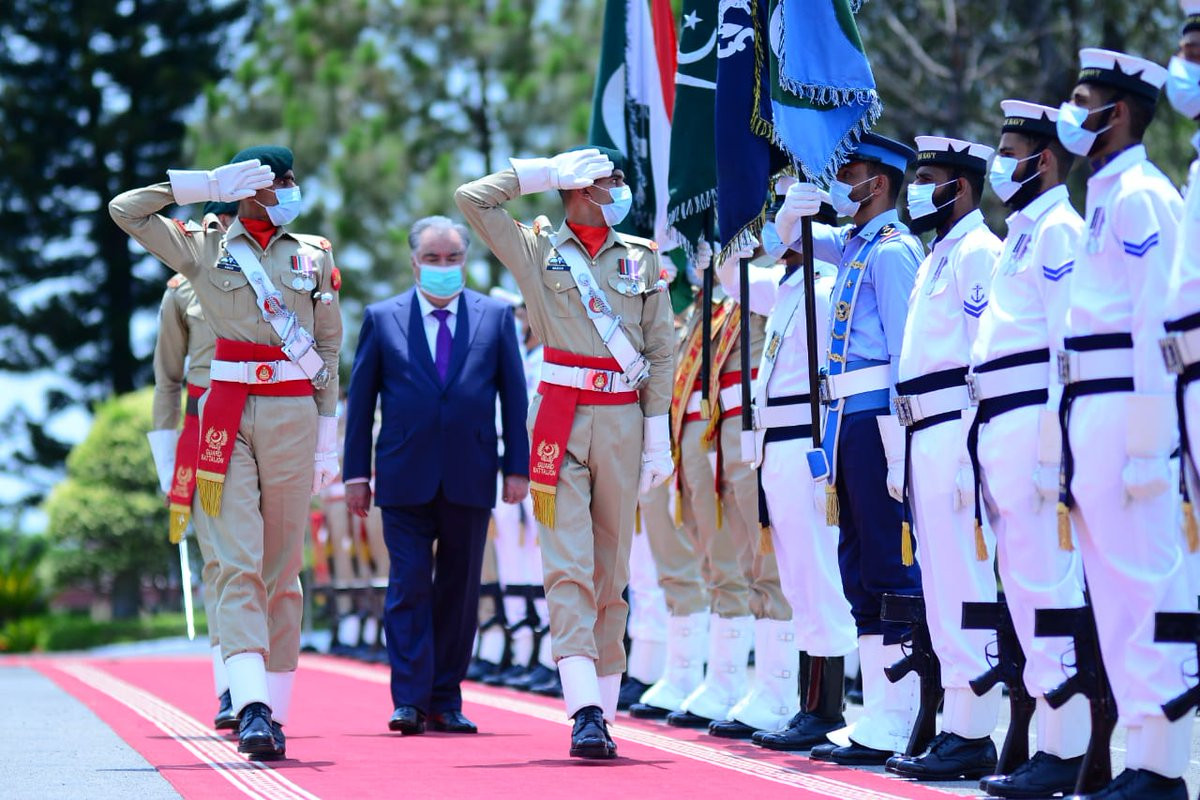 PHOTO: PMO/Twitter
A smartly turned out contingent of the armed forces presented a guard of honour to the Tajik president and national anthems of both countries were also played on the occasion.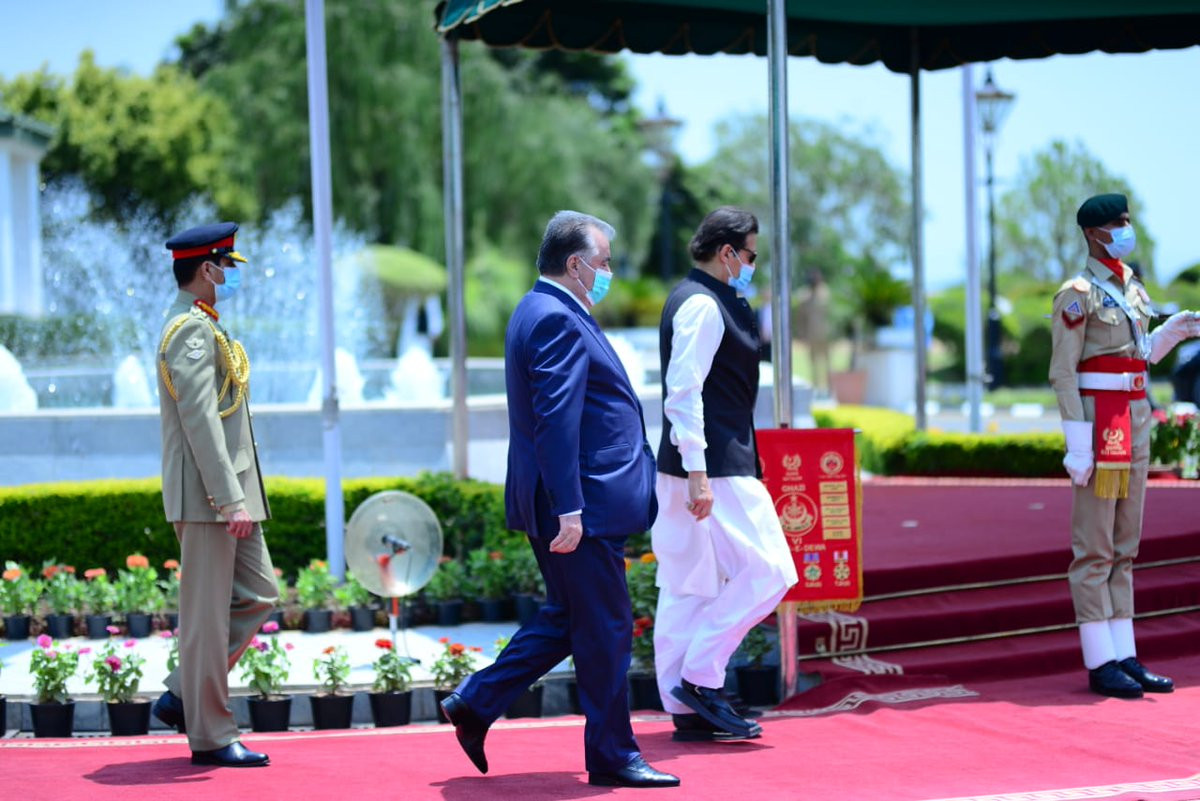 PHOTO: PMO/Twitter
PHOTO: RP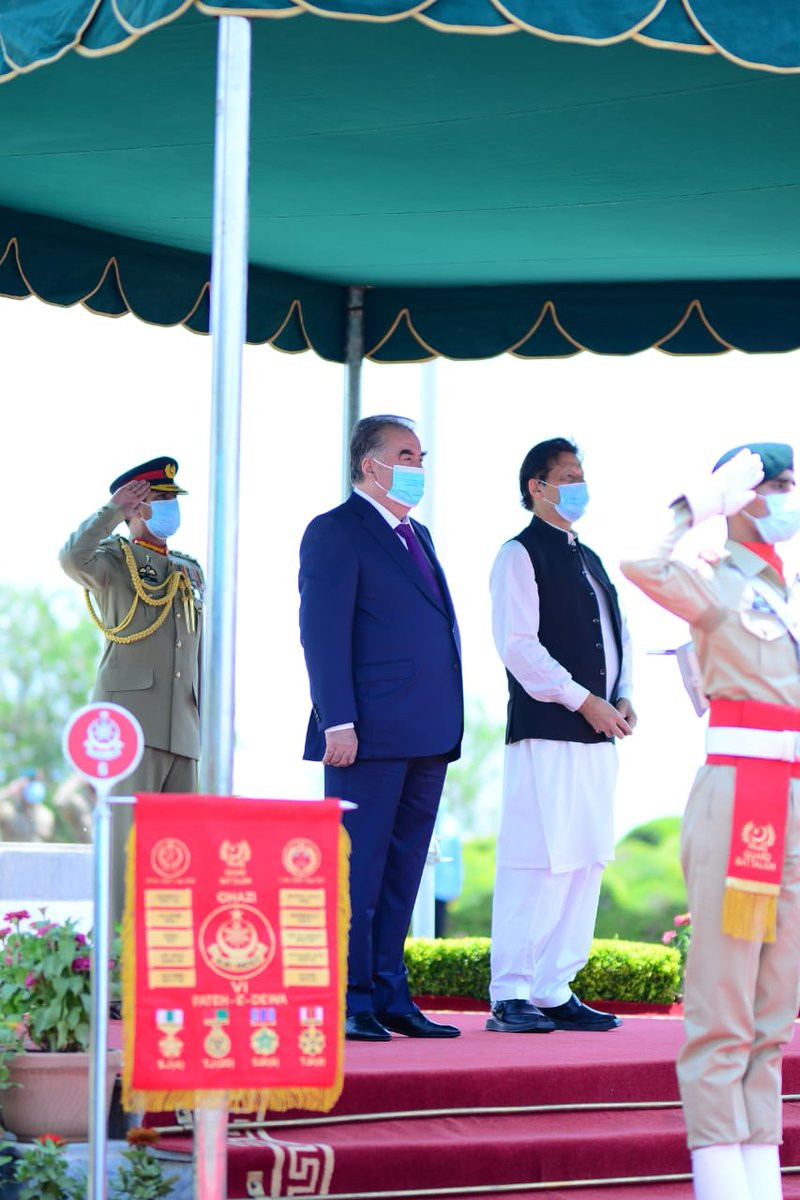 PHOTO: PMO/Twitter
PM Imran and President Rahmon also held a meeting and discussed bilateral relations following the welcome ceremony.
The two sides would also exchange views on deepening bilateral cooperation in diverse areas, including political, economic, trade, investment, energy, security and defence, culture, education and regional connectivity.
Read more: Prospects of Putin's Pakistan visit brighten after gas pipeline deal
A number of agreements and MoUs (memorandum of understanding) are also expected to be signed during the visit. The visiting dignitary would separately meet with President Arif Alvi.
In a statement, Foreign Office Spokesperson Zahid Hafeez Chaudhri said Pakistan and Tajikistan enjoy close brotherly relations underpinned by the commonality of faith, shared history and cultural affinities.
'Pakistan determined to enhance bilateral cooperation with Tajikistan in diverse fields'
During a meeting with President Rahmon, Foreign Minister Shah Mahmood Qureshi said Pakistan was determined to enhance bilateral cooperation with Tajikistan in diverse fields, including education, housing, infrastructure development, technology and energy.
PHOTO: RP
"The two countries have immense potential to expand multi-faceted bilateral cooperation, including trade," the FM further added.
The foreign minister said that it was welcoming to see the leadership of both countries endeavouring to further strengthen the bilateral ties.
"Timely completion of important projects like CASA-1000 will help establish energy corridor between South Asia and Central Asia," FM Quershi said.
The diplomat apprised the Tajik president about Pakistan's reconciliatory efforts and its fruits in Afghanistan. He said Pakistan would continue its efforts for regional peace and stability.
"Pakistan believes that durable peace in Afghanistan is inevitable for progress and prosperity of the region. Tajikistan's efforts for peace in Afghanistan are also commendable," FM Qureshi said.
President Rahmon thanked Foreign Minister Qureshi and the Pakistani leadership for the warm welcome and hospitality.
A day earlier, the FO said in a press release, "At the invitation of Prime Minister Imran Khan, President of Tajikistan, H.E. Emomali Rahmon, will pay a two-day visit to Pakistan on 2-3 June 2021."
The Tajik president's last bilateral visit was in November 2015. In the multilateral context, President Rahmon visited Pakistan for the 13th ECO Summit held in Islamabad in March 2017.
His visit will reinforce the efforts of both sides to forge a long-term, multi-dimensional relationship.
The communique further stated that Tajikistan is important within the context of Pakistan's vision for closer ties and enhanced cooperation with Central Asia states.
"The vision emphasises forging deeper trade, investment, energy, security and people-to-people links. The two countries share common views on major regional and international issues and cooperate closely at various multilateral fora," the statement added.
"Tajikistan is the current chair of SCO. Foreign Minister Makhdoom Shah Mahmood Qureshi visited Dushanbe in March 2021 to attend the Ministerial Meeting of the Heart of Asia-Istanbul Process (HoA-IP), followed by his bilateral visit to Tajikistan."
The FO further said that on May 25, 2021, the two sides held the 5th round of Pakistan-Tajikistan Bilateral Political Consultations (BPC) at the level of Foreign Secretary/First Deputy Foreign Minister and reviewed the whole gamut of bilateral relations.
COMMENTS
Comments are moderated and generally will be posted if they are on-topic and not abusive.
For more information, please see our Comments FAQ