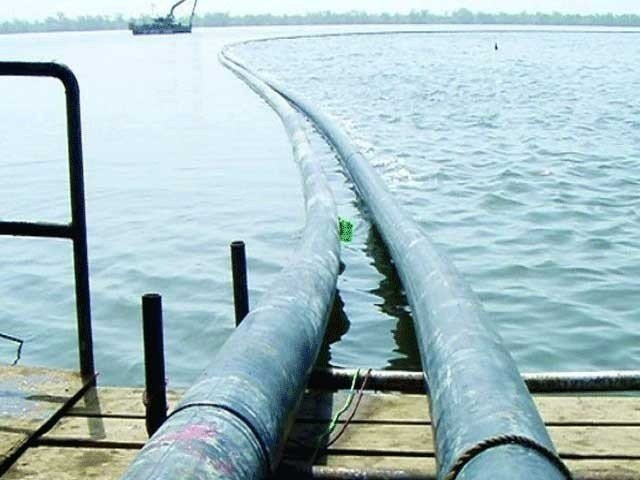 ---
ISLAMABAD:
A day after reversing its earlier decision to reduce water shares of Punjab and Sindh amid protest by the latter, the water regulator has further increased the water shares of the two largest provinces of the country to 106,000 cusecs and 115,000 cusecs respectively.
The Indus River System Authority (Irsa) has also asked the Water and Power Development Authority (Wapda) to appoint inspectors – technical officials – at nine key locations in Punjab and Sindh in line with an instruction of the Ministry of Water Resources.
According to the Irsa spokesperson, Irsa officials held a meeting at the Met Office in which the Met Office director general gave a briefing to them about the weather conditions in northern areas – where most of the rivers emerge from.
"During the meeting it was noted that inflows in rivers have increased from 229,100 cusecs to 252,600 cusecs with an increase of 23,500 cusecs of water in rivers," he said.
The spokesperson said water discharge from Tarbela has increased to 100,000 cusecs from 90,000 cusecs whereas discharge at Chashma Barrage has increased from 100,000 cusecs to 110,000 cusecs.
"[In view of the increased inflows] the share of Punjab has been enhanced to 106,000 cusecs from 101,000 cusecs whereas the share of Sindh has been increased from 109,000 cusecs to 115,000 cusecs."
He said the Met Office officials told Irsa that temperature in hilly areas will remain stable for the next 7-10 days and an increase in inflows will be witnessed.
A day earlier, Irsa reversed its earlier decision to cut water share of the two provinces and increased the share of Punjab from 83,000 cusecs to 101,000 and the share of Sindh from 74,000 cusecs to 109,000 cusecs after a strong protest by Sindh which accused the authority of violating a 1991 agreement.
On Monday, the level of water shortage in the two provinces reduced from 32% to 18% while with further increase in their shares on Tuesday, this shortage was further reduced to 13%.
Also read: Irsa reverses decision, raises Sindh, Punjab's share
The Indus River System Authority (Irsa) also made a request to the Water and Power Development Authority (Wapda) to appoint Inspectors at nine key locations.
The technical officials will work as inspectors and monitor the water flows after further increase in water shares of Punjab and Sindh due to better inflows in rivers.
Irsa Chairman Rao Irshad on Monday wrote a letter to Wapda Chairman Lt General (retired) Muzzamal Hussain, conveying him instructions of the National Assembly Standing Committee on Water for appointment of Inspectors at key locations to monitor water discharges.
The letter was written after days of verbal fight between Irsa chairman and Member Sindh Zahid Junejo.
The key six locations in Punjab where Inspectors are being appointed include Taunsa headway, Rasul headway, Marala headway, Trimmu headway, Chashma Barrage and Panjnad headway whereas in Sindh inspectors will monitor water discharges at Guddu, Sukkur and Kotri Barrages.
On May 27, 2021, Ministry of Water Resources wrote a letter to Irsa chairman asking him to immediately appoint water Inspectors at key locations of the Indus Basin Irrigation System "to dispel the impression of misreporting within a week's limit".
The Sindh government on Monday announced a protest against scarcity of water and the resultant power outages at district level from June 3 through June 15.
"If Irsa does not take notice of our protest then we will stage a sit-in at Kamu Shaheed," PPP Sindh leader Nisar Khuhro had said in a press conference in the Sindh Assembly. Kamu Shaheed is the last city of Sindh located between Thar canal and Sehar canal.
Sindh Minister for Irrigation Sohail Anwar Sial also rejected Punjab Chief Minister Usman Buzdar's invitation for Sindh lawmakers and experts to visit barrages in Punjab. He said Sindh had grievances against Irsa and not Punjab.
However, in the same breath, the provincial minister had asked CM Buzdar to explain why water was released in the Chashma-Jhelum Link Canal and the TP Link Canal. He had alleged that link canals were illegally opened in Punjab, causing over $3 billion losses to Sindh.
"Sindh was supposed to receive 33 million acre-feet (MAF) water but it received just 33.89 MAF," he said. The minister also invited experts from Punjab to visit Sindh.
Later at a press conference, Minister of State for Information Farrukh Habib said Prime Minister Imran Khan had ordered the relevant authority to install a telemetry system to measure the flow of water in rivers and to ensure equitable distribution of this precious resource.
"This [telemetry] system is necessary to measure the amount of water received by each province and to reduce losses," the minister said. He was flanked by PTI Sindh leader Haleem Adil Sheikh and Punjab Minister for Irrigation Mohsin Leghari.
Sheikh had said the distribution of water has been turned into a political issue rather than a technical one and that claimed an effort was underway to misinform the people and create confrontation between the federal government and Sindh.
Water account
Irsa on Monday said both Punjab and Sindh faced 20% water shortage during April 1 to May 31, according to a water account for the period as per statistics provided by the provinces.
"The water account was prepared after every 10 days based on the water usage of the provinces," Irsa spokesman said.
According to the account, Punjab utilized 7.76 million acre feet (MAF) of water in its canals against its share of 9.74 MAF while Sindh used 4.31 MAF in its canals against its share 5.40 MAF during the period.
"Balochistan used 0.14 MAF water against its share of 0.32 MAF in its canals during this period. Balochistan faced 55% shortage while Khyber Pakhtunkhwa utilized its full share of 0.32 MAF," it said.
(WITH ADDITIONAL INPUT FROM APP)