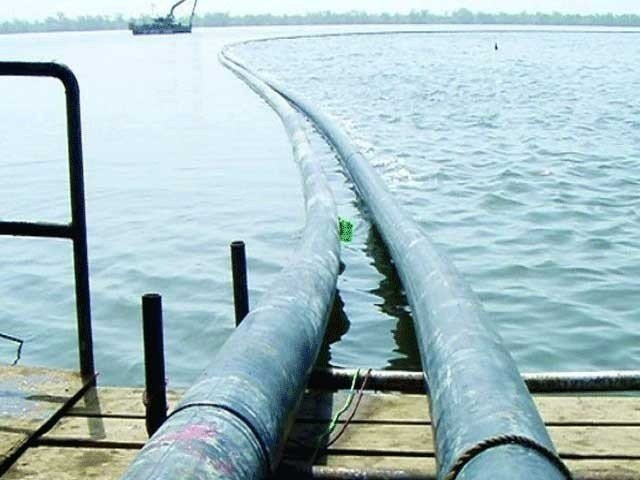 ---
ISLAMABAD:
In a reversal of its decision, the Indus River System Authority (Irsa) on Monday decided to increase water share of Sindh and Punjab provinces.
On Friday, the water authority decided to apply 32 per cent shortages to the two larger provinces instead of 23 per cent shortage at present.
The move evoked a strong reaction from the PPP-led Sindh government, prompting it to announce a protest at district levels against Irsa for not providing the province its due share of water.
Moreover, the Sindh government also turned down an invitation of Punjab Chief Minister Usman Buzdar for the provincial assembly lawmakers and experts to visit Punjab's barrages, stating that the Sindh has grievances against Irsa and not against Punjab.
Read more: Water protests erupt across Sindh
Irsa officials on Monday held a meeting in Islamabad to review the water situation in the country. The meeting noted that inflow of water in the rivers increased by 24% -- from 172,000 cusecs to 225,000 cusecs – on May 31 and water shortage reduced from 32% to 18%.
In view of this increased inflows, Irsa decided to increase the water releases to the provinces.
Punjab – the largest province in terms of population – will now get 101,000 cusecs of water after 18,000 cusecs increase in its share. The province was earlier receiving 83,000 cusecs.
Sindh province will now receive 109,000 cusecs of water. Irsa increased the province's share by 35,000 cusecs. Earlier, Irsa was releasing 74,000 cusecs to the province. The meeting noted that due to rising temperature in the northern areas, flow rate in the rivers is increasing
"Because of good management of Irsa at Chashma Barrage, water shortage has been limited to 8,000 cusecs in recent days," Irsa spokesperson Mohammad Khalid Idrees Rana later said.
"The authority assures the stakeholders that all provinces are present as a single unit at Irsa and that the authority is distributing water fairly as per the 1991 water agreement," he said. The authority also asked the provinces to modernize their water use practices to minimize wastage.
However, the Sindh government has announced a protest against scarcity of water and the resultant power outages. It said the provincial government will stage the protest against Irsa at district level from June 3 through June 15.
"If Irsa does not take notice of our protest then we will stage a sit-in at Kamu Shaheed," PPP Sindh leader Nisar Khuhro said in a press conference in the Sindh Assembly. Khuhro was flanked by the provincial minister for irrigation, Sohail Anwar Sial, and former senator Aajiz Dhamrah.
Kamu Shaheed is the last city of Sindh located between Thar canal and Sehar canal.
Sohail Anwar Sial also rejected Punjab chief minister's invitation for Sindh lawmakers and experts to visit barrages in Punjab. He said Sindh had grievances against Irsa and not Punjab.
However, in the same breath, the provincial minister asked CM Buzdar to explain why water was released in the Chashma-Jhelum Link Canal and the TP Link Canal. He alleged that link canals were illegally opened in Punjab, causing over $3 billion losses to Sindh.
"Sindh was supposed to receive 33 million acre-feet (MAF) water but it received just 33.89 MAF," he said. The minister also invited experts from Punjab to visit Sindh.
Later at a press conference, Minister of State for Information Farrukh Habib said Prime Minister Imrah Khan has ordered the relevant authority to install a telemetry system to measure the flow of water in rivers and to ensure equitable distribution of this precious resource.
"This [telemetry] system is necessary to measure the amount of water received by each province and to reduce losses," the minister said. He was flanked by PTI Sindh leader Haleem Adil Sheikh and Punjab Minister for Irrigation Mohsin Leghari.
Habib said after construction of 10 more dams in the next ten year, the country will have water as well as electricity in abundant quantities.
"After completion of these water reservoirs, we will be able to store up to 13 million acre-feet water. At present, a number of cities including Charsadda and Naushera are worst affected during monsoon. After completion of these water reservoirs these areas will also be protected," he said.
Sheikh said the distribution of water has been turned into a political issue rather than a technical one. He said he was representing the people of Sindh and claimed an effort was underway to misinform the people and create an environment of confrontation between the federal government and Sindh.
Haleem Adil Sheikh said water losses in Punjab were just 1% but in Sindh these losses jumped to 39%. "These are actually not losses. It is water theft," he said.
Sindh Assembly opposition leader said the provincial government did not carry out "bhal safai" – canal cleaning – exercise. "It also did not work on Left Bank Outfall Drain (LBOD) while it offered direct connections to around 350 land owners," he added.
COMMENTS
Comments are moderated and generally will be posted if they are on-topic and not abusive.
For more information, please see our Comments FAQ