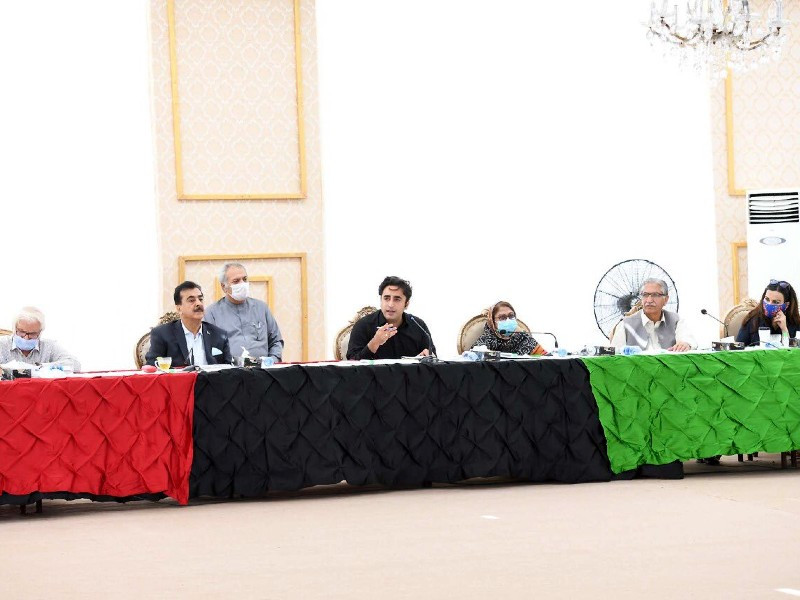 ---
KARACHI:
Pakistan Peoples Party Sindh chapter on Monday announced to stage a province-wide protest against Indus River System Authority from June 3 to 15 over injustice on distribution of water besides acute water shortage, and prolonged electricity and gas load shedding.
The party further threatened to resort to a sit-in at Kamoo Shaheed, the last town of Sindh on border of Punjab in case no notice of the protest is taken.
PPP Sindh President Nisar Ahmed Khoro made the announcement after the PPP Sindh executive meeting while addressing a press conference at the media corner where he was flanked by provincial irrigation minister Waqar Mehdi, and Ajiz Dhamra at the Sindh assembly.
Sindh will not remain silent on the injustices of the federal government and IRSA and will stage a province-wide protest, he said.
Protest demonstrations will be staged in Larkana on June 3, on June 5 in Hyderabad city, on June 7 protest will be staged in Mirpurkhas, in Sukkur on June 9, in Shaheed Benazirabad on June 11, in remaining five districts of Hyderabad on June 13, and in Karachi on June 15.
The meeting expressed serious concerns on the acute water shortage in Sindh, prolonged electricity and gas shortage, inflation, and unemployment. The agriculture sector is facing billions of losses due to the severe water crisis in Sindh. Sindh is facing a 40% water shortage. IRSA is playing the role of a B team of the PTI and the federal government.
Khoro further said that the Chashma Jhelum link canal and TP Canal are being illegally run. Illegal pumping machines from Taunsa barrage to Guddu barrage have been installed to steal Sindh's water. He alleged IRSA and its chairman for remaining a silent spectator on the matter.
PTI Sindh leader instead of fighting Sindh's water case from Islamabad is making claims of no water shortage in Sindh, and playing a role against the province. He demanded immediate suspension of Chashma Jhelum link canal and TP canal and to release 10 MAF water under the Kotri barrage. Sindh deserves first right on water, hence, it should be given its entire share.
Earlier, water was released from May 1 for the cultivation of rice yet it was not released this time. Instead of releasing 90,000 cusec water in Sukkur, 48,000 cusecs are being released.
"We are not challenging IRSA's authority but are against its biased attitude." He further warned of staging a sit-in at Kamu Shaheed, a city lying on the Sindh and Punjab border, in case no notice of the Sindh protest is taken. He expressed gratitude to Chairman Bilawal Bhutto for taking up Sindh's water case and doing a favor to Sindh.
Provincial irrigation minister Sohail Anwar Siyal said that IRSA is not ensuring compliance with the water agreement. Sindh has not objected to the Sindh members inspecting the rivers.
The IRSA chairman has apologized to the IRSA representative from Sindh for the rudeness in the meeting but the IRSA Chairman is lying by speaking about the compliance with the water agreement when it is not executing the agreement.
He further said that the Sindh government each year deploys rangers to curb water theft. "Our case is pertaining to executing the water agreement. Lining as far as 1391 km has been done in Sindh," Siyal said on the occasion.
Senior Vice President Manzoor Wassan, general secretary Waqar Mehdi, Sarfaraz Rajar, information secretary Ajiz Dhamra, Aijaz Jhakrani, Javed Nayab Laghari, Mansoor Shahani, Noman Sheikh, Shakeel Memon, divisional presidents and several other officials attended the meeting led by provincial president Nisar Khoro.
Published in The Express Tribune, June 1st, 2021.