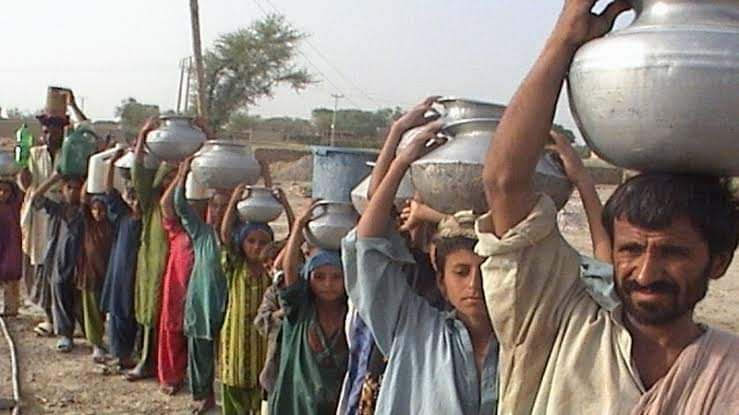 ---
KARACHI:
For the third time in two years, the Sindh Public Health Engineering Department minister failed to provide a satisfactory answer to queries over nonfunctional mega drinking water schemes in various districts of Sindh.
He continued with the rhetoric of "the matter will be resolved soon". During the assembly session, chaired by deputy speaker Rehana Leghari, Pakistan Tehreek-e-Insaf MPA Adeeba Hassan moved a call to attention notice.
"This is the third or fourth call to attention about reverse osmosis plants and other drinking water schemes which are dormant," the MPA observed. She added salaries are not paid to the protesting employees of these projects.
The MPA claimed the minister of the department was constantly giving excuses rather than resolving the issue. "I want to learn what steps have taken to resolve this matter," she concluded in a brief speech.
Minister for Public Health Engineering department Mir Shabir Bijarani repeated a year-old answer and said that a private company was the given contract to setup RO plants and run them." Their contract with the government is now over," he said. "We are making sincere effort to revive all schemes. The issue of salaries have also been resolved and soon water supply will be resume in Thar and other districts of Sindh," he said.
The reports pouring in from various districts of Sindh, however, suggested that employees working for RO plants, which include 750 schemes in Tharparkar alone, are still protesting with no sign of relief in sight.
There were also reports of people lining up at sweet water wells and hand pumps in Thar, Badin and Thatta. During the session, Muttahida Majlise Amal (MMA) MPA Abdul Rashid spoke about the growing trend of street crime in Karachi.
He said law and order was also worsening in upper Sindh districts. In his call attention to notice, he said street crime was increasing by the day in district south of Karachi. "The SHOs don't respond to public grievances," he alleged.
Referring to a CPLC report about street crime, the MMA MPA said hundreds of mobile phones have been snatched and a large number of vehicles stolen by criminals from different areas of the city in the last four months.
"Around 147 robberies have taken place in the specified time," he said. The MPA added 62 people have either been killed or injured when resisting robbery bids. "Gangsters and target killers are reorganising their dens and networks. The cops are busy in minting money in the name of SOPs, even in a pandemic," he lamented.
Provincial minister Imtiaz Sheikh, responding to his concerns, said government department and different agencies are working to improve law and order and have succeeded. "Llaw and order is significantly better than the old days. It will be further improved," Sheikh added.
Grand Democratic Alliance MPA Nand Kumar Goklani drew the house's attention to the employment of white collar employees who were hired as sanitary workers in Kumb union council of Khairpur Mir district. "For a long time, they have been drawing salaries and other benefits, but don't turn up for duty."
Since the local government minister and his parliamentary secretary were not were present in the house, the deputy speaker deferred the call to attention notice for another day.
During, the question-answer session, PPP MPA and parliamentary secretary Nida Khuhro responded to questions related to industries and commerce. She claimed small and medium enterprise initiatives were being promoted. She said small industrial zones were set up in Larkana, Khairpur, Hyderabad and other districts.
Muttahida Qaumi Movement MPAs protested inside the assembly when the deputy speaker adjourned the session till Tuesday (today) without entertaining their resolution on Karachi and Hyderbabad's poor economic condition due to lockdown restrictions.
Published in The Express Tribune, June 1st, 2021.