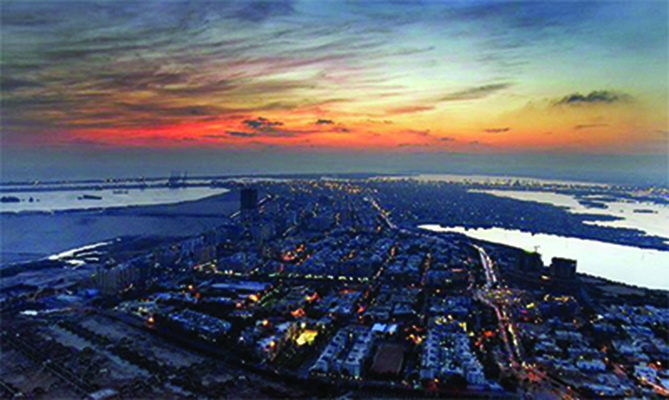 ---
KARACHI:
The government says the size of Pakistan's economy will grow to $296 billion at the end of current fiscal year in June from $263 billion last year.
This massive growth in dollar terms is partly due to an estimated 4% economic growth in rupee terms this year against 0.4% slump in the previous year and partly because of a record appreciation in the rupee value.
In 10 months and three weeks of the current fiscal year (from July 1, 2020 to May 21, 2021), the rupee gained 8.5% of its value against the US dollar.
What is more heartening is the fact that the rupee's gain is not artificial. It is very much real. It is not that the State Bank of Pakistan (SBP) has pumped in lots of dollars into the forex market to pamper the rupee. On the contrary, thicker inflows of remittances from overseas Pakistanis have contributed the most to the rupee's strength.
However, it is unwise to expect that remittances will continue to grow in the next fiscal year at the same pace that they grew during this fiscal year. In 10 months of current fiscal year (between July 2020 and April 2021), the remittances surged to about $24.25 billion from about $18.8 billion in the same period of previous fiscal year. This 29% increase in remittances is a very welcome development.
Read: Economy back on growth track as predicted: Umar
But let's not forget that so far Pakistanis living abroad have not only been sending foreign exchange back home to support their families, but also they have been repatriating funds to invest in the housing sector and in government debt papers via the Roshan Digital Account.
Meanwhile, export of manpower from Pakistan fell drastically in CY20 to only 224,705 from 625,203 in CY19, according to the Bureau of Immigration and Overseas Employment. This decline in the number of new overseas job-seekers is bound to affect inflows of remittances after a time lag, most likely from the beginning of upcoming fiscal year in July.
Between January and April this year, 107,418 Pakistanis went abroad for jobs. If this number keeps on rising and touches the level seen two years ago, that may help ensure sustained high inflows of remittances.
But that seems a remote possibility given the economic issues facing Saudi Arabia and the UAE (two main host countries for Pakistani diaspora) and given the fact that Pakistan's strategic relationship with these countries is not as friendly as in the past.
Exports and imports
Merchandise export earnings in 10 months of current fiscal year rose 13.6% to $20.9 billion from $18.4 billion in the year-ago period.
But the problem is imports which grew faster – about 17.8% – and the merchandise import bill in 10 months of FY21 swelled to about $44.75 billion from about $38 billion in the same period of last year, according to the Pakistan Bureau of Statistics. So, unlike remittances, merchandise exports cannot be relied on for providing real support to the external sector because of expansion in the trade deficit.
Total foreign investment, including foreign direct investment (FDI) and portfolio investment, almost doubled to $3.76 billion in 10 months of current fiscal year against $1.88 billion in the year-ago period, according to the SBP. But this has been solely due to a massive foreign investment in government debt securities (read hot money). FDI, in fact, fell 32.5% to just $1.55 billion from $2.30 billion. This is alarming. Isn't it? Foreign portfolio investment in government debt securities can fly out of the country if investors find better investment opportunities elsewhere in the world notwithstanding the fact that the bulk of it is from overseas Pakistanis.
Besides, unlike FDI, the foreign portfolio investment does not play a significant role in promoting industrialisation, modernisation of agriculture and expansion in the services sector, which will lead to better economic growth prospects. It just helps the government to fix the holes in its current account and stabilise the rupee for the time being.
Large-scale manufacturing (LSM) output that grew 9% year-on-year in nine months of current fiscal year is estimated to finish the full year in June with even higher growth of 9.3%, according to the government's provisional estimates.
If this turns out to be true and if the agriculture sector's estimated growth of 2.8% also turns out to be accurate, then a near 4% economic growth for this fiscal year seems likely.
However, the LSM growth this year is entirely due to last year's low base effect, when it had slumped more than 10%. This means achieving LSM growth in the next fiscal year will be a really tough task, more so because of the planned energy price hikes as demanded by the IMF.
Read more: 'ADP aims to revive pandemic-hit economy'
Subsidies
Much depends on whether new Finance Minister Shaukat Tarin will be able to win relaxation in the IMF demand for accelerated withdrawal of energy subsidies and rationalisation of subsidies meant for export-oriented sectors.
The estimated 2.8% agricultural growth this fiscal year will still fall short of last year's 3.3% expansion. This effectively means despite all the tall claims of PTI about bringing agricultural revolution, nothing has so far happened.
In the next fiscal year, all eyes will be fixed on what exactly is done by the federal and provincial governments to boost agricultural output.
Sindh is already complaining that it is constantly being kept in the dark about the details of Sino-Pak cooperation in agriculture under the next phase of CPEC. Besides, agriculturists across Pakistan are irked by a steep rise in prices of farm inputs. That, too, is a serious issue.
The writer is a mechanical engineer and is doing masters
Published in The Express Tribune, May 31st, 2021.
Like Business on Facebook, follow @TribuneBiz on Twitter to stay informed and join in the conversation.