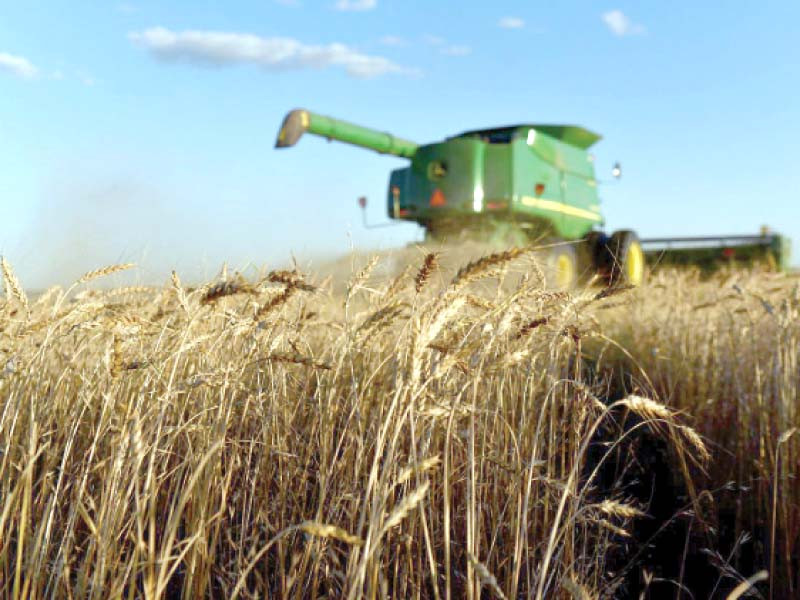 ---
KARACHI:
In order to revitalise the agriculture sector of Pakistan, farmers have urged the government to improve farming practices and agriculture landscape through a policy of adopting innovations, technology and other respective resources.
Credit fuels progress in any sector; therefore farmers have demanded the government to adopt strategies similar to the ones adopted for the housing sector recently.
Although the government has taken initiatives such as the Agriculture Emergency Programme 2018, to revolutionise the sector, the authorities should now introduce agriculture credit exclusively for the subsistence farmers who make around 80% of the farming households in Pakistan, suggests Agriculture Republic (AR), a community of farmers and agriculturists across the country.
Sindh Abadgar Board (SAB) Senior Vice President Mahmood Nawaz Shah mentioned that the agricultural economy of Pakistan is worth $60 billion and the formal credit availability is only $9 billion.
In its budget proposals, the board suggested that the agriculture credit, therefore, should be increased to $25 billion. The share of agricultural credit of Sindh from current 16% in the national portfolio should be increased to 23% corresponding to its share in Pakistan's agricultural economy, it proposed.
According to a research conducted by National Institute of Banking and Finance (NIBAF) and Pakistan Microfinance Network (PMN), agricultural advances still constitute a fraction of the total bank loans and big commercial banks generally only target established and well-settled farmers. As a result, small farmers currently rely on middlemen and bear exploitative interest rates ranging from 40-50% in this informal sector.
"We hope that next year will be an exemplary year for the agriculture sector," said Agriculture Republic Co-founder Aamer Hayat Bhandara.
Shedding light on the issues faced by the sector, Shah pointed out that climate change is resulting in increased cycle of extreme weather conditions like flooding, storms and extremely hot temperatures.
These weather patterns are impacting agriculture and ruin small and medium-sized farmers, he said, adding, "Therefore, the federal and provincial government should create an emergency response fund to provide cash grants to landless farmers, and interest-free credit so that farmers can rehabilitate themselves."
"In addition to this insurance, a scheme should be launched to support farmers in distress," he added.
Endorsing his views, Bhandara added that climate change has also increased pest pressures; the incidence of fall armyworm across the corn growing belt is an impending risk to the otherwise successful crop.
"Therefore, given such emergent challenges, the government needs to equip farmers with the requisite extension services and crop protection tools," he emphasised.
However, the availability of crop protection products that address new pest risks is dependent on timely review and approval of quality products with a proven track record of efficacy, he maintained. Therefore, the government must consider including provisions for emergency approvals in the present regulatory framework.
In its recommendations for the upcoming budget, the Agriculture Republic urged the government to create an enabling environment for new, cutting-edge technologies such as drones. Drone technology for the application of crop protection products will be a game-changer in smallholder farmer geographies.
However, absence of requisite regulations and institutional oversight has impeded adopting this technology in Pakistan, lamented Bhandara.
Shah mentioned that the Sindh Abadgar Board has recommended that the agriculture research budget should be increased to 1.5% of GDP. Innovative research methodology on farms, with universities and stakeholders, should be done with clear milestones and a feedback system for accountability should be ensured.
Adoption of biotechnology can be bridged such as the staggering yield gap in the crop of maize - national average 46 maunds per acre versus 120 maunds per acre for progressive farmers. Over 50% of global maize grain output comes from 14 countries that have embraced this technology. With China primed to commercialise GM maize for cultivation in 2023, over 70% of global output will be benefiting from this technology.
The global Artificial Intelligence (AI) in the agriculture market is predicted to generate revenue worth $8,379.5 million, increasing from $852.2 million, and is expected to witness a 24.8% compound annual growth rate during the forecast period of 2020-2030, according to him.
"To tap the potential of growing AI technologies in agriculture and ag-tech startups, cellular internet connectivity is the need of the hour," Shah highlighted.
Published in The Express Tribune, May 30th, 2021.
Like Business on Facebook, follow @TribuneBiz on Twitter to stay informed and join in the conversation.
COMMENTS
Comments are moderated and generally will be posted if they are on-topic and not abusive.
For more information, please see our Comments FAQ