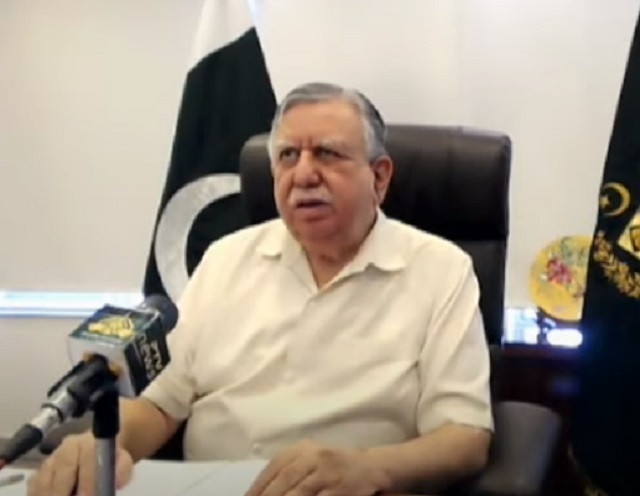 ---
ISLAMABAD:
Minister for Finance Shaukat Tarin on Friday held a meeting with various stakeholders including presidents of some key banks in connection with the PTI government's plan to expand the scope of its flagship Kamyab Jawan Programme.
Special Assistant to the Prime Minister (SAPM) on Youth Affairs Usman Dar, the presidents of the National Bank, the Habib Bank and the Bank of Punjab, the Naya Pakistan Housing Authority chairman and some other experts also attended the virtual meeting.
According to a statement issued by the finance ministry, the minister sought input from the stakeholders on expansion of the project "so that more and more people specially youth could become a part of the government's financial inclusion programme".
Inflation to come down from July: Tarin
Tarin asked the banks to prepare the design of a programme for tier-one borrowers through which they could collaborate with microfinance banks and Institutions and provide short and medium term loans at zero or very low interest rates for entrepreneurship, agricultural development and housing construction.
The banks and other stakeholders shared their views and experiences in the meeting and agreed with the general idea of maximizing the use of financial resources by micro-credit users.
He asked banks and microfinance institutions to come up with suggestions on the design of the programme within a week's time and also to earmark a percentage of their resources for the purpose.
The government will provide credit guarantee and risk sharing facility to provide comfort to the commercial banks, he said. Tarin also held a meeting through video link with representatives of the beverage industry.
The delegation briefed the minister on the progress made by the industry during the last 8 to 9 years.
They also discussed the role of the beverage industry in revenue and employment generation and the change in local and global business scenarios after the onset of Covid-19 pandemic.
The delegation also submitted their proposals for the upcoming budget.
The minister said he is supportive of adopting all those measures that can boost industrial development and help in generating employment and expanding businesses.
"[However,] any decision, regarding taxation or providing relief to any industry which has direct linkages with general wellbeing and health of the public, will be taken after a careful analysis of all the facts and arguments," he told the participants.