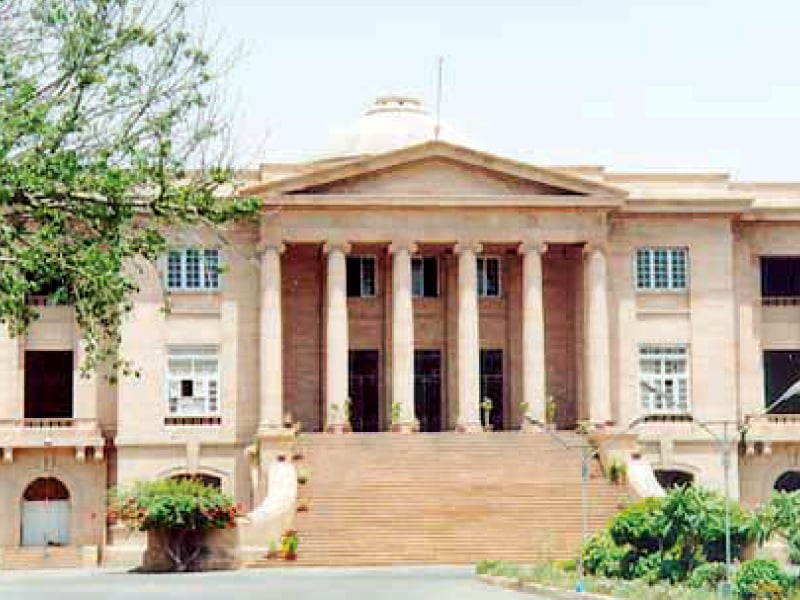 ---
KARACHI:
The Sindh High Court directed on Wednesday the petitioner's counsel to give arguments in the light of Karachi Municipal Corporation's (KMC) report in the case pertaining to animals deprived of natural environment at the zoo.
A two-member bench comprising, Justice Muhammad Ali Mazhar and Justice Amjad Ali Sahito, was hearing the plea. The KMC presented a report before the court, stating that judicial orders regarding the arrangements in Karachi Zoo have been implemented.
According to the report, the arrangements for the provision of natural environment to the bear have been made and the bear has been shifted in a new cage. The bear's new cage is five-times bigger as per the recommendation of experts committee.
During the hearing, the petitioner's counsel contended that the temporary measures wouldn't make a difference; the bear should be set free in its original habitat.
Read: SHC summons Karachi Zoo director over condition of animals
Karachi's weather is not favorable for bears, he added.
At this, Karachi Zoo director apprised that required environment has been provided to the bear. He claimed that the animals adopt to change according to the change in weather. The court directed the petitioner to give arguments in the light of KMC's report and adjourned the hearing till June 24.
Curb dog culling
Meanwhile, the Pakistan Animal Welfare Society and others filed a plea against the killing of stray dogs before the SHC.
The petitioners maintained that authorities were only focusing on killing stray dogs despite collecting huge funds to neuter and vaccinate the animals. They claimed the KMC and cantonment boards were violating animal rights and pet dogs were also being killed.
The plea moved the court to order authorities to suspend the dog culling campaign.
Read more: Fear of backlash prevents zoo from euthanising animals
ATR crash
Separately, the court sought replies on objections over former Pakistan International Airlines (PIA) deputy chief engineer becoming a party in a case related to ATR air crash investigations.
The court was hearig a plea seeking the inclusion of the former deputy chief engineer in the case. The petitioner, former PIA deputy chief engineer Khalid Mumtaz, maintained that ATR-611 was out of order since 2013 and the PIA administration had been informed about its condition before the crash on December 7, 2016.
He claimed that all records of the technical faults were available and the ones issued by PIA and the Civil Aviation Authority (CAA) were false. The plea moved the court to ground all ATR aircrafts.
PIA's counsel contended that Mumtaz could not be a party in this case because he was unaware of the procedure involved in preparing an investigation report. The court was yet to decide whether Mumtaz could be made a party in the case.
Published in The Express Tribune, May 27th, 2021.
COMMENTS
Comments are moderated and generally will be posted if they are on-topic and not abusive.
For more information, please see our Comments FAQ