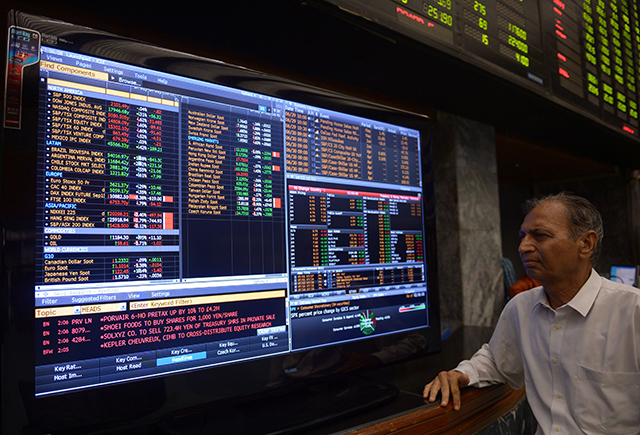 ---
KARACHI:
Pakistan Stock Exchange (PSX) - one of the best performing Asian markets - has made a new record by hitting all-time high volumes as investors traded 1.56 billion shares of listed companies in a day for the first time in history on Wednesday.
Volumes soared by over 130% compared to 677 million shares traded a day earlier, showing the rising investor confidence in the growing economy. Almost half of the volumes - 707.73 million shares - were in a single company; WorldCall Telecom Limited (WTL). Investors took big positions in the telecom company after it announced that a new investor had expressed interest in acquiring its 51% majority shares with management control. "Volumes are the strength of the stock market," seasoned stockbroker Arif Habib said while talking to The Express Tribune. "The growth in turnover suggests investor confidence is on the rise in the stock market and the economy."
Hefty inflow of workers' remittances from overseas Pakistanis and capital flow to rural areas through the sale of agricultural crops (like wheat, rice and sugarcane) have increased liquidity with people and investors. "The increased liquidity is supporting growth in PSX turnover," he said.
"PSX makes history…Excellent corporate results, shareholder value, government policies & initiatives built investor confidence and positive sentiment, driving historic performance. 1.81 billion shares (including on futures counters) traded in a single day in the history of PSX! KSE 100 index: 511.6+," PSX said on its official Twitter handle.
Habib noted that PSX has been repeatedly recording improved volumes for sometimes, "which is a very, very healthy sign. It means that investors' interest is on the rise across the board (listed companies)." The share prices when compared to their financial performances like sale of their products in the markets and their net profits then one will find that "they (stocks) are being traded at very attractive levels".
Sales of products and profit margins of the listed companies have surged significantly in the recent times. "In relationship to their sales and profit margins, the market valuations (share prices) stand so attractive at present."
AHL Research reported last week that the 100 companies listed in the benchmark KSE-100 Index saw a growth of 23% in their sales in March compared to 19% growth in the same month of the last year. March 2021 recorded the highest growth in sale of products by the companies in the past three years or since June 2018.
The brief further said that cement sale surged 71%, auto sales increased 67%, fertilizer 56%, steel 41%, chemical 32%, food 31%, textile 23%, oil marketing companies' sales surged by 14%, power sale rose by 12% and sales of technologies improved by 8%. However, the sale of oil and gas by exploration firms dropped 3% in the month.
The National Accounts Committee (NAC) has revised up projection for economic growth to a surprising level of 4% for the current fiscal year ending June 30 on Friday against forecasts in the range of 1.5-3% by Pakistan's central bank, International Monetary Fund (IMF) and World Bank for the year.
Investors are showing interest in making investment into stock market. "Today, the WorldCall Telecom contribution stands substantial. Almost 45% of the turnover is in the telecom company due to its likely acquisition announcement," Habib said. Overall, investors are seeing positive market prospects and that's why they are in the market to make new investments, he said.
Mostly old investors are working in the market, but new investors are also taking positions in different companies. Overseas Pakistanis are also taking new positions in the market after they were recently provided direct access through Roshan Digital Accounts. Besides, local investors are pouring capital through mutual funds. Recently, NCCPL reported that the total number of investors at PSX has increased by 17,684 (or 7.5%) in the past four-month (Jan-Apr) to 252,322.
Published in The Express Tribune, May 27th, 2021.
Like Business on Facebook, follow @TribuneBiz on Twitter to stay informed and join in the conversation.