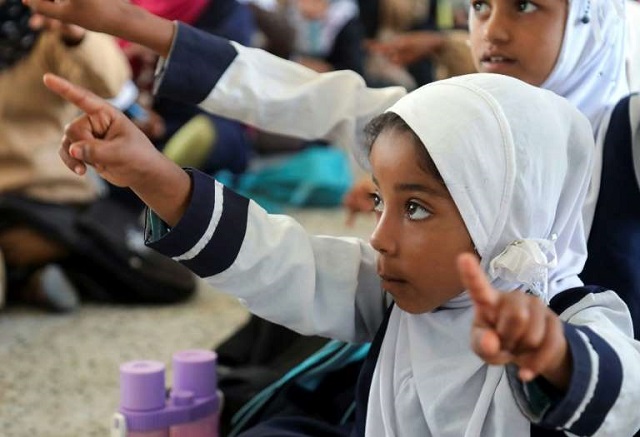 ---
The Society for the Protection of the Rights of the Child (SPARC) with the support of Save the Children Pakistan organised a meeting on Monday for an increase in budgetary allocation and expenditures on children.
During the meeting, Standing Committee on Law and Justice Chairman Riaz Ahmed Fatyana said additional measures were required to safeguard the rights of vulnerable children. There is a need to increase overall spending on child rights especially on education, health and nutrition and protection, he added.
He maintained that inadequate spending was a key reason for Pakistan failing in most child-related indicators of Sustainable Development Goals. He concluded by saying that all political parties would have to work together and make across the board efforts otherwise Pakistani children would continue to suffer.
National Commission on Child Rights (NCRC) Chairperson Afshan Tehseen Bajwa stated that the federal and provincial governments must ensure that budgets for all children related indicators are released in a timely manner.
SPARC Board of Director Member Khalida Ahmed said approximately 47 per cent of Pakistan's total population comprises children under the age of 18. This population group should be our priority, however, due to lack of policymakers' will, children are deprived of their right to survival, protection and development.
She added that NCRC should be made functional at the earliest to ensure compliance with Pakistan's international commitments.
Senior Child Rights Activist Syed Safdar Raza mentioned that major infrastructural reforms were needed to uplift the living standard of Pakistani children. She said significant reforms were required to ensure the rights of all children are protected and delivered.
SPARC Program Manager Khalil Ahmed Dogar said Pakistan has not made much progress on its commitment to providing free and quality education to every child according to Article 25-A of the constitution. He added that according to the statistics, Pakistan has 22.84 million out-of-school children (aged five to 16), which is the second-highest figure in the world.
CPDI Budget Study Centre Director Amer Ejaz and Child Rights Movement National Coordinator Zahra Naqvi said that the initial perception of Covid-19 affecting only the elderly and people with health conditions has long been proved incorrect.
Published in The Express Tribune, May 25th, 2021.