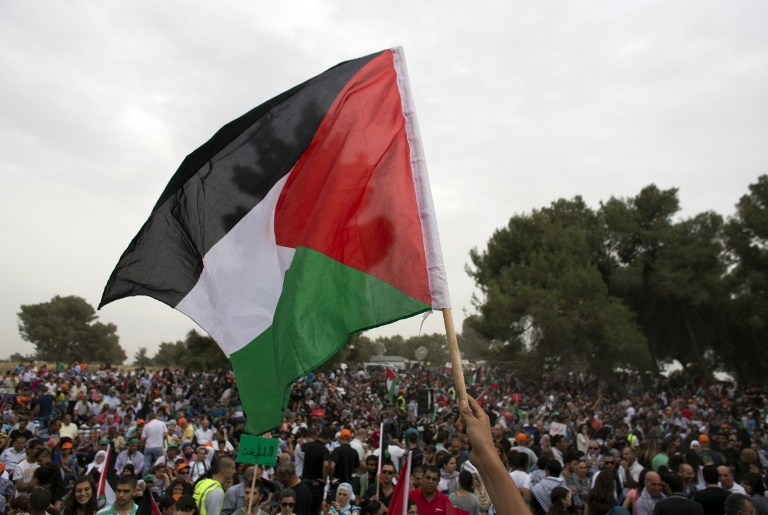 ---
RAWALPINDI:
The activists and supporters of the Pakistan Muslim League-Quaid-i-Azam (PML-Q) took to the roads with a model of Al-Aqsa mosque to express their solidarity with the Palestinian people at Rawalpindi Press Club (RPC) on Murree Road On the call of PML-Q Chief Chaudhry Shujaat Hussain.
The protesters chanted slogans against Israel and demanded the international community to take notice of the Zionists' aggression.
The rally was led by the party's district leadership and Mishal Malik, wife of Kashmiri Hurriyat leader Yasin Malik. Palestinian students studying in Pakistan and their families also joined the rally. The demonstrators also set fire to the effigies of Israel's Prime Minister Netanyahu and the Zionist state's flag.
Addressing the participants, Mishal Malik said that her mother told her that they would go to Palestine even on foot if they were invited. She said Islamophobia was spreading rapidly across the world but the Muslims and their leaders were divided.
Also read Nation rallies in solidarity with Palestinians
She added that the people around the world took to the roads against attack on Palestine for this humanitarian cause.
She said that their demand was not just a ceasefire but the occupiers should vacate the occupied areas.
Ms Malik added that the world was silent on Modi's inhuman brutality in occupied Kashmir and warned that if anything happened to the Al-Aqsa mosque, the fascist Indian prime minister would be eyeing 5,000 mosques in the disputed territory.
She said that the case of committing war crimes in Kashmir and Palestine should be prosecuted in the international court of justice.
PML-Q District President Zubair Khan said Israel's barbarism in Palestine was at its peak and the oppressed Palestinians were looking to the Muslim community. He said history would not forgive them if they were unable to protect the Palestinian people and secure the Al Aqsa mosque.
A Palestinian student, Muhammad Tariq, also addressed the rally and said that the morale of the Palestinian people was still high. He added that Israel would never be able to achieve its goals despite its atrocities.
Published in The Express Tribune, May 24th, 2021.
COMMENTS
Comments are moderated and generally will be posted if they are on-topic and not abusive.
For more information, please see our Comments FAQ