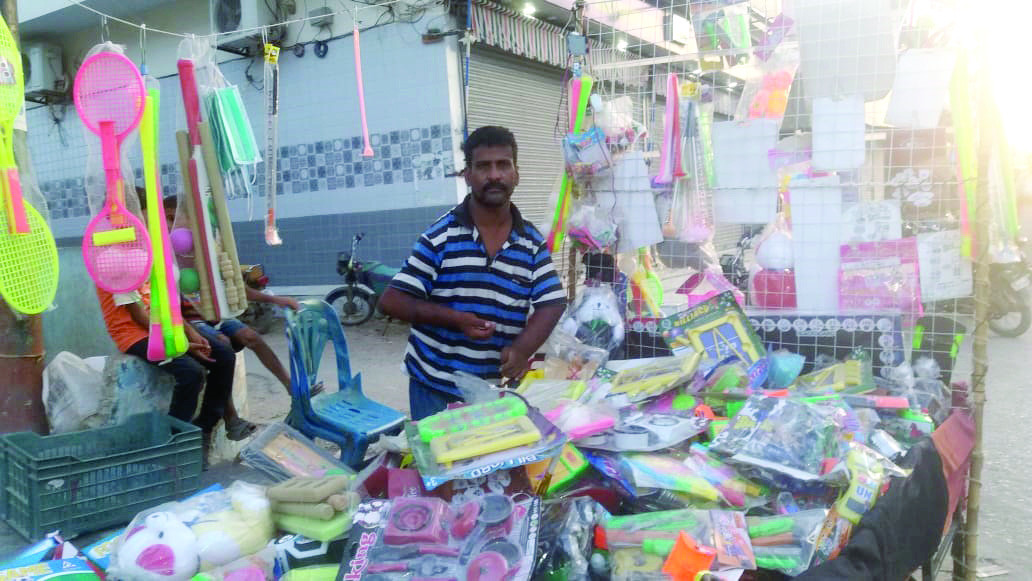 ---
KARACHI:
When a bus ran over dental clinic technician, Imran Ahmed, about a decade ago, the resulting paralysis left him with two options.
One was to accept his fate and stay down or take the bull by the horns and be the master of his own destiny.
Ahmed chose the latter.
He may be paralysed, but Ahmed has been earning a livelihood for his family over the years through sheer determination, the help of crutches and a three-wheeler motorcycle. The now toy stall owner has tried his hand at different trades and is determined to see better times ahead.
At the time of his accident, doctors predicted he would never be able to stand. However, he never lost hope and underwent three long years of treatment which ultimately got him back on his feet. He was then able to be slightly mobile with the help of crutches.
Never a man to stay down, Ahmed began selling cosmetics through an e-commerce platform. He booked orders from home, travelled to Bolton Market to buy the ordered products and delivered them to customers through the Pakistan Post office in Saddar.
Read more: Paralysed by uncertainty and indecision
However, most of his investments would remain engaged as the e-commerce platform made payments in 15 days. Considering Ahmed's hardships, friends and family arranged a tri-wheeler motorcycle. This eased Ahmed's routine considerably, but fate decided to test the already physically challenged man further.
Ahmed's legs developed an infection and its spread reached the bladder. He then had to undergo more surgeries for three more years. Things took a turn for the better when the same e-commerce platform he worked for sponsored a major surgery at one of the most expensive hospitals in the city.
Ahmed says that the continuous hardships, paralysis and illness never weakened his resolve to remain an active part of society. Ahmed is the breadwinner for seven children -three daughters and four sons.
He gave up the online sale of cosmetics and set up a stall to sell vegetables to keep the household afloat for another year and a half. The coronavirus pandemic in 2020 brought along with further challenges as markets and shops were forced to close.
He then decide to sell toys at weekly bazaars, but not even these markets were spared during the different lockdowns. Ahmed then tried his hand at setting up a similar stall near his house in Orangi Town.
He is currently earning through this source and leaves the house at 8am before returning as late as 1.30am. He starts the day by buying toys from wholesale market in Liaquatabad, then picks up orders from Bolton Market and finally displays the products for sale at his stall.
Despite financial and physical difficulties, Ahmed maintains a positive outlook and is confident that businesses will resume once the pandemic soon comes to an end. "The police and administration cooperate with me due to my different abilities and allow me to keep running the stall even after markets close."
Currently, he sets up the stall in different bazaars of Orangi Town. He points out that even those who are able bodied are troubled due to unemployment and limited opportunities in the current circumstances. Ahmed urges the government of Sindh and administration to consider increasing timings for trade so that the businesses can cut losses.
Moreover, the vendor has been trying to gain financial assistance through the government's Ehsaas Programme for the last six months, but is yet to receive a response. Ahmed is now working on establishing a permanent shop for his small business, but limited time to trade during the pandemic has made the goal difficult.
He says the current situation is easier than some of the trials and tribulations he has face over the last 10 years. Ahmed prays that the pandemic ends soon and urges people to never bow down to adversity.
This story is part of a weekly series that seeks to bring to light the unsung heroes of Karachi - the hawkers, traders, doctors, teachers, engineers, lawyers and daily-wage labourers. It is they who make Karachi the city of lights.
Published in The Express Tribune, May 24th, 2021.