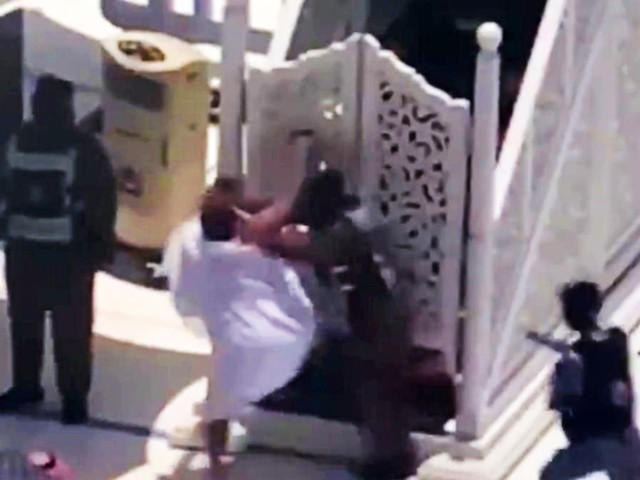 ---
A man was arrested by police in Makkah as he attempted to enter the pulpit from which the Imam was delivering the sermon before Friday prayer at the Grand Mosque.
"An incident took place earlier today when a man in Ihram attempted to enter the minbar of Masjid Al Haram, Makkah while Sheikh Baleelah was delivering the Khutbah, the man was apprehended by Public Security Officials immediately and has been taken into custody," according to the official Twitter handle of Haramain Sharifain.
VIDEO: Attempt by a man to approach the Khateeb during Jumu'ah Khutbah was thwarted by security officials on Friday pic.twitter.com/mFrNu5iUt6

— Haramain Sharifain (@hsharifain) May 21, 2021
The man, brandishing a stick, was quickly apprehended and legal procedures have been taken against him, according to Arab News.
Read more: Knife-wielding man arrested from Makkah's Grand Mosque
In April, a knife-wielding man chanting slogans of terrorist outfits was arrested from the premises of the Grand Mosque.
According to the Saudi Press Agency, the man was taken into custody on March 30 from the first floor of the mosque following the occurrence.
A Makkah police spokesperson told the agency that the man was seen on the first floor shortly after Asr prayers and was taken into custody instantly by law enforcers at the scene.
The spokesperson further said that legal proceedings had been initiated against the man.
Also read Saudi man arrested for ramming car into Makkah's Grand Mosque
In October last year, Saudi authorities arrested a man for crashing his car into the outer-perimeter gate of the Grand Mosque in an incident that did not cause any casualties.
Security present responded to the incident after the vehicle rammed into one of the entrance gates of the mosque, the spokesperson for the Makkah region governorate said.
The car swerved while moving at a high speed on one of the roads surrounding the southern courtyard of the Grand Mosque.
The driver - a Saudi national - was found in an unnatural state and was immediately detained and will be referred to the public prosecution, the SPA added.