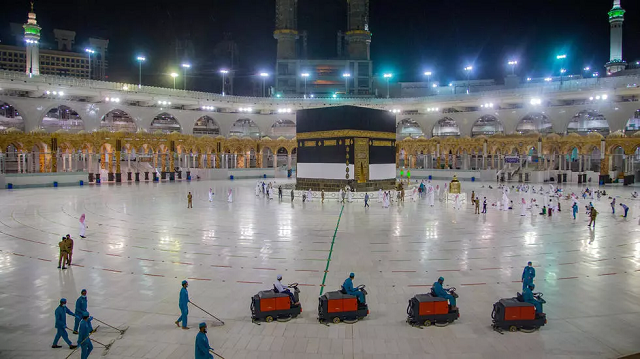 ---
A knife-wielding man chanting slogans of terrorist outfits was arrested from the premises of Makkah's Grand Mosque.
According to Saudi Press Agency, the man was taken into custody on March 30 from the first floor of the mosque following the occurrence.
A Makkah police spokesperson told the agency that the man was seen on the first floor shortly after Asr prayers and was taken into custody instantly by law enforcers at the scene.
The spokesperson further said that legal proceedings had been initiated against the man.
Meanwhile, Sheikh Abdul Rahman Al Sudais, who heads the presidency of the holy mosques, told The National that the man "did not respect the sanctity of the place. God has made the Grand Mosque a place of worship, including prayer, tawaf and Hajj".
Also read Saudi man arrested for ramming car into Makkah's Grand Mosque
In October last year, Saudi authorities arrested a man for crashing his car into the outer-perimeter gate of the Grand Mosque in Makkah in an incident that did not cause any casualties.
Security present responded to the incident after the vehicle rammed into one of the entrance gates of the mosque, the spokesperson for the Makkah region governorate said.
The car swerved while moving at a high speed on one of the roads surrounding the southern courtyard of the Grand Mosque.
The driver - a Saudi national - was found in an unnatural state and was immediately detained and will be referred to the public prosecution, SPA added.
COMMENTS
Comments are moderated and generally will be posted if they are on-topic and not abusive.
For more information, please see our Comments FAQ