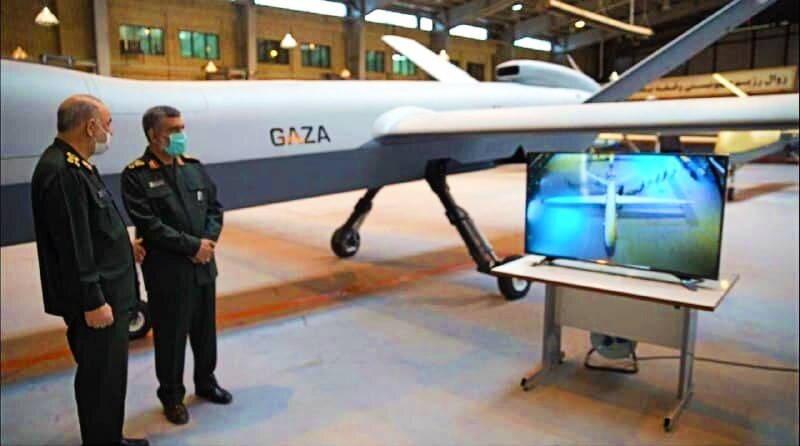 ---
TEHRAN:
Iran's Revolutionary Guards Friday unveiled a new combat drone dubbed "Gaza" in a tribute to Palestinians, the force's official website reported, hours after a ceasefire between Israel and Palestinian armed groups took effect.
The drone was named as "an eternal honour for those who today in (Gaza) stand against the Zionists' invasion and aggression", Guards commander Major General Hossein Salami said at the unveiling event, quoted by Sepah News.
The drone is capable of carrying 13 bombs while flying at over 35,000 feet at a speed of almost 350 kilometres per hour (200 mph) for 20 hours, he added.
The unveiling came the same day a ceasefire between Israel and Hamas, the movement that controls the Gaza Strip, and other armed groups in the Palestinian enclave, came into force after 11 days of deadly fighting.
Rockets fired into Israel from Gaza claimed 12 lives in the Jewish state, including one child, a teenager and an Israeli soldier, with one Indian and two Thais among those killed, Israeli medics say. Some 357 people in Israel were wounded.
Read more: Turkey hopes Gaza truce holds, wants Israel to account for 'crimes'
Israeli air strikes have killed 243 people, including 66 children since May 10, Gaza's health ministry says. Fighters are also among those killed.
The Islamic republic does not recognise Israel, and supporting the Palestinian cause has been a pillar of Iran's foreign policy since the country's 1979 revolution.
Salami had on Wednesday hailed "the birth of a new Palestine... fighting with missiles" and said Israel was now "broken, frustrated and downcast".
The Guards' Quds Force commander, Ismail Qaani, had earlier this week reaffirmed Tehran's support for Palestinians against Israel in a phone call with Islamist faction officials.
According to Sepah News, Salami also unveiled a new radar system named "Quds" (Jerusalem) that can "detect stealth aircraft in a 500-kilometre (310-mile) radius and be quickly set up and moved".
The website showed an upgraded version of an air defence system that in 2019 shot down a United States Global Hawk drone over the Strait of Hormuz after it allegedly violated Iran's airspace.
The new version can fire "advanced short-range missiles and combat close threats such as cruise (missiles), drones, helicopters and bombs released by aircraft", Salami said.
COMMENTS
Comments are moderated and generally will be posted if they are on-topic and not abusive.
For more information, please see our Comments FAQ