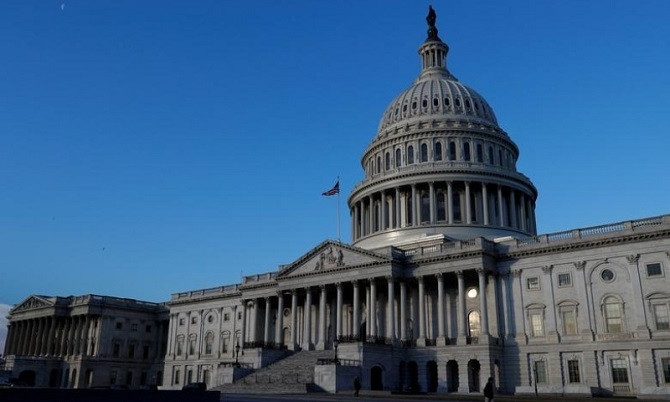 ---
WASHINGTON:
As the US withdrawal continues in Afghanistan with all foreign forces scheduled to leave by September 11, President Ashraf Ghani's recent statement has created ripples in Congress with lawmakers expressing concern regarding Afghanistan's future.
Ghani, in a recent interview with German publication Der Spiegel, said Washington "now plays only a minor role" and the "question of peace or hostility is now in Pakistani hands".
During the May 18 hearing of the US Foreign Affairs Committee titled 'the US-Afghanistan relationship after the withdrawal,' lawmakers from both the Republican and Democrat parties discussed Islamabad's potential role.
President Joe Biden has not yet spoken to Prime Minister Imran Khan, something that is seen as unusual given the role Islamabad has in the Afghan endgame.
Quoting Ghani, Congresswoman Sara Jacobs asked Ambassador Zalmay Khalilzad, "What specifically are you doing to push Pakistan's leaders and to ensure that they do step up the way we want them to?"
Also read COAS backs 'inclusive Afghan power sharing'
"COAS Gen Qamar Javed Bajwa and Prime Minister Imran Khan both recognise that this economic benefit is where the future is. Gen Bajwa has said countries do not develop, regions develop," replied Khalilzad – the lead US negotiator conducting peace talks with the Afghan Taliban.
"And I know there are challenges inside Pakistan, but I believe that Gen Bajwa's last visit to Kabul was positive. They have discussed some steps that the two sides will take — working with the United Kingdom — in support of the effort to improve relations between these two countries," Khalilzad added.
According to the envoy, the Pak-Afghan relationship "needs to be overcome" and he expressed hope they will be "given the recent developments".
Emphasising the need to view Ghani's statement in the regional context, he said: "President Ghani is right in the sense that the region is important for a peace agreement to bring lasting stability to Afghanistan."
Khalilzad further stated that "The potential connectivity and trade between Central Asia, Afghanistan and South Asia is a vital part of the future of that region and for Afghanistan".
"One should not absolve the Afghans of their responsibility. They must accept each other and find a formula that can resolve their differences," he maintained.
Exclusion from climate summit
Congressman Ted Lieu asked why Pakistan was excluded from the recently held climate summit despite its importance for the success of the Afghan peace process and given the country's vulnerability to climate change.
"It seems to be disrespectful to not have invited the Pakistani leader to this climate summit when the leaders of India and Bangladesh were invited," said Lieu.
Also read US pulls out of major Kandahar base in southern Afghanistan
"And now we are asking Pakistan to help us, a lot, in Afghanistan. So, I am wondering what was the thinking (behind) that sort of exclusion of the Pakistani leader," the congressman added.
"Of course, you are right. Pakistan is an important country. We have had periods of great cooperation with Pakistan and Pakistan has a critical role to play in Afghanistan going forward and in a number of other issues," said Khalilzad in reply to Lieu.
Congressman Darrel Issa observed that "during the 10 years or 20 years, we have watched our ability to have a positive influence on Pakistan and Pakistan having a positive influence on Afghanistan go from bad to worse".
Referring to the recent meetings of the US with Pakistan and other countries, the Afghan envoy stated, "We would like Russia, China and Pakistan to back efforts for a peaceful settlement in Afghanistan. Working to build a consensus on this objective."
To another question, the envoy said, "There's no military solution to Afghanistan and that comes to the diplomatic solution and the role of Pakistan. Pakistan has a special responsibility, given the fact that you described," Khalilzad concluded.
During his recent trip to Kabul, COAS Bajwa assured the Afghan leadership of Pakistan's support for "inclusive power-sharing arrangement" and "elections as a right of Afghans to self-determination".
In March, the army chief had held talks with the Afghan civil and military authorities in Bahrain. That meeting was also attended by the UK's chief of defence.
In the meeting with President Ghani, the army chief had reiterated that a peaceful Afghanistan means a peaceful region in general and a peaceful Pakistan in particular. "We will always support Afghan-led and Afghan-owned peace process based on mutual consensus of all stakeholders," the military's media wing said in a statement.
The Afghan president thanked the army chief for a "meaningful discussion and appreciated Pakistan's sincere and positive role in the Afghan peace process".