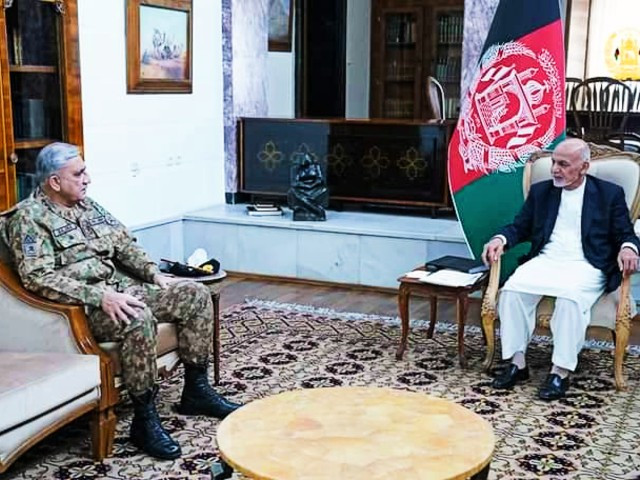 ---
ISLAMABAD:
General Qamar Javed Bajwa has assured the Afghan leadership of Pakistan's support for "inclusive power-sharing arrangement" and "elections as a right of Afghans to self-determination", officials said on Monday after the army chief's daylong visit to Kabul.
Gen Qamar was also accompanied by UK Chief of Defence Sir Nicholas Patrick Carter and Director General of the Inter-Service Intelligence (ISI), Lt-Gen Faiz Hameed.
The visit came just days after US and other international forces started withdrawing from Afghanistan.
Since the beginning of the drawdown, which is set to complete by September 11, there has been a sudden spike in violence in Afghanistan.
With Afghan Taliban reluctant to join the peace process, the increased violence has threatened further instability in Afghanistan, something that may have a spillover impact on its neighbours, including Pakistan. Against this backdrop, the visit of army chief is seen as crucial.
Read Turkey, Pakistan, Afghanistan call on Taliban to commit to Afghan peace talks
The presence of UK's chief of defence in talks with Afghan President Ashraf Ghani suggested that Britain was playing some kind of a guarantor between Pakistan and Afghanistan.
In March, the army chief had held talks with the Afghan civil and military authorities in Bahrain. That meeting was also attended by the UK's chief of defence.
In the meeting with President Ghani, the army chief reiterated that a peaceful Afghanistan means a peaceful region in general and a peaceful Pakistan in particular. "We will always support Afghan-led and Afghan-owned peace process based on mutual consensus of all stakeholders," the military's media wing said in a statement.
The Afghan president thanked the army chief for a "meaningful discussion and appreciated Pakistan's sincere and positive role in the Afghan peace process"
The army chief also met Dr Abdullah Abdullah, Chairman of the High Council for National Reconciliation of Afghanistan and discussed matters related to Afghan peace process.
"Gen Bajwa assured that Pakistan supports an inclusive power-sharing arrangement & elections as a right of Afghans to self-determination," Abdullah said in a series of tweets while welcoming the army chief.
The discussion, he said, focused on the current state of the Afghan peace process and on ways to build and accelerate momentum toward reduction in violence leading to a permanent ceasefire and continued inter-Afghan talks.
The Afghan Taliban have announced a three-day ceasefire on the occasion of Eidul Fitr, a move welcomed by Pakistan, but Afghan government insists truce should be permanent.
The Afghan High Peace Council chief acknowledged that there was no military solution to the Afghan crises.
"We stressed on the restart of meaningful talks between the Afghan government and Taliban by aiming for an inclusive and comprehensive political settlement." Abdullah said.
"I pointed out that the Taliban have yet to fully use this unique opportunity for talks and peace. Any attempt to use force will worsen the stalemate and shore up public opposition," Abdullah added.
He appreciated Pakistan's constructive role and urged all sides to aim for "what is possible as we take steps toward a durable, just and acceptable political settlement".
The official said that Pakistan is making all-out efforts to convince the Taliban to join the international conference to be held in Turkey on the Afghan endgame.
The conference, also involving regional countries as well as Afghan government, has been postponed twice after the Taliban refused to be part of it. The Taliban are reluctant to attend the conference after US President Joe Biden extended the troops withdrawal deadline.
The US forces were supposed to leave Afghanistan by May 1 as part of the agreement signed in Doha in February 2020. However, after coming to power, President Biden reviewed the deal and extended the deadline.
Read more Afghan Taliban declares three-day ceasefire for Eid celebration this week
The Istanbul Conference is now being rescheduled after Eid with Pakistan and other players trying to persuade the Taliban to attend the talks.
Pakistan is pushing for a political settlement as it fears that renewed civil war will threatened its security.
Meeting with UK CDS
Separately, Gen Bajwa discussed the current developments in Afghan peace process and measures taken to further enhance bilateral and defence cooperation with Gen Sir Nicholas during a meeting on Monday, the Inter-Services Public Relations (ISPR) said in a separate statement.
Sir Nicholas appreciated Pakistan's sincere efforts for peace and stability in the region, especially the Afghan peace process, the military's media wing said.
The army chief thanked Sir Nicholas for UK's contribution towards the fight against Covid-19 in Pakistan.
"Pakistan Army greatly values its friendly relations with the UK," the ISPR's statement said quoting the army chief. Gen Bajwa also offered condolences on the sad demise of Duke of Edinburgh Prince Philip and said that the world had