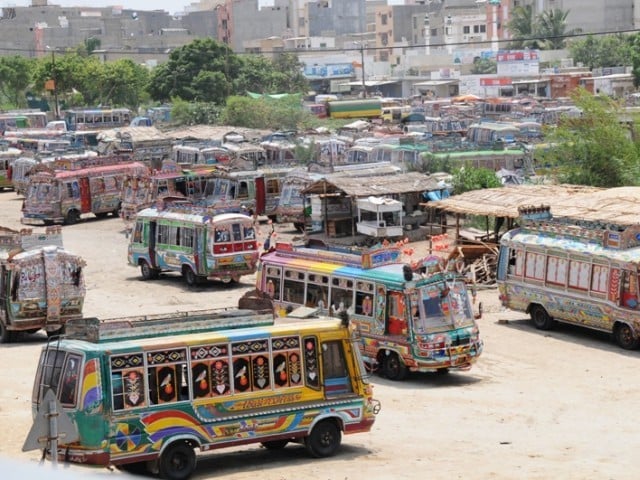 ---
PESHAWAR:
Transporters have increased their fares after the end of lockdown in all the intra-district routes by almost 70 percent without inviting any attention from the quarters concerned.
For instance, previously Rs100 was the fare on Peshawar to Mardan route which has been increased to Rs170 after the end of Eid holidays.
Same is the case on Charsadda, Nowshera and Swabi routes on which government approved fares have completely been ignored.
Talking to The Express Tribune locals blamed that a sudden 70 percent hike in the fares was without any justification because due to lockdown a common man and daily wage earner was suffering and traders and transporters were not willing even to spare these poor people.
"Buses and coaches are used by poor people mostly who don't have any other option and it is the responsibility of the government to regulate transport fares strictly but instead of this it has turned a blind eye towards it," said a local Rustam, adding that people have to travel frequently, some of them on a daily basis, to Peshawar from Mardan, Swabi, Kohat, Nowshera and Charsadda for their jobs or business.
A sudden 70 per cent increase by the transporters was causing these poor people great financial stress.
When contacted, transporters claimed that due to the Covid-19 Standard Operating Procedures (SOPs) they had no option but to increase the fares because they were now carrying less passengers in their vehicles.
"We have been directed to accommodate just two passengers on three seats to ensure social distancing between them and due to this we have no option but to raise the fares," said a transporter Hayat Khan, adding that the petrol consumption for a vehicle with less passengers is the same.
On the other hand consumers and customers are constantly complaining that rates have been increased by shopkeepers after the lockdown in order to compensate for their losses.
"Previously fresh juice was available for Rs70 now it is available for Rs100 and the shopkeepers claim that it is because of the lockdown losses," said another local Sikandar Khan, adding that almost all shopkeepers were doing the same.
"A common man has been suffering himself and now he has to pay extra for everything such as cloths, fresh juice, even on electronic and daily-use goods," he said, adding that it was the duty of the district administration to check this profiteering and arrest those responsible.
Published in The Express Tribune, May 20th, 2021.