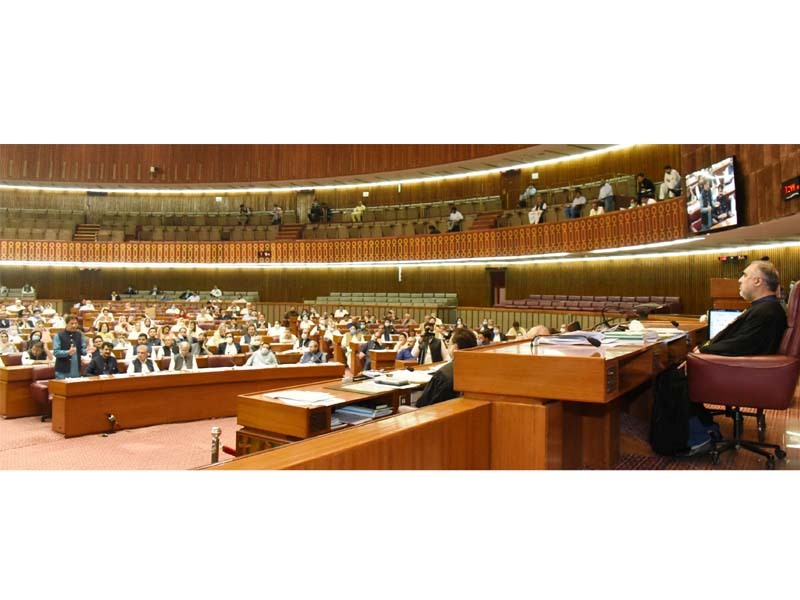 ---
ISLAMABAD:
If you are not living under a rock, you must have come across the word corruption as speeches, statements and even tweets have now been considered incomplete and tasteless if they are devoid of sensational details about any scandal, scam or corrupt practice.
In the last few years, the word corruption has been repeated so often in Pakistan that a face pops up in mind every time someone talks about corruption.
Minister of State for Parliamentary Affairs Ali Muhammad Khan successfully added a new face to the word on Monday during his speech in the National Assembly when he told fellow lawmakers that Israeli Prime Minister Benjamin Netanyahu is shedding the blood of innocent Palestinians to divert attention from his corruption cases.
Read Pakistan asks US to facilitate just solution to Palestine conflict
Amid calls for Jihad and using armed forces, missiles as well as atomic bomb against Israel from the lawmakers, the parliamentary affairs minister said that the Israeli premier was corrupt and the attacks on Al-Aqsa Mosque and innocent Palestinians, including children and women, was an attempt to take political mileage and get support from a "charged-up crowed".
Deciding to address in English language, Khan did not limit his speech to merely criticising the Israeli PM and his family over corruption cases, but warned that Zionists' attack on Al-Aqsa Mosque will be the flashpoint of third world war.
"I want to tell Mr Netanyahu that you are suffering [from] your political losses and converting [them] it into tragedy," Khan thundered on the floor of the House. "You want to take political mileage out of it because you are involved in corruption; you have so many cases against you in Israel; because you and your family are involved in corruption scams; that's why you want to get an emotional charged-up crowed behind you."
He then warned if the Israeli PM was thinking to repeat 1969 when the Zionist forces burned Masjid-e-Aqsa. "That will be the flashpoint of third world war."
During his speech, he questioned the US and the UK and the West that on which side of the history were they standing, saying "do they stand with Hitler today or with the oppressed Palestinians".
He chided if their ancestors would have been happy with their behaviour today while assuring support to the 10-year-old Palestinian girl, whose video has gone viral as she cried while explaining the trauma that the Palestinians have long been going through.
As the House passed a unanimous resolution condemning Israeli's barbaric attacks on innocent Palestinians, several lawmakers called for Jihad reminding the rest that Pakistan is an atomic power and the bombs and missiles were not meant to be kept in museums as toys while others urged to take practical steps to combat Israelis as speeches, resolutions and rallies have changed nothing in the last 70 years.
"What are the bombs, missiles and other such things for if we can't save the Qibla-e-Awal," Maulana Abdul Akbar Chitrali said while addressing the Chief of Army Staff Gen Qamar Javed Bajwa. "We don't need the missiles and atomic bombs or huge army if they can't be used to liberate Kashmir and Palestine," he added.
There were others who knew that nothing can be achieved without having political and economic stability in the country. "Beggars can't be choosers," Leader of Opposition in the NA Shehbaz Sharif summed up in his first speech in months after being released from jail.
Though the House unanimously adopted the resolution, there were lawmakers who lamented Prime Minister Imran Khan's absence from the session. There was clear realisation in the House that resolution, speeches and rallies were not sufficient and practical steps were needed to be taken to stop Israel from attacking Palestinians.
Read more Israeli govt irked by chant Bella Hadid didn't even make
"Resolutions, speeches and rallies are fine but what is next; need to think beyond these things," former PM Raja Pervaiz Ashraf said. "What difference will our speeches make in the life of the 10-year-old girl."
His question to the foreign minister if Pakistan was ready to support Turkish PM's idea of establishing an international protection force to save Palestinians from the atrocities of Israeli forces remained unanswered.
Though the session was entirely devoted to debate about the Palestinian issue, two things were painful: the session started roughly 90-minute late and most of the lawmakers left the House as soon as the resolution was passed. One lawmaker, Saira Bano, even mentioned that she did not feel like making a speech in front of empty chairs.