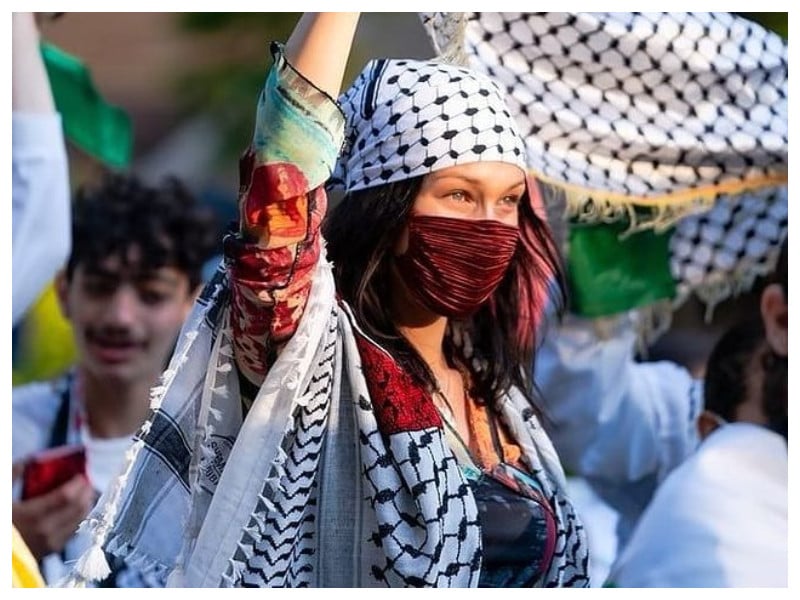 ---
Supermodel Bella Hadid has been doing her bid to highlight the ongoing atrocities by Israel's Defence Forces (IDF) in Palestine. The 24-year-old joined a crowd of protesters Saturday in New York, who took to the streets of Bay Ridge for a demonstration in support of Palestine.
The outspoken fashion plate — whose wealthy father, Mohamed Hadid, is from Palestine — was wearing a traditional dress, a Keffiyeh, a face mask and waving a large Palestinian flag as she marched along with thousands of others.
"The way my heart feels. To be around this many beautiful, smart, respectful, loving, kind and generous Palestinians all in one place... it feels whole! We are a rare breed," Bella shared on her Instagram with photos from the protest. "It's free Palestine until Palestine is free!" she added.
But the State of Israel's official Twitter account was quick to jump to conclusions. Hadid's demand for a free Palestine was equated to the demand for the destruction of jews as the Twitter handle misrepresented a chant raised at the protest. "When celebrities like Bella Hadid advocate for throwing Jews into the sea, they are advocating for the elimination of the Jewish State. This shouldn't be an Israeli-Palestinian issue. This should be a human issue. Shame on you," the tweet read. In a follow-up tweet, the account added, "For those of you who don't know, 'from the river to the sea, Palestine will be free,' is a phrase used by those who call for the elimination of Israel," the tweet read.
Israel, which has killed 192 people (including 58 children and 34 women) in the Gaza Strip while bombing press houses and residential areas, was irked by a chant that Hadid didn't even make. And Twitter was quick to point that out.
Guardian and BBC journalist Hicham Yezza also slammed Israel for "deliberately promoting a vile and outrageous lie."
She said nothing of the kind. You're deliberately promoting a vile and outrageous lie. But you knew that already. Shame on you.

— Hicham Yezza (@HichamYezza) May 16, 2021
Have something to add to the story? Share it in the comments below.