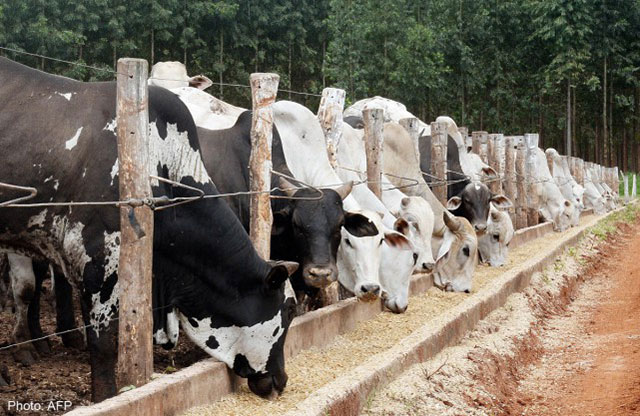 ---
ISLAMABAD:
The government has approved a plan to jumpstart the economy through free distribution of American bulls' semen worth Rs40 billion to improve breeding and preach farmers about changing their crop cultivation practices, the prime minister's aide said.
"Cows will give the biggest jump to the economy through breed improvement" and will also ensure victory for the government in the next elections, Jamshed Iqbal Cheema, the newly appointed special assistant to PM on food security, said while sharing his plan with a group of journalists.
Three million American exotic sex semen will be freely distributed among farmers every year for the next three years to increase milk production from just four litres to 15 litres a cow, he added.
"This will inject Rs300 billion in the rural economy in the next three years with an investment of only Rs40 billion," he added.
The plan largely revolves around achieving goals that Prime Minister Imran Khan had set in his first speech after taking oath of the office. It also resembles the agriculture package announced by PTI's financier Jahangir Tareen.
"If we are able to provide exotic semen free of cost, we will also win the next elections," Cheema said.
"Some politicians questioned the prime minister that it will take 13 months for a cow to conceive and another nine months to deliver a calf and by that time, general elections will be over," Cheema revealed.
Read Farmers being strengthened to bring agricultural revolution: PM Imran
"My answer to the PM," Cheema continued, was that giving Rs5,000 bull semen free of cost to a farmer will be like investing in his child's education, which he will not forget while casting his vote.
He said a Pakistani cow produces 1,100 litres of milk a year as compared to 11,000 litres by an American cow and after using American exotic semen the production will jump to 5,000 litres.
The semen of the bulls would be primarily used to breed cows to give a fillip to milk production, mostly in Punjab. The cows born out of semen straws of the imported bull would give more milk and enhance its production, he added.
He said that there was abundant land in Pakistan but water table was not sufficient to make this land cultivable, the second lowest level for the thickly populated nations after Egypt.
In the next one year, the government will focus on agriculture sector, said Fawad Chaudhry, the federal minister for information, who was also present. The minister said that the agriculture and education sectors suffered the most post-18th Amendment in the Constitution, which devolved these responsibilities to the provinces.
Fawad said that Cheema would complete the task that had been initiated by Tareen.
Pakistan's agriculture sector has not been able to meet the country's needs for food, feed and fibre.
New Finance Minister Shaukat Tarin has also vowed to focus on agriculture to achieve over 5% economic growth rate in the next fiscal year, which will be the second last. Year of the PTI government.
COMMENTS (1)
Comments are moderated and generally will be posted if they are on-topic and not abusive.
For more information, please see our Comments FAQ