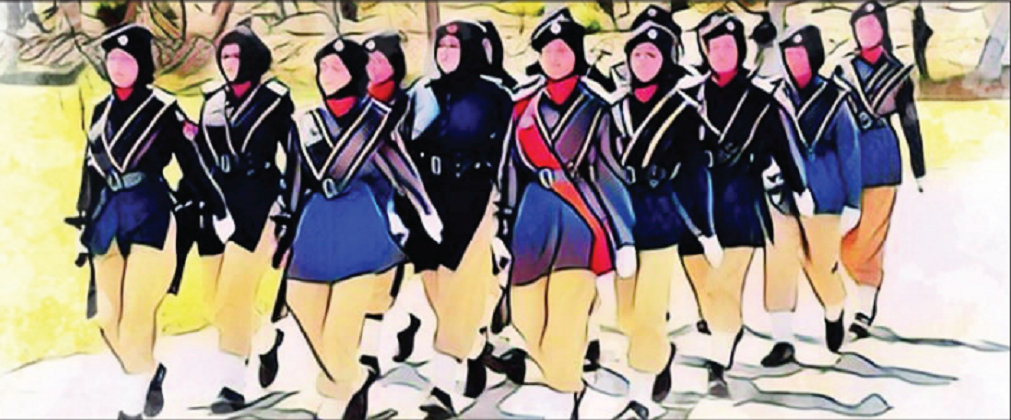 ---
PESHAWAR/ KARACHI/ LAHORE:
In what appears to be another crack in the glass ceiling, the number of female officers in the police service across the country has increased despite issues pertaining to male dominance and general perception of the institution.
Around four dozen women police officers selected through the Central Superior Service are performing their duties on different positions across the country. Women police officers not only look after administrative affairs in the police force but also perform operational duties.
"Women police officers are working on operational posts in Karachi and performing well," says former Karachi Police chief Ghulam Nabi Memon.
According to Memon, female police officers in Karachi perform in different positions including operational and administrative heads of districts. He cites the example of Suhai Aziz, who is operational head in District West.
Similarly, SPs traffic in Central, East and Saddar are also women officers. Currently, two women police officers are leading district operations in the country. Suhai Aziz is posted as SSP District West in Karachi and Sonia Shamroz Khan is District Police Officer in Chitral.
According to official records, both joined the police service in November 2013. Khan joined soon after returning from the UK where she had gone for studies on a Chevening Scholarship.
Read K-P gets first female district police officer
Previously, Aziz had also performed as district operational head in Karachi South and Sujawal districts. Police had successfully foiled a terrorist attack on Chinese Consulate in 2018 under her command when she was posted as SSP South Karachi.
"Women police officers also demonstrate full courage and dedication in their duties," she told The Express Tribune.
Quota system
The ratio of female officers in police increased after reserving a quota for them in civil services.
The federal government, in 2007, reserved 10 per cent seats for women in civil services. Most of the women officers were inducted in police service after this step.
However, all of the seats reserved for women are not filled each time. A Senate committee was told in January 2018 that some 100 seats reserved for women and minorities in civil services went unfilled during 2016.
According to the record available with the Establishment Division, a copy of which is available with The Express Tribune, currently 24 women police officers are working on different posts of Grade-18 while 22 female officers are posted in Grade-17 across the country.
Women officers of Grade-18 were appointed in the police service between 2008-2014. Similarly, women police officers working in Grade-17 had joined from 2015.
According to details of Grade-18, two female officers were appointed in 2008, three in 2009, four in 2010, two in 2011, four in 2012, four in 2013 and one had joined police service in 2014.
Of Grade-17 female officers, five were appointed in 2015, six each in 2016 and 2017, three in 2018 and one in 2019.
In total, 26 belong to different towns of Punjab, nine belong to Sindh province, six are from Khyber-Pakhtunkhwa (K-P), three belong to Balochistan and two are from Gilgit-Baltistan.
Sindh is the only province where female police officers have also come from rural areas. The official record shows that at least three qualified women officers belong to rural areas of the province. They are Zahida Perveen, Irum Awan, and Suhai Aziz.
In Sindh, three female officers from rural areas have also been selected for the post of Deputy Superintendent of Police (DSP) in Grade-17 through the Sindh Public Service Commission recently.
These include a woman belonging to Hindu minority, Manisha, the daughter of Ballo Mal. It is said that she would be the first Hindu DSP in the police service.
According to her brother, Roop, their family belongs to Jacobabad. He told The Express Tribune that their family shifted to Karachi after the death of their father some 12 years back.
Read more Inactive women police desks hinder justice
He has four sisters, and Manisha is the youngest among them. According to him, the other three sisters are doctors, but Manisha was interested in civil services. It was her interest and with the family's encouragement, she opted for the police service, he added.
In K-P, women have shattered the glass ceiling. Talking to The Express Tribune, Inspector General of Police Dr. Sanaullah Abbasi said: "Women are making gains in the field. Right now, a senior officer is serving in the special elite force formed to counter terrorism in the province.
Similarly, Saima Sharif, who hails from Peshawar just returned from the UN Mission."
Perception
A common perception about the police department in the country is that it is reserved for men.
Over the years, many women have challenged that notion. Assistant Inspector General (AIG) training Ayesha Butt is one of them.
In Punjab, she not only challenged the notion but also proved her mettle by taking on tough assignments in the province.
COMMENTS
Comments are moderated and generally will be posted if they are on-topic and not abusive.
For more information, please see our Comments FAQ