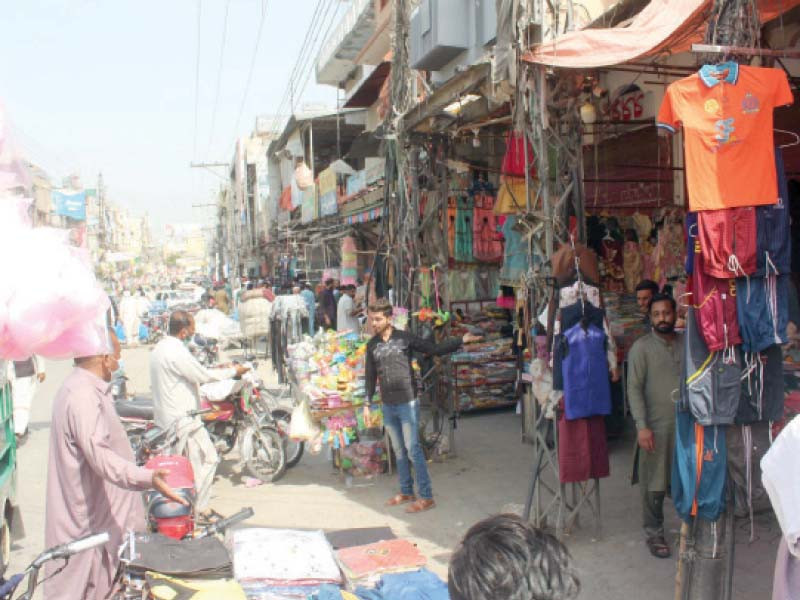 ---
ISLAMABAD:
The business community in the federal capital has raised questions about the number of coronavirus cases reported during the days of Eidul Fitr compared to Chand Raat.
All Pakistan Anjumane Tajiran (APAT) President Ajmal Baloch, Secretary and former senior vice president of Islamabad Chamber of Commerce and Industry Khalid Chaudhry, Ahmad Khan, and other traders' leaders have demanded that the government compensate them for the losses they have incurred due to the prolonged Eid holidays, particularly closure of businesses on Chand Raat.
They said that the business community could no longer afford any sort of lockdown and demanded that the government give concession in shop rentals, tax exemption, and revocation of trade licences. They also condemned the action of police and administration after the sudden announcement of sighting of the Eid moon late at night.
The traders' leaders said according to the city administration, Covid-19 was at its peak on Chand Raat, owing to which business activities were halted. But surprisingly, the government announced the eradication of the virus on the next day of Eid, they maintained.
The businessmen expressed disappointment with the government's attitude, adding that the number of positive cases in Rawalpindi and Islamabad was less than five per cent while the business community had fully complied with all standard operating procedures.
Read more: Safeguarding remittances in post-pandemic era
The traders sought the formation of a parliamentary committee to formulate recommendations after assessing the loss faced by traders. The APAT office bearers also expressed displeasure on major stakeholders being ignored in the decision-making process regarding lockdowns.
They called for the reopening of restaurants, wedding halls, hotels, motels, public parks, gyms, and clubs and urged the government to refrain from inflicting more damage on traders. They further said that the business community had suffered irreparable losses during the Eid holidays which they would find impossible to recover from in the upcoming days.
Published in The Express Tribune, May 17th, 2021.