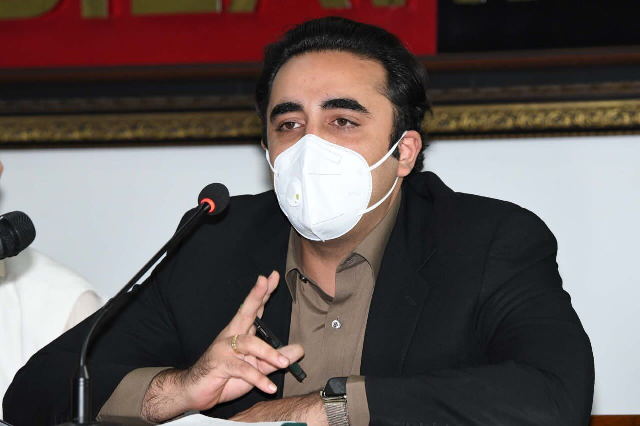 ---
KARACHI:
PPP Chairman Bilawal Bhutto Zardari on Sunday accused the federal government of failing to ensure fair distribution of water and depriving Sindh of its share.
"Imran's government is continuously blocking water for Sindh and did not refrain from its unjust move even during Ramazan and Eid," he added.
In a statement issued from Bilawal House's media cell, the PPP chairman said the PTI government had deliberately created a water crisis in Sindh and must be held "responsible for any consequences".
"Water supply to Karachi has been severely reduced due to this [inadequate supply to Sindh]," he maintained.
"Other districts of the province including Thatta, Badin, Sujawal and Tharparkar are also facing water shortage due to the brutal policy of the federal government."
The Indus River System Authority (IRSA) has misused its authority by reducing the water level in Sindh by 15-20%, Bilawal claimed.
He added that authority's mandate was restricted to just monitoring and enforcement of the provisions of the Water Accord 1991.
He demanded that IRSA should stop the process of causing permanent damage to Sindh under its controversial three-tier formula as well as name the officials on whose orders it illegally reduced the province's share of water.
Read Hollow on the inside: How a promise evaporated like water
Bilawal also demanded that PM Imran should desist from suspending water supply to Sindh as it would make the province's land barren.
He further called upon the authorities in other provinces to follow Sindh as it had not reduced the supply of water from Guddu Barrage to Balochistan despite the current shortage.
He claimed that the whole of Pakistan, including K-P, Punjab, Sindh and Balochistan, should get water under the agreed formula. He warned the government that provinces which were deprived of their right to water would continue to raise their voice.
The PPP chairman alleged that 2,000 cusecs of water belonging to Sindh was being stolen via the controversial Chashma-Jhelum Link Canal. He demanded IRSA should stop issuing NOCs for setting up power plants on Taunsa-Panjnad and Chashma-Jhelum Link canals.
Bilawal said by allowing power plants to be built on Taunsa-Panjnad and Chashma-Jhelum Link canals, IRSA was trying to make an excuse for "illegal and uninterrupted supply of water throughout the year".
Pointing out the agricultural problems arising out of the drought, Bilawal hinted at a conspiracy to cut Sindh's water while the province was undergoing its ripe season for rice cultivation.
In response, IRSA spokesperson Muhammad Khalid Rana claimed that all provinces were receiving their fair share of water. "There was a shortage of water for some days due to lack of water in the rivers. However, now the situation is under control," he added.
The spokesperson further claimed that IRSA was providing its full share to Balochistan but Sindh was also using that water.
(WITH INPUT FROM APP)
COMMENTS
Comments are moderated and generally will be posted if they are on-topic and not abusive.
For more information, please see our Comments FAQ