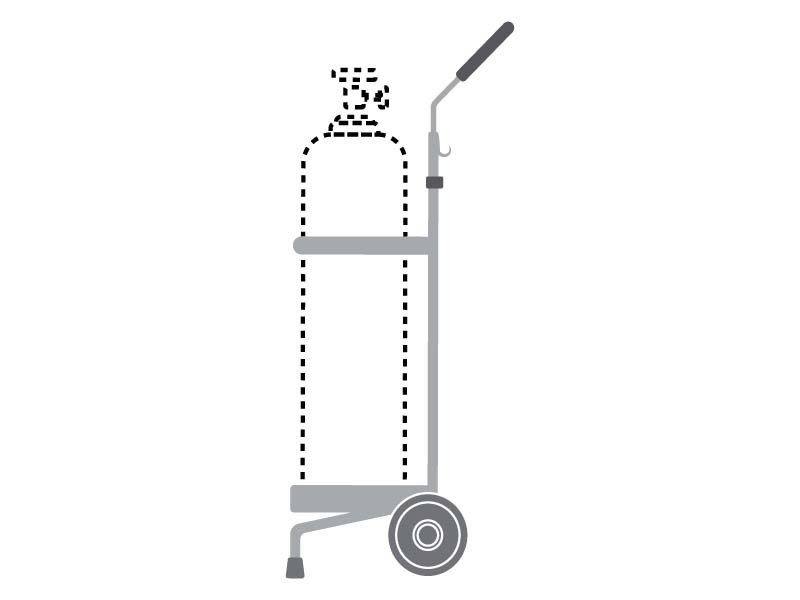 ---
KARACHI:
As coronavirus cases continue to balloon in the provincial capital, the demand for oxygen has also taken flight, climbing upwards of 30 to 40 per cent in time for Eidul Fitr holidays. This is due to growing oxygen shortage fears, which have resulted in citizens not only piling oxygen cylinders for relatives showing symptom but also more assumptively, just in case a need arises.
As per Aga Khan University Hospital (AKUH) Pulmonary Medicine Professor Javed Khan, the human body needs about six millilitres of oxygen per minute, which amounts to about eight to nine litres of oxygen a day. Although oxygen is naturally present in the air, some pulmonary diseases like Covid-19 affect the lungs, making it difficult for patients to naturally swap oxygen and carbon dioxide. Thus they are then required to receive artificial oxygen, the cost of which can be exuberant. "The cost of artificial oxygen if given 24/7 to the patient is around Rs5000 a day," he told The Express Tribune.
According to Muhammad Kashif, an oxygen cylinder supplier in Karachi, a cylinder of oxygen is currently available for anywhere between Rs1, 200 to Rs1, 500 in the market and offers 24 to 27 hours of continuous usage. "There are some 70 oxygen suppliers in the city. And although there is no concrete evidence so far, there are alleged reports of some such dealers being involved in black-marketing of oxygen, which is likely to further surge the prices," asserted the dealer.
READ Oxygen in K-P reaches staggering price
On the other hand however, speaking on the matter International Industrial Gases (IIG) Director Sarfaraz Khan clarified that there is no oxygen shortage in Karachi at the moment. Per the director's estimates, some 60 per cent of the 750 metric tonnes of oxygen produced daily, is being uninterruptedly supplied to all hospitals and will continue during the entire span of Eid holidays as well," he assured.
Referring to the production capacity of the private sector, Khan said that 750 metric tonnes of oxygen is produced daily in the country, from which 350 metric tonnes is produced in Karachi and a similar production comes from Punjab. While about eight metric tons of oxygen is being produced in Balochistan. "Altogether, six plants are being set up in the private sector in Karachi, six in Punjab and two in Balochistan for oxygen production," the IIG chief added.
Due to the third wave of Covid-19, 60 per cent of the oxygen produced in the private sector is being supplied to hospitals across the country, while the rest is still being supplied to industrial establishments. Per Sarfaraz Khan, in case of any possible emergency due to Covid-19, the supply of oxygen to the industrial sector will be temporarily suspended and all supply will be redirected to hospitals, in a bid to save human lives.
Speaking further, Khan shared that while Karachi is so far faring well in terms of oxygen demand, here has been a recent upsurge in coronavirus cases in the Punjab province, meriting a higher oxygen supply in chief cities. "Thus, the oxygen being produced in Karachi is currently being siphoned to Lahore, where the demand is relatively higher," he informed.
Published in The Express Tribune, May 16th, 2021.