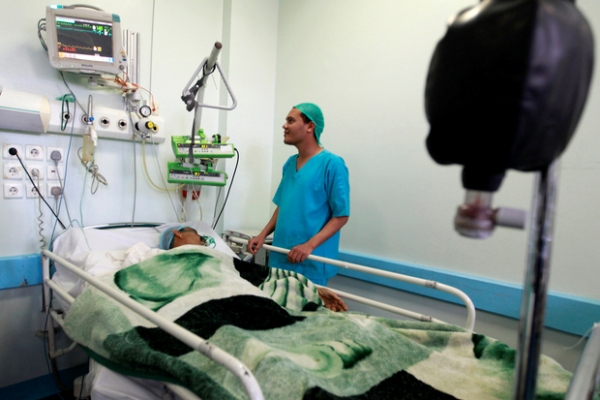 ---
PESHAWAR:
The prices of oxygen cylinders in Peshawar have gone up by Rs5,000 amid the third wave of coronavirus due to which self-quarantined patients at home are facing immense difficulties.
According to sources familiar with the matter, the skyrocketing prices of oxygen cylinders in the provincial capital of Peshawar has begun worrying the public that are demanding the PTI-led government to take action.
The price of small cylinders has gone up by Rs5,000 and the price of large cylinders by Rs6,000. In the main markets like Khyber Bazaar and Karachi Market, the price of a cylinder has increased by Rs5000 after which a cylinder which would earlier cost Rs8,000 is now being sold at Rs13,000.
Similarly, traders in other areas including Hospital Road, Tehkal and Hayatabad have also increased the price of oxygen cylinders. A large cylinder of oxygen which was earlier available at Rs17,000 is now being sold at Rs23,000 after an increase of Rs6,000.
Riaz Jamil, who has been suffering from corona, while talking to The Express Tribune said that while the whole world was giving free vaccines to Pakistan, the traders in the country are not sparing any opportunity of profiteering. He appealed the government to take action against the profiteers and control the prices of oxygen cylinders.
Dealers, on the other hand, said that oxygen cylinders are imported from China due to which prices have gone up because of taxes and duties. In the open market, where the price of cylinders has gone up, the price of oxygen has also gone up by Rs200 per cylinder. As a result, isolated patients at home are facing immense difficulties.
Published in The Express Tribune, May 12th, 2021.