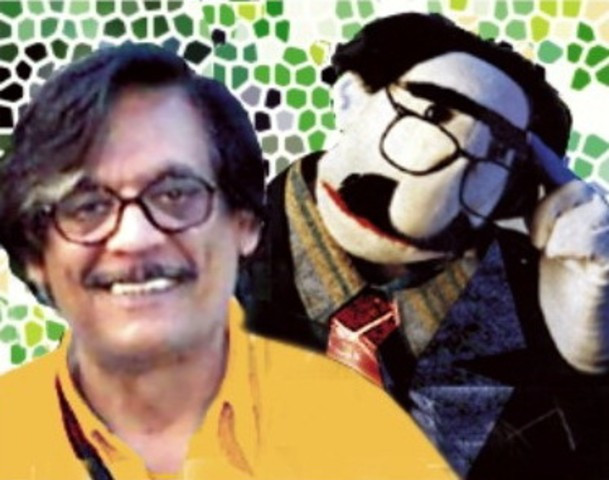 ---
Renowned artist Farooq Qaiser, who became famous for his character as "Uncle Sargam", has passed away in Islamabad after suffering a heart attack. He was 75.
The news was confirmed to Express News by his grandson Friday night. He was known as "Uncle Sargam" in the popular PTV show Kaliyan.
Uncle Sargam was a household name for Pakistani children of the 80s and 90s with his prominent puppet show Kaliyan at that time.
Condolences pour in
Prime Minister Imran Khan condoled over the demise of renowned artist and puppeteer. "He was not just a performer but would constantly raise awareness about social injustices and issues," the premier said on Twitter in his condolence message.
Expressing sadness over Qaiser's demise, the prime minister also conveyed his condolences and prayers for the bereaved family.
Saddened to learn of Farooq Qaiser's death. He was not just a performer but would constantly raise awareness about social injustices and issues. My condolences and prayers go to his family.

— Imran Khan (@ImranKhanPTI) May 14, 2021
Minister for Interior Sheikh Rashid also expressed grief over the demise of Qaisar. In his condolence message, he prayed Almighty Allah to rest the departed soul in eternal peace and grant courage to the bereaved family members to bear this irreparable loss with fortitude and equanimity.
The minister said that Qaisar was a great writer, artist as well as cartoonist.
"He was king of social satire, comedy, puppetry, and communication and his services would be remembered along in the field of journalism and media," he added.
معروف مصنف، اداکار اور فنکار فاروق قیصر کے اِنتقال پر شدید صدمہ ہوا۔ مرحوم نے پاکستان کے فن کے شعبے میں گراں قدر خدمات سرانجام دیں۔ مرحوم کو تمغہ حسن کارردگی اور تمغہ امتیاز دینا ریاست کیلئے اعزاز کی بات تھی۔
1/2

— Dr. Arif Alvi (@ArifAlvi) May 14, 2021
RIP Farooq Qaiser Sahib, A tribute by PM @ImranKhanPTI just reaffirms how big is the loss caused by the death of Farooq Qaiser, he relived centuries old craft of "PutliTamasha" and created unforgettable character of #UncleSargam ... ll always be missed https://t.co/RPdVEHIu6i

— Ch Fawad Hussain (@fawadchaudhry) May 14, 2021
Grieved to learn about the passing away of Farooq Qaiser, a legend and icon of our times. He was part & parcel of generations that grew up watching his performances. He spread smiles through his work & his services for television will be remembered for long. Rest in peace!!!

— Shehbaz Sharif (القدس في العيون) (@CMShehbaz) May 14, 2021
Extremely Saddened to learn about the loss of our Uncle Sargam! Legend Farooq Qaisar sab. He was an icon. He was in regular contact and wld always motivate me. All of us have some great memories from our childhood of such a creative person. May ALLAH bless his soul. Ameen pic.twitter.com/XIn3cOBL4a

— Senator Faisal Javed Khan (@FaisalJavedKhan) May 14, 2021
An unsung genius. Developed a puppet show for children on PTV in 1970s which evolved to became highly satirical. He created memorable characters, especially Uncle Sargam. One segment of the show was called, 'Science bari ya bhense' which mocked pseudoscience and quackery. RIP. https://t.co/ggLnZflNU9

— Nadeem Farooq Paracha (@NadeemfParacha) May 14, 2021
What a loss for Pakistan - RIP Farooq Qaiser sahib and God bless you for all the joy and laughter Uncle Sargam, Kaliyan and rest of your characters (Raula, Masi Museebatay, etc) brought to so many of us pic.twitter.com/9wskV892eU

— omar r quraishi (@omar_quraishi) May 14, 2021
I am extremely shocked & saddened by the tragic news that my dear friend the legendary Farooq Qaiser bhai is no more… I knew him for 40 yrs! We even worked together. What an enormous talent & an incredible soul. So long 'Uncle Sargam'.

إِنَّا لِلّهِ وَإِنَّـا إِلَيْهِ رَاجِعون pic.twitter.com/OYj1Vs1FkP

— Adnan Sami (@AdnanSamiLive) May 14, 2021
COMMENTS
Comments are moderated and generally will be posted if they are on-topic and not abusive.
For more information, please see our Comments FAQ