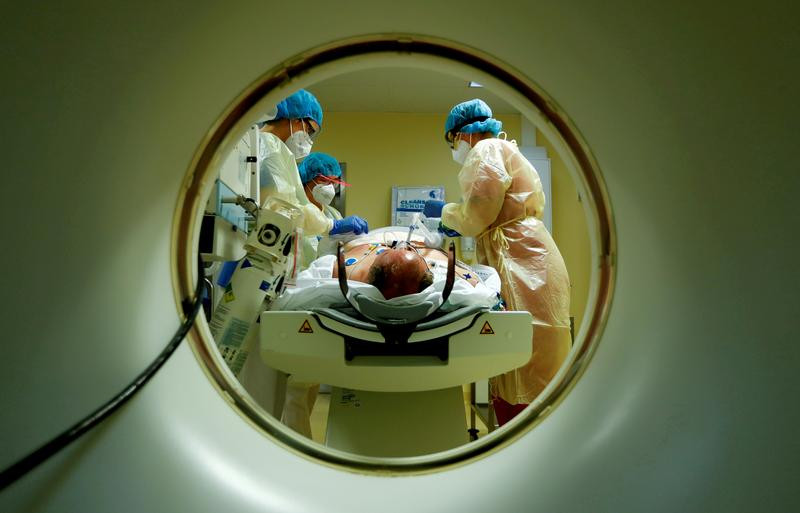 ---
KARACHI:
Patients awaiting elective surgeries are in dire straits after the government has suspended elective surgeries at public healthcare facilities.
The city's major public hospitals are filled with patients literally hanging onto life and limb.
The closure of wards is extended with every announcement of the National Command and Operation Centre (NCOC), which first suspended elective surgeries at the end of April.
Although there is a pause on surgeries, financially-strapped patients coming to the otherwise free healthcare facilities are reportedly being forced to pay for operations - despite the funding allocated for the hospitals. Even more worrying is the fact that the timeline for these surgeries remains uncertain.
The patients in the orthopaedic ward of Jinnah Postgraduate Medical Centre (JPMC) have alleged that they are being charged over Rs10,000 for the operation and then put on a waiting list. The Sindh government has allocated Rs4.71 billion for JPMC, but still the hospital management is charging fees from patients.
Even after charging for the operation and drugs, the hospital management has forced the patients to go back to their homes as the staff will be going on Eid holidays.
The situation is no different at Dr Ruth Pfau Civil Hospital and the Abbasi Shaheed Hospital.
Barring the emergency ward and the trauma centre, the staff of government hospitals has gone on Eid holidays. The beds of wards in the state-owned hospitals are lying vacant, and the few patients left behind, particularly those from far-flung areas, have no doctor or paramedic to take care of them.
Nasir Hussain, a 46-year-old carpenter, was rushed to the hospital with a dislocated knee. Doctors have advised a surgical procedure, but Nasir remains in a state of disareay as he is yet to be operated on after 22 days.
State-run hospitals to remain open during Eid holidays
"I work on daily wages at a furniture showroom. I have already paid a Rs10,000 fee at the hospital. They have told me that the remaining amount will be disbursed in the end, but they have yet to complete the second surgery," Nasir tells The Express Tribune.
A woman says that her son broke his leg in a traffic accident. "He has been admitted to the JPMC orthopaedic ward for the last three weeks, but there is no one to hear our woes," she tells The Express Tribune team during a survey of JPMC.
She says that they have paid R9,000 for surgical procedures which have been put off.
At the Abbasi Shaheed Hospital's Orthopedic Unit 2, Muhammad Humza, aged 20, lying on bed number seven, says he suffered an accident a month ago in which his thigh bone was broken.
First, they delayed the operation and about a week ago, took Humza to the operation theatre, but brought him back because of an infection which grew in the injury.
"Doctors say they will conduct the surgery after Eid," he says.
"I am a mechanic, I earn daily to survive daily. I have been without work for the past one month; the doctors just don't care if I am dead or alive," he bemoans.
Humza says he has been told that the staff will be gone for Eid and there will be no one in the hospital to take care of him.
Humza's brother Yasir says that the doctors are only giving pain killer injections. "Each injection costs Rs360 and he needs two shots in a day. This ends up being a big financial strain on a person who has been unable to work," Yasir points out.
Meanwhile, 40-year-old Fehmida, lying on bed number 29 in the female ward of the orthopaedic unit at Dr Ruth Pfau's Civil Hospital says she fractured her arm and leg while working at home around two weeks ago.
"I was brought for surgery to the Civil Hospital, but the doctors told me to come after the Eid holidays. I am in severe pain and all they are giving is pain killer injections.
If they would have done the surgery earlier, I would have been discharged by now."
There are also some patients sitting outside the ward because the hospital staff has refused to admit them and they do not know where else to go for free public healthcare.
Gulnaz, sitting with her two sons aged seven and eight, says they met with an accident in which one fractured a leg and another dislocated an elbow.
"The doctors have only tied bandages which we had provided. The hospital staff is telling me to take the children elsewhere, they will not be treated here," Gulnaz cries.
Sindh Health Minister Dr Azra Fazal Pechuho has made it clear that no government hospital is allowed to charge patients for any kind of tests, surgeries or operations. Government hospitals are designed to provide free treatment to patients, she had said.
JPMC Executive Director Dr Seemin Jamali said that on the orders of the National Command and Operations Centre (NCOC), in view of the pandemic situation, elective surgeries have been stopped in all hospitals, including JPMC. Only emergency surgeries are being conducted at public healthcare facilities.
Published in The Express Tribune, May 13th, 2021.
COMMENTS
Comments are moderated and generally will be posted if they are on-topic and not abusive.
For more information, please see our Comments FAQ