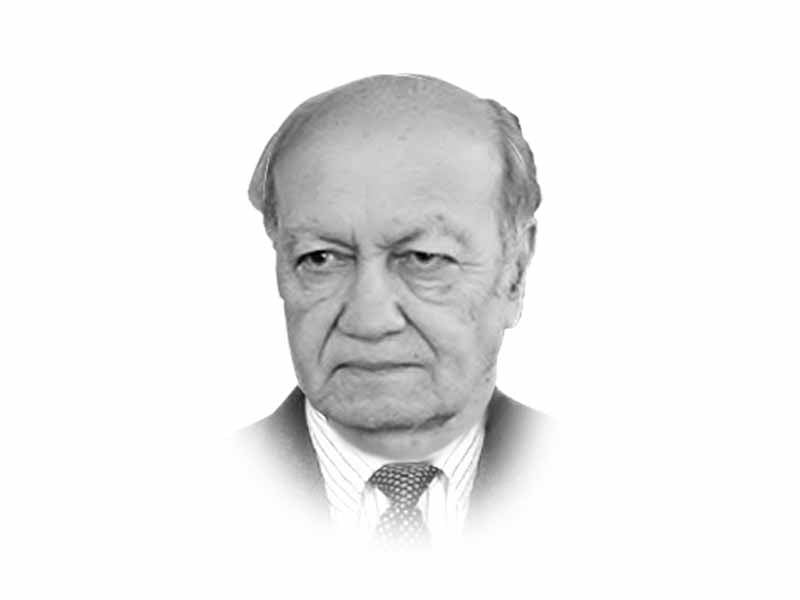 ---
The complete lack of mutual trust and failed working relationship between the PTI government and the main opposition parties is undermining our already faltering nascent democracy that has serious consequences. The government has taken the easy course to bypass legislation by arbitrarily issuing ordinances on extremely important and sensitive subjects that demand serious deliberation and consensus even when the Parliament could have been easily summoned. The latest ordinance issued was on electronic voting and inclusion of expatriates. Maybe this is the way forward but experience of other countries and our special social environment and educational standards require several safeguards to be incorporated for which serious deliberation in parliament is needed. The practice of relying on ordinances not only further weakens our fragile democracy, creates a wall of mistrust between government and opposition, and denies people the understanding of these laws.
The government's disdain for adhering to established democratic norms such as taking the opposition on board on major foreign policy, security and defence issues has serious ramifications. During the prime minister's visit to Saudi Arabia major matters were discussed and decisions taken that have long-term implications. Generally, these are welcome and should serve the interest of the country but would carry greater weight if opposition parties are also on board. In mature democracies opposition is taken into confidence or at least apprised of the salient features of important foreign visits. As of now all they know are statements issued by the Saudi government and the prime minister's office that are in public domain.
Involving the opposition becomes even more important as Prime Minister Imran Khan and Crown Prince Mohammed bin Salman have decided to give strategic direction to Pakistan-Saudi relations. Cooperation on a wider scale with political earnestness is expected to give greater leverage to both the countries in dealing with domestic and foreign policy issues and wading external pressures.
As expected of democratic governments, it would be prudent that the visit is discussed threadbare in the parliament and in the foreign relations committee so that follow-up actions are fully implemented and the cooperative spirit to which the two countries are committed is maintained. And there is continuity of policy even if there is a change in power structure.
What is rather perplexing is that the prime minister has literary become the ambassador of the Muslim countries voicing their concerns abroad and appealing to unity among their ranks. Hardly a day passes when he is not addressing the issue of Islamophobia, Palestine or Kashmir. When it comes to his own country, he appears divisive and refuses to engage with opposition parties or listening to their viewpoint.
The prime minister's compassion and welfare of the expatriate workers is laudable and a source of strength for them. Nonetheless, publicly discrediting the ambassador to Saudi Arabia and his staff on an official visit to the country was rather inappropriate. If the prime minister was dissatisfied with his working and that of his staff, he could have dealt with it either much before or after the visit and not handled it in a cavalier fashion during the visit. As the role of the ambassador and the staff is critical in handling the prime minister's visit as well as following it up. Not to mention how it would have demoralised the entire embassy staff, especially when the complaints were directed mostly toward personnel of allied departments on which the ambassador has scant control. Although it is very much possible that the embassy staff too may have on occasions behaved casually while dealing with serious issues confronting the Pakistani workforce. Generally, the visit of the prime minister is a huge morale booster for the embassy staff and Pakistani nationals residing in the country. In this event it turned out to be an anti-climax.
It is encouraging that the crown prince and the prime minister instilled a new spirit of optimism and bohemia in a relationship that had stood the test of time but recently suffered a setback. The recent statement of Saudi Arabia's foreign minister, that in view of their good relations with India they "can help everybody work towards the reduction of tensions" was good news. It would be helpful if the Organization of Islamic Countries (OIC) too works toward India-Pakistan rapprochement and presses for a fair solution of Kashmir, while highlighting the deteriorating human rights situation. This would put some pressure on Prime Minister Narendra Modi. As of now India's hostility towards Pakistan has been tempered due to the raging coronavirus and its deleterious effects on its image and the economy. This needs to be sustained in the future for a more durable political outcome.
A strong bonding of Pakistan-Saudi relations and easing of tensions between Iran and Saudi Arabia comes at a time when there is a new administration in the United States is well timed. Initial responses of President Joe Biden towards the crown prince were not very helpful. He had expressed his intention to downgrade the relationship but then realism dawned that this would not work as the crown prince effectively is in full control of the kingdom.
The move of the Biden administration to normalise relations with Iran and the current negotiations of P-5 with it to revive the nuclear agreement, with certain modifications, are matters that are being closely watched by Saudi Arabia and other Middle Eastern countries and could be an additional reason for Saudi Arabia to close ranks with Pakistan.
As Pakistan widens the scope of its regional relations for greater economic and strategic manoeuvrability it is also important to analyse as to how China would be viewing these developments. In all probability, it does not distract Pakistan's focus from CPEC and strengthens its economy; and Beijing would support it. Moreover, there is a broad consensus within Pakistan fully backed by the military that close relations with China should be the cornerstone and one of the major pillars of its foreign and security policy.
Pakistan's relevance to its closest allies and the world would essentially depend on what it has to offer to them and the values it stands for.
Published in The Express Tribune, May 12th, 2021.
Like Opinion & Editorial on Facebook, follow @ETOpEd on Twitter to receive all updates on all our daily pieces.