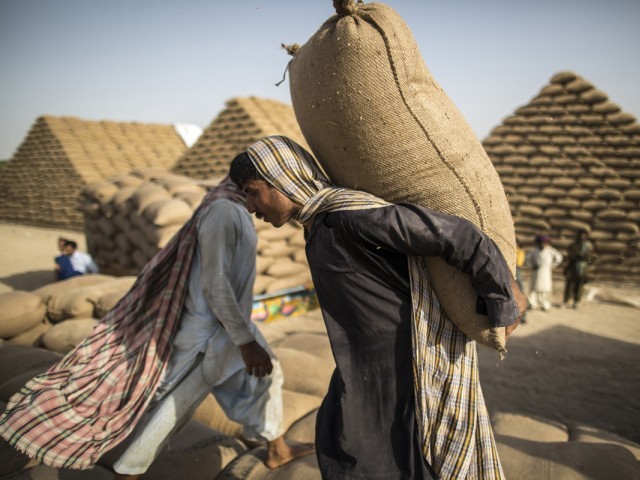 ---
KARACHI:
In order to develop an efficient irrigation system, the government should help farmers in Sindh to opt for latest technology.
"When the environment changes, the first area to get affected is the agriculture sector, which in Pakistan uses 90% of water," said Aamer Hayat Bhandara, Co-Founder of Agriculture Republic - a small farmer support network for finding innovative policy and practical solutions to national food security and climate change challenges.
READ 'Kisan card to strengthen farmers'
Out of that 90% water, 80% was used by five major crops in Pakistan which included wheat, rice, cotton, maize and sugarcane, he said.
Bhandara highlighted that Pakistan's productivity in terms of irrigation was one of the lowest in the world as a majority of the farmers used the ancient flood irrigation system. "The country's watercourse system needs a complete overhaul," he emphasised. The government of Sindh, with support of the federal government, should install a telemetry system on all the 14 offtake canals linked with barrages, suggested the Sindh Abadgar Board (SAB).
Real-time information of the flow of canals would improve governance, enhance transparency and efficiency, it said.
SAB Senior Vice President Mehmood Nawaz Shah stated that it was now believed that freshwater flow was the only water that was recharged in aquifers, wells, etc. "Therefore, focus should be on farm water efficiency."
Moreover, in addition to the World Bank's ongoing programme for drip and sprinkler irrigation, the lining of watercourses should be increased and at least 75% of 57,500 watercourses should be targeted, Shah stated.
"In addition to this, irrigation infrastructure, including gates, structures, etc is not in optimum condition, therefore new systems such as mechanically operated gates should be installed and damaged structures should be repaired," he suggested.
Sindh Chamber of Agriculture President Miran Muhammad Shah urged the Sindh government to invest in solar systems for the agriculture sector. A vast area of Sindh agricultural land was irrigated by tube wells which did not get electricity regularly from the grid due to load-shedding, he said.
Sindh being the southernmost province is affected by the polluted water coming from Balochistan and Punjab and therefore, it has affected the Indus River, which is now considered as one of the most polluted rivers in the world.
Along with the Indus River, the system linked with it like the aquifers, wells and lakes is also affected, according to SAB. The board suggested that one-window operation - where immediate approvals were given for electricity, drainage, loan and other facilities - should be initiated for the industry for storage in controlled atmosphere, fruit and vegetable processing, etc.
Published in The Express Tribune, May 11th, 2021.
Like Business on Facebook, follow @TribuneBiz on Twitter to stay informed and join in the conversation.