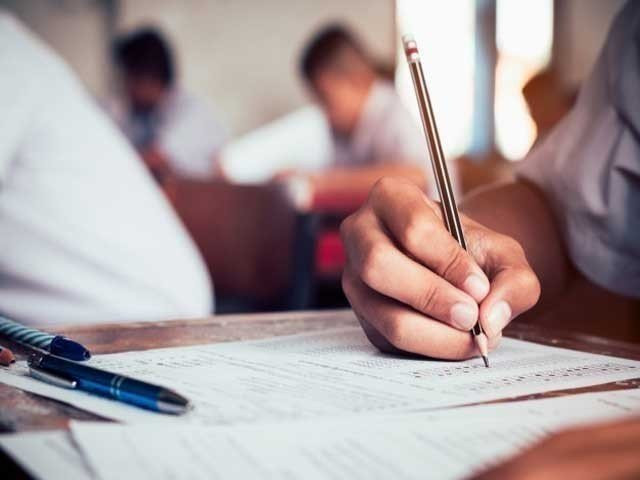 ---
KARACHI:
With enrolments surpassing over 50,000 O and A level students across various educational institutions, Pakistan remains one of the highest revenue-making countries for Cambridge Assessment International Education— the largest international examination service in the country.
In spite of that however, the Cambridge body has once again put the academic future of thousands of its associated students in jeopardy, with its decision to cancel all examinations in the region without an adequate promotion mechanism. The seemingly ad hoc decision has left the country's O level students high and dry for a second year in a row, with little option but to waste an academic year and reappear in the October/ November session of examinations.
It should be noted that the results of the Cambridge O Level examinations conducted in November are released in sometime around January. This implies that many students who might sit the suggested examinations may still not be able to take admission in colleges with sessions due to start in August/September. Moreover, some schools have already issued provisional admissions to A level students on the pretext that they will also pass their O Level exams in the next session.
With provisional admissions, students will be able to study A level courses while preparing for their O level exams. Which may although save students an academic year, but will entail twice the academic load, with aggressive schooling schedules. In regard to which, it has been proposed that A Level classes be held in the morning while O level classes in the afternoon. Where the aforementioned proposal has come from partnered schools and colleges, Cambridge Assessment International Examinations (CAIE) itself has remained entirely mum following its announcement for cancellation of May/June examinations.
Students don't want to sit in CAIE exams and no, it's not about more play time
According to the principal of an O Level School in Karachi, since the announcement of exam cancellations, students and their parents have been in constant touch with the school administration for updates. "All students are rightly worried about their academic futures. If CAIE wanted, it could ease some of this anxiety by announcing to issue O-level results based on past performances but there is yet no confirmation in the regard," the principal told.
Raising a question, another school principal said that when matriculation and entrance examinations can be delayed till July, then why it is that Cambridge (O level) exams cannot be delayed in the same manner. "Pakistani government should convince Cambridge to take special exams for the students in Pakistan, considering we are one of their biggest market," he asserted. An O level student from a Lahorebased school speaking on conditions of anonymity said that the pandemic has proven to be full of brimming anxiety for all Pakistani pupils associated with international boards.
It is worth mentioning that after the cancellation of examinations in India and Bangladesh, per reports, Cambridge is going to ask students for assess grades from schools, on the basis of which student results from said countries are to be released. It is to be noted that Federal Minister for Education Shafqat Mehmood had decided to postpone all the exams including CAIE's till June 15, via an abrupt tweet posted on April 28.
However, at the same time it was said about Cambridge that all exams, discount A Level second year, will now be held in the October/November series. However, neither the Cambridge administration nor the federal minister of education thought of laying a mechanism for the promotion of O level students.
The Express Tribune tried to reach Cambridge authorities for their comments on the matter but while the CAIE Country Director Uzma Yousaf remained avoidant of the question, board representative Shahid Ashraf maintained that CAIE, working as per orders of the education minister, will only conduct examinations for A Level second year students. However, when asked about the fate of thousands of O Level students in a quandary about promotions, no coherent response could be received.
COMMENTS
Comments are moderated and generally will be posted if they are on-topic and not abusive.
For more information, please see our Comments FAQ