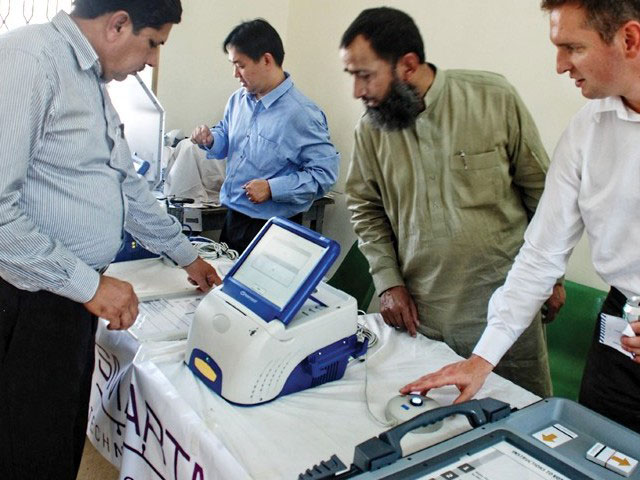 ---
ISLAMABAD:
Opposition parties on Sunday raised several objections on the government's move to give voting rights to the overseas Pakistanis through the promulgation of an ordinance, saying the incumbent regime needs to explain before the Election Commission of Pakistan (ECP) can go ahead. Two major opposition parties – Pakistan Muslim League-Nawaz (PML-N) and Pakistan Peoples Party (PPP) – have strongly objected to the stance and termed it a political point scoring stint.
Prime Minister Imran Khan has stressed the need for electoral reforms; he championed the use of electronic voting machines (EVMs) and President Dr Arif Alvi promulgated an ordinance on May 8, which aims to pave the way for the use of the voting machines and giving overseas Pakistani a right to vote in future elections. Former governor of Sindh, Mohammad Zubair, said that the government has issued the ordinance clearly showing that they want the overseas Pakistanis to become part of the electoral process, adding that "we will oppose it tooth and nail on several grounds."
ECP conveys concerns over EVMs to govt
"What is the mechanism to ensure the integrity of the vote," the ex-governor, who is a spokesperson of PML-N supremo Nawaz Sharif and his daughter, Maryam Nawaz, asked. "How will political parties reach out to overseas Pakistanis," Zubair questioned, saying that Pakistanis are spread around the globe and "do all major parties have a reach to them." Zubair asked how will the presiding officers and polling agents be appointed and will the voting be constituencywise, adding that the government needs to first explain and then the ECP has to give its consent whether it can manage the elections.
Even in the US, people are only allowed to vote from overseas in presidential elections and not for each Senate or House seat. To the government's move of giving overseas Pakistanis a right to vote through an ordinance, which will lapse after 120 days, PPP's Raza Rabbani said that it was nothing but "political point scoring". On May 8, President Alvi promulgated an ordinance to grant voting right to the overseas Pakistanis and allow the use of electronic voting machine in general elections.
Through Second Election (Amendment) Ordinance, the president amended the sections 94 (1) and 103 of the Election Act 2017. According to the amended section 103, the election commission would be responsible for the procurement of electronic voting machines for use in general elections. The federal cabinet had recently approved two ordinances that would enable the polls supervisory body to introduce EVMs in general elections and also take measures to allow the overseas Pakistanis to cast their votes. No response was received from the members of the ruling party when they were approached for comment on the matter.
COMMENTS
Comments are moderated and generally will be posted if they are on-topic and not abusive.
For more information, please see our Comments FAQ