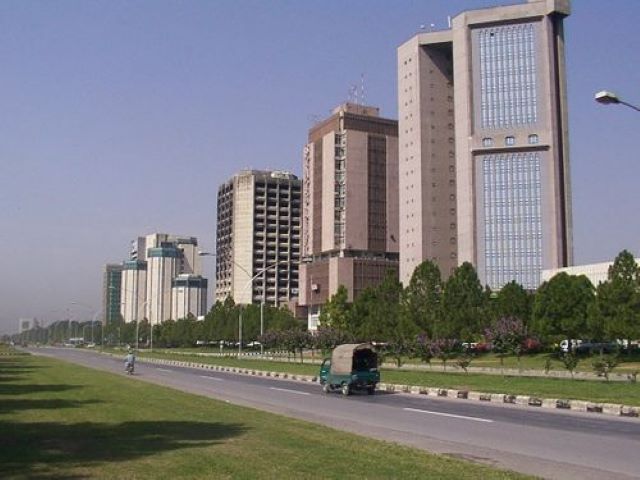 ---
ISLAMABAD:
The federal capital has gone under complete lockdown after 6pm on Friday evening. Deputy Commissioner Hamza Shafqaat said that the government has taken the move to curb the rising number of coronavirus infections in the city. Public transport was suspended after while all parks, recreational places, and commercial areas were also closed after 6 pm. The authorities will ensure that people follow the government's mandated "Stay Home, Stay Safe" policy, the he added.
Meanwhile, on the last day before lockdown restrictions, markets in Rawalpindi were flooded with shoppers on Friday while traders hiked the prices of clothes and other items in a bid to cover losses to be incurred due to the extended market closure. Commercial markets across the city, including Raja Bazaar, Moti Bazaar, Purana Qila, Jamia Masjid Road, Nankari Bazaar, Bara Market, Bohar Bazaar, China Market, Iqbal Road, Bank Road, Murree Road and Tench Bhata were flooded with buyers all day long.
A buyer complained that traders had hiked their prices to an unimaginable extent. She said that the suit of a five-year-old child which on normal days would cost Rs1200 to Rs1500 was sold at Rs5,000 while prices of women's clothing, jewellery, handbags and slippers have also been increased. Another shopper at Kashmiri Bazaar complained of excessive crowd of buyers in the market. He lamented that he had completed the journey from Murree Road to Kashmiri Bazaar in one and a half hours. Moreover, due to the rush of buyers, traffic was jammed in the areas of Raja Bazaar, Liaquat Road, China Market, College Road, Iqbal Road and Murree Road for several hours.
On the other hand, traders have appealed to the government to let bazaars operate until a day before chand raat. Meanwhile, as many as 128 cases of the novel coronavirus were reported in a span of 24 hours, lifting the toll of confirmed cases to 24,637 in Rawalpindi on Friday. The total infected cases included 22,743 from Rawalpindi and 1,894 from other districts so far.
READ K-P to go into lockdown during Eid
District Health Authority (DHA) informed that among the new cases, 42 were reported from Rawal Town, 25 from Potohar, 35 from Cantt, seven from Taxila, three from Kotli Sattian, four from Islamabad, four from Chakwal, two from Attock and one each from Kohat, Gujar Khan and Murree. "Presently, 159 coronavirus patients were admitted to various facilities with 30 at Holy Family Hospital, 26 at Benazir Bhutto Hospital, 75 at Institute of Urology, 17 at Fauji Foundation Hospital, eight at Hearts International Hospital and three at Akhtar Rukhsana Memorial hospital," the health authority report stated.
Interior minister visits HFH Interior Minister Sheikh Rashid Ahmed visited the Holy Family Hospital and checked the treatment facilities at Covid and other wards, a spokesperson said. He said Prime Minister Imran Khan would be requested to inaugurate another Covid ward while 20 ventilators have also been provided by National Command and Operation Centre (NCOC) to the facility. He added that HFH is a 1,000-bed hospital and it could be converted into a Covid ward in case of emergency.
Furthermore, the district administration has appealed to residents, especially young students, to register themselves as volunteers at the vaccination centres during this critical time of need. According to the DC office spokesperson, the residents are requested to contact Dr Danial Asim for registration at the Fatima Jinnah Women University on 0321-5150011 and Dr Shehyar at the vaccination centre at Sports Complex at Double Road on 0322-5040550.
"Volunteers will be assigned a variety of responsibilities, including computer data entry, guiding citizens to the centres, and identifying and assisting senior citizens at the vaccination centers," he added. Moreover, the vaccination process for the Rawalpindi police is underway. According to details, 350 personnel have been vaccinated in the last three days at DSP Muhammad Masood Shaheed Hospital in collaboration with the district administration. Officers above the age of 40 are eligible to be vaccinated after registration. It may be recalled that four officers of the Pindi force have died due to the deadly virus.