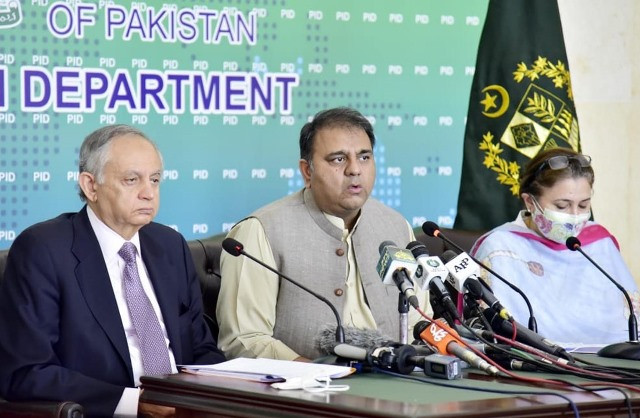 ---
ISLAMABD:
Information Minister Fawad Chaudhry on Friday backed Prime Minister Imran Khan for his criticism of the country's diplomatic staff based in foreign states and hinted at appropriate action against the responsible staffers.
Addressing the media in Islamabad along with Adviser to the Prime Minister on Commerce and Investment Abdul Razak Dawood, Fawad said there have been incidents in which Pakistani labourers have been barred from entering Pakistani embassies.
"There have been incidents wherein some staffers put rocks outside the embassies' premises to bar labourers from entering," Fawad said while addressing a news conference in Islamabad.
"Why shouldn't action be taken against them," the minister asked and added, "it is for the first time that our remittances surpassed the trade revenue, and we should value overseas Pakistanis."
The information minister further said that Prime Minister Imran Khan always appreciated the embassies for playing a vital role in repatriating Pakistanis following the Covid outbreak, but the incident in question is concerning.
On Wednesday, the premier publically castigated Pakistani missions abroad, with many diplomats lodging a strong protest with the foreign minister and foreign secretary for "scapegoating" them.
In an unusual move, PM Imran expressed his displeasure over an "indifferent attitude and unnecessary delays in routine services" by Pakistani embassies, particularly in the Middle East.
"If Pakistan's prime minister doesn't talk about this behaviour, then who will? If the government and the prime minister can't stand with the working class and the poor then what right do we have to remain in government?"
Fawad further said that this was the first time a premier had "stood with the weak instead of the powerful". He also urged Pakistan's ambassadors to maintain a close relation with overseas Pakistanis and address their complaints.
NA-249
The minister said that it was revealed during the recount of votes cast in NA-249 that several ballot bags were not sealed, while Forms 46 were also tampered with.
"We have been saying from the beginning that it is a case of a re-polls, not a recount, and it's satisfying that other parties now have the same stance.
Voting system
The information minister also criticised opposition parties for not agreeing on the electoral reforms or granting voting rights to overseas Pakistanis
"We want an electoral system that enjoys the confidence of the masses. "I urge the opposition to review their stance and put forth their suggestions on the reforms to take this process forward."
The premier's criticism stemmed from the recent incidents that took place at the Pakistani embassy in Saudi Arabia that prompted the prime minister not only to suspend the ambassador but also ordered an inquiry.
"Feedback that I have received from Saudi Arabia shows as if the staff is not working. The staff in Kuwait's Nadra [National Database Regulatory Authority] office takes bribes instead of guiding people and an official is involved in making wrong documents... I was shocked to learn all this," a disgruntled PM Imran said while virtually addressing Pakistani envoys deployed worldwide, adding that the ambassador concerned did not even make an effort to identify the official involved.
The premier said that the government received these complaints via the Pakistan Citizen Portal and a full-scale inquiry is underway over the issue.
He said that Pakistanis living in the United Arab Emirates (UAE) and Saudi Arabia give highest remittances and both embassies showed indifferent attitudes towards them. "I called you today to tell you that you need to change your attitude... Shah Ji (Foreign Minister Shah Mahmood Qureshi] you must oversee it or have someone to look into it... we have received floods of complaints that your response is dissatisfactory," he warned the envoys.
Soon after the PM's public criticism, many in the Foreign Office began to approach the foreign minister and foreign secretary to convey their strong reservations.
"I can tell you the PM's remarks have demoralised the entire foreign service," a Foreign Office official had said while requesting anonymity.
Meanwhile, FM Qureshi attempted to placate the Foreign Office officials who protested that they couldn't not be blamed for others' mistake.
COMMENTS
Comments are moderated and generally will be posted if they are on-topic and not abusive.
For more information, please see our Comments FAQ