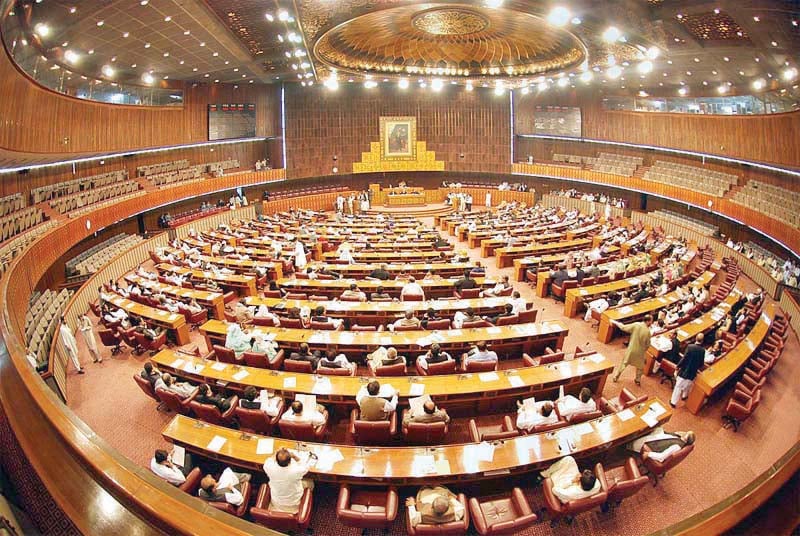 ---
ISLAMABAD:
The opposition members of the law and justice parliamentary body on Thursday expressed their concerns over the setting up of special courts to decide rape cases under a new ordinance and the procedure for appointing their judges.
The committee adjourned the matter until the next meeting, giving the law minister time to respond to the questions and objections of the opposition members.
The Standing Committee on Law and Justice of the National Assembly held a meeting, presided over by its chairman, Riaz Fatyana. The meeting discussed the Anti-Rape (Investigation and Trial) Ordinance.
The law secretary told the committee that special courts as well an anti-rape cell would be set up under the new law.
In addition, he said modern devices would be used in investigating rape cases.
"Data on sex offenders would be compiled by the NADRA [National Database and Registration Authority]," he elaborated.
"Criminal proceedings will also be initiated against anyone who files a false complaint."
The opposition members of the committee expressed their concerns over the establishment of special courts and the procedure for appointing judges.
Committee member Naveed Qamar of the PPP said the existing session courts should be empowered for this purpose.
Rana Sanaullah Khan of the PML-N, also a member, claimed that some people were unable to "digest" the independence of the judiciary.
"There are conspiracies being hatched by people sitting in different place and a 10-year package is being introduced for retired judges," he added.
"This bill [anti-rape] is malicious and it should not be passed by the committee."
Malika Bukhari, a member of the committee from the ruling PTI and the parliamentary secretary for law and justice, said the bill should be viewed from a political perspective.
"Try to reconsider your behaviour by listening to the arguments. This is a national issue," she told the opposition members.
"We have added a lot of clauses in this bill. We will notify the rules soon. This law is for [the protection of] the girls and boys of Pakistan."
Law Minister Dr Farogh Naseem told the committee that specialist judges and prosecutors were needed to deal with rape cases.
"Therefore, it is necessary to have special courts," he added. "There is no 10-year package."
The law minister requested that the matter be postponed till the next meeting so he could give detailed answers to the opposition members.
The chairman of the committee postponed the discussion until the next meeting.
Separately, President Dr Arif Alvi approved empowering sessions courts to hear rape cases until special ones were set up for this purpose.
The president made the decision after consulting with the chief justice of Pakistan.
President Alvi also approved a summary for the appointment of 13 additional judges to the Punjab High Court and two to the Balochistan High Court.
The president reduced the jail terms of prisoners not involved in heinous crimes by 90 days on the occasion of the upcoming Eidul Fitr.