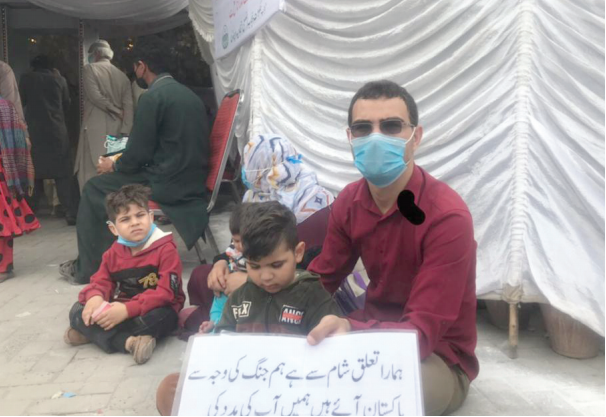 ---
ISLAMABAD:
After years of conflict Syria might have slipped from the world's todo-list, but its citizens are still pouring out of their war-ravaged homeland, struggling to reassemble their shattered lives elsewhere in the world. While refugee camps in most parts of the world are overcrowded with Syrian citizens, some of these migrants have moved on in search of a better life.
From Istanbul to Beirut, migrant families are seen selling tea in parks and serving at restaurants. But those who find no other way to survive, resort to begging for money on the streets. Holding a placard, and occasionally calling for help in English, with a heavy Arabic accent, Muhammad Al Ali, a Syrian refugee is raising many eyebrows in the heart of Islamabad, since his arrival two months ago.
The 27-year-old Syrian national from Daraa, which lies on the frontier with Jordon claims he escaped his hometown at a time when guns were blazing and hundreds were being tortured to death by men loyal to President Bashar al-Asad, Syria's beleaguered leader. Accompanied by his wife and three young sons, Ali, first moved to Turkey, and from there he traveled to Pakistan on a visit visa in March.
"We are here to seek help," he claimed. While Ali and his family are not chasing motorists and following shoppers to ask for money, they have managed to draw the attention of many around the Ramazan Bazaar at Shamsabad, where they were last spotted. "I have seen him ask for money. Never thought he was actually from Syria until I saw his passport," said Jamal Yusuf, a resident of F-8 area.
READ Beggars flock to Peshawar to rake in cash
The other side
While Ali claims he is genuinely seeking to benefit from the generosity of Pakistani people, the Syrian Embassy in the capital was quick to label him as a con artist, who makes a living by scamming people in other countries. After reviewing Ali's details, the head of the mission, who is currently in Damascus for training, confirmed that the beggar is a Syrian citizen. "We have the details, and we will address this issue once I'm back in Islamabad," the diplomat said from the Syrian capital.
As a tourist, the Syrian diplomat said, Ali cannot beg or ask for financial help in Pakistan. "It is a violation that should be considered as a crime," he cautioned. "If someone commits this crime, he should be arrested according to the law and deported immediately," the Syrian diplomat told the Express Tribune. While begging on the streets is generally frowned upon in Islam, Ali claims, he has no option. "I can't speak English and that is a basic requirement in most countries," he said.
When asked about his interaction with law enforcement officials in Islamabad, he responded: "Police officials haven't bothered us in Islamabad. Not for now. I keep them happy," he quipped.
The crisis
Even after a decade of conflict, Syria remains the world's largest refugee crisis. More than 6.6 million Syrians have been forced to flee their country since the onset of the unrest in 2011 and another 6.7 million people remain internally displaced. While most Syrian nationals have found refuge in neighboring countries, primarily Turkey, Lebanon, Jordan, Iraq, and Egypt, some like Ali have been on the move.