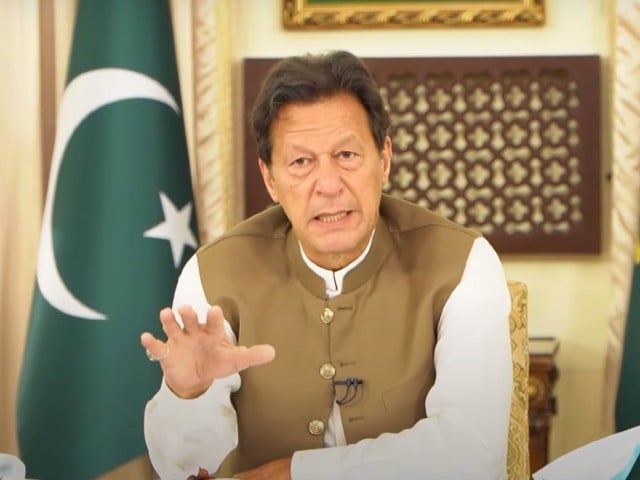 ---
ISLAMABAD:
Prime Minister Imran Khan on Sunday instructed his economic team to prepare the next budget keeping development and controlling inflation in focus. Chairing a meeting held to discuss the annual budget, the premier said besides ensuring the completion of ongoing development projects, new ones should also be designed in accordance with public requirement.
The prime minister also sought proposals from the senior party leadership for the next budget. The participants of the meeting also discussed the country's economy, a strategy to control inflation, and development projects for the next fiscal year. They were told that the next budget should be development-oriented with full attention towards the improvement of the growth ratio.
By expediting development, new projects would be launched to enhance economic activities, GDP growth and revenue collection besides creating jobs. The participants of the meeting were informed that the coronavirus pandemic had affected the economies globally. However, the economic activity was under way in Pakistan because of the government's "prudent" policies. It was noted that despite the Covid-19 outbreak, revenue collection had almost doubled in comparison with April last year.
Moreover, the prime minister was also briefed on a comprehensive strategy devised to control inflation. Federal ministers Shah Mahmood Qureshi, Pervez Khattak, Shafqat Mahmood, Asad Umar and Fawad Chaudhry, National Assembly Speaker Asad Qaiser, K-P Governor Shah Farman and Chief Minister Mahmood Khan, provincial ministers Hashim Jawan Bakht, Taimur Saleem Jhagra, and relevant senior officers attended the meeting. A day earlier, the premier had commended the efforts of the Federal Board of Revenue (FBR) that resulted in a record tax collection of Rs384 billion during the month of April.
READ Tax recoveries remain at $30m
"I commend the FBR efforts on achieving a growth of 57%," the prime minister said in a social media post while comparing the figure with the amount of tax — Rs240 billion — collected during the same month last year. The PM claimed that the current government's policies have led to a "broad-based econ[omic] revival". "During July-April, the collections reached Rs3.780 trillion, 14% higher than the same period last year," the premier added.
The provisional results for July-April showed that the FBR collected Rs143 billion more than its revised target. The collection was almost equally made at the import stage where nearly one out of every two rupees was collected. The collection was Rs460 billion higher in comparison with the same period last fiscal year. The FBR managed to exceed the sales tax and customs duty collection targets, but missed the targets of income tax and federal excise duty.
(WITH INPUT FROM APP)
COMMENTS
Comments are moderated and generally will be posted if they are on-topic and not abusive.
For more information, please see our Comments FAQ