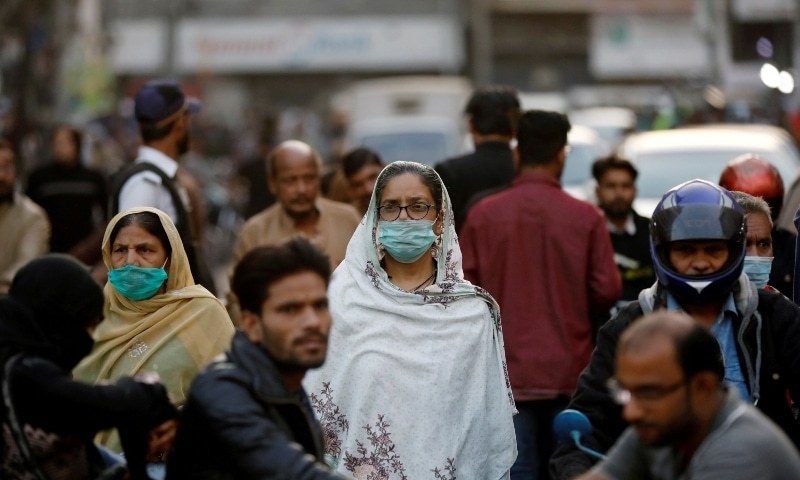 ---
QUETTA:
Quetta Deputy Commissioner Maj (retd) Aurangzeb Badini has ordered the police to arrest people not wearing masks and immediately register a case against them as well.
"Arrest those on the spot who do not wear masks and register a first information report against them," he said while addressing a press conference over the weekend with District Health Officer Quetta Dr Zaman Jamali, Colonel Ghazanfar from Frontier Corps, Additional Commissioner Revenue Saqib Khan Kakar and others.
The move comes as the third wave of coronavirus grips the country putting the lives of many at risk.
Earlier, the government had termed wearing a mask as mandatory and requested the citizens to not leave their homes without any reason.
DC Quetta added that restrictions on lockdown and inter-provincial transport will be strictly enforced and people should not take this lightly.
"103 educational institutions have been closed for violating SOPs while 41 have been issued a warning," he said. "4,800 shops have been checked for SOPs compliance. 2,250 have been sealed and 2,300 have also been issued a warning."
Watch: PM Imran pays surprise visit to inspect adherence to Covid SOPs
Badini further said that teams from the Frontier Corps, police, district administration and health department are working to implement the SOPs while two units of the Pakistan Army remain on alert in case of any emergency.
The deputy commissioner maintained that the district administration has held an important meeting regarding coronavirus in which measures regarding implementation of SOPs and possible security arrangements were reviewed.
He highlighted how the situation in India keeps turning worser and hoped that Pakistan does not fall in the same category after two months. "It is disappointing as citizens are still not ready to accept this fact."
The DC said businesses will be closed on Thursday and Friday while inter-provincial transport will be closed on Saturday and Sunday.
He added that the hospitals are on high alert and prepared to deal with any emergency situation related to Covid-19. "Police will work with FC and Army. 70,000 masks will be distributed through FC personnel at entry points after Iftar."
Badini expressed amazement over how people were still not paying attention to the fact that the situation keeps getting worse as the rate of positive cases in Quetta had reached 22.6 per cent. "Every citizen who comes out on the road has to wear a mask whether he is driving or walking."
On the occasion, DHO Quetta Dr Jamali said last month the corona spread rate was less than 3 per cent and it has drastically increased now.
"61 patients are being treated in Fatima Jinnah Hospital, Civil Hospital and others. All the beds in FJH are full," he said. "The government has set up vaccination points at 10 health centres in Quetta. Media should play a key role in raising awareness about vaccination."
Dr Jamali added that no coronavirus patient in Balochistan has been placed on a ventilator.
The government has made it possible to provide oxygen to all hospitals on a priority basis. These steps are being taken in light of the decisions taken by the National Command and Operations Centre.
Published in The Express Tribune, May 3rd, 2021.