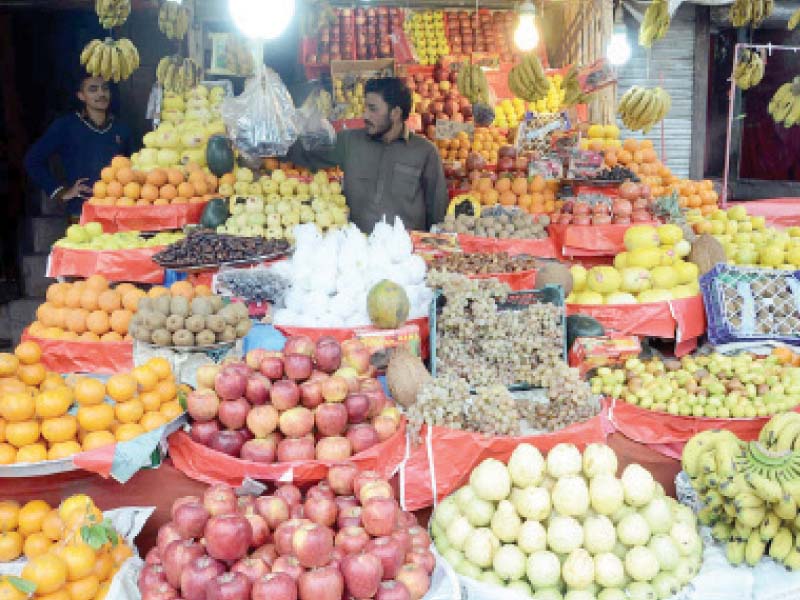 ---
ISLAMABAD:
People endured double-digit inflation in April with reading skyrocketing to over 11% on back of surge in food prices amid the Ministry of Finance's failure to give a realistic and professional assessment of the increasing prices in its monthly reports.
The Pakistan Bureau of Statistics (PBS) reported on Saturday that the Consumer Price Index jumped to 11.1% in April over the same month a year ago. It was the highest rate of inflation in past 13 months. In February 2020, inflation had jumped to 12.4%.
The 11.1% inflation rate is significantly higher than 8 to 9.5% projection given by the Ministry of Finance four days ago in its monthly bulletin. The Ministry of Finance chose to understate its projections despite officials of Ministry of Planning and Ministry of Finance anticipating around 11% inflation rate.
Read: Rising inflation worries Pakistanis: survey
Sources told The Express Tribune that the economic adviser wing of the finance ministry knew about these estimates but it still published an unrealistic figure. Even the market expectation was that the inflation would remain around 11% due to abnormally high prices of food items in Ramazan.
The PBS stated that electricity rates were 29% higher than a year ago and almost all kitchen items recorded a double-digit rise in prices, including wheat, sugar, and wheat flour.
In April, chicken prices shot up almost 100%, followed by 81% increase in prices of tomatoes, 42% eggs and wheat prices were up by 27% over a year, according to the PBS. The wheat and wheat flour prices would remain under pressure, as production has fallen short of wheat consumption by at least three million metric tons.
The cooking oil prices were higher by 19%, sugar 18% and wheat flour 17% in April, according to the PBS.
The PBS reported that there was a significant increase in inflation in both rural areas and the cities. The inflation rate in urban areas increased to 11% in April and in rural areas to 11.3%.
Food inflation also rose more in urban centres than in the villages. In cities, it increased from 11.5% to 15.7% - a jump of 4.2% within a month, according to the PBS. In rural areas, it jumped from 11.1% to 14.1% - a surge of 3% within a month.
Core inflation - calculated by excluding food and energy items - also increased to 7% in urban areas in April - the highest ratio in past one year, the PBS said.
The State Bank of Pakistan (SBP) has been targeting the headline inflation to set its policy rate. In the last monetary policy statement, the central bank indicated no change in the policy rate.
Under the new SBP Amendment Bill 2021, the central bank wants to pursue price stability as its primary objective but there is no definition of price stability in the proposed law nor are any punitive measures suggested in case of failing to achieve the goal.
This week Finance Minister Shaukat Tareen chaired a meeting to review the price calculation methodology by the PBS. He instructed to include prices rates of utility stories and sasta bazaars in the basket, which may not give a holistic picture as these bazaars cater to a very limited population.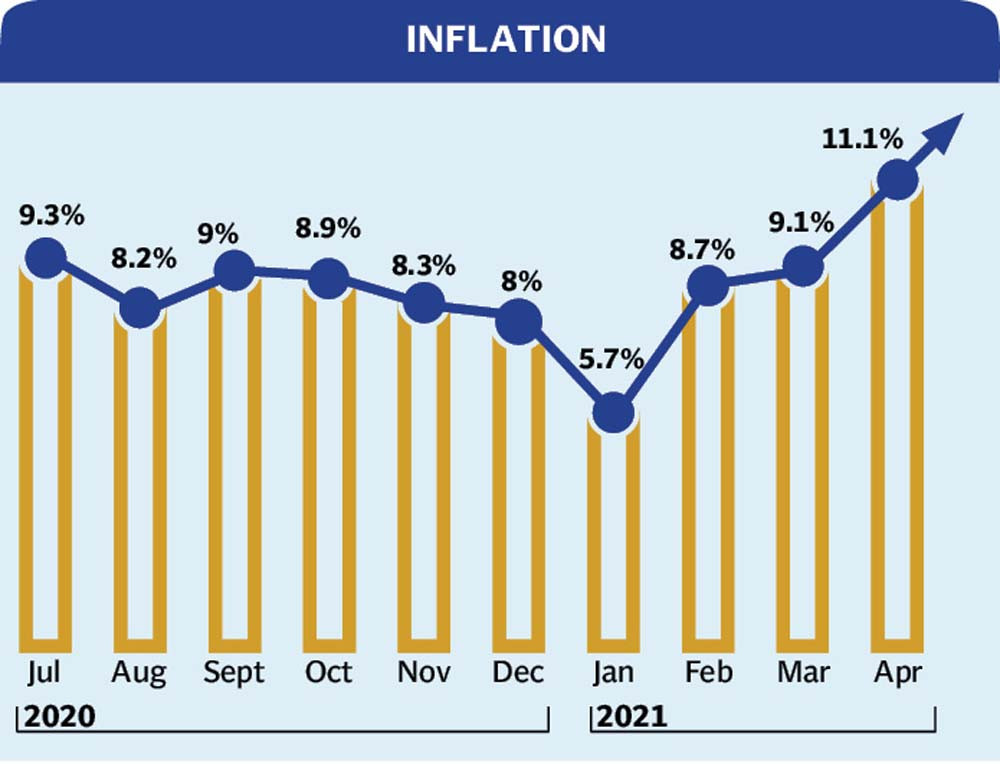 The inflation index comprises of 12 major groups with food and non-alcoholic beverages having maximum weight of 34.6% in the basket. The food group saw a price increase of 15.9% in April from over a year ago. Within the food group, prices of non-perishable food items rose 17% on an annualised basis.
The inflation rate for the housing, water, electricity, gas and fuel group - having one-fourth weight in the basket - increased to 9.7% last month.
Read more: Controlling inflation top priority: finance minister
The clothing and footwear group average prices also rose 11.9% in April. The cost of footwear shot up nearly 16% last month as compared to the same period of the previous year.
The average inflation rate for July-April period of the current fiscal year came in at 8.6%, according to the PBS.
The International Financial Institutions have projected 9% inflation rate for Pakistan this year, which they see slowing down to 7% in the next financial year.
The Wholesale Price Index (WPI), which captures prices at the wholesale, also sharply rose to 16.6% in April over a year ago. Usually, the retail market prices reach to wholesale prices level in four to six months, indicating that the prices will remain high in near term in Pakistan.
Published in The Express Tribune, May 2nd, 2021.
Like Business on Facebook, follow @TribuneBiz on Twitter to stay informed and join in the conversation.
COMMENTS
Comments are moderated and generally will be posted if they are on-topic and not abusive.
For more information, please see our Comments FAQ