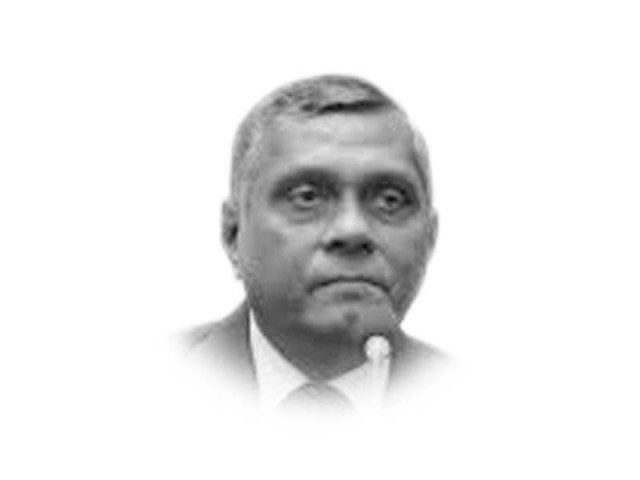 ---
"America is ready for take-off. We are working again, dreaming again, discovering again, leading the world again," said American President Joseph Biden during his address before a joint session of Congress on April 29.
It is said that Rome was not built in a day. To expect positive transformation of America in 100 days of Biden-Kamala administration after four years of polarisation caused during the era of President Donald Trump is a wishful thinking. But President Biden has been quite ambitious and optimistic in listing achievements of his administration during 100 days after assuming power.
Very few times in the modern US history did a new American administration face such grave challenges as of President Joseph Biden. More than half a million Americans perished because of lethal pandemic crisis causing loss of trillions of dollars and massive unemployment. Racial violence which gripped the US after the cold-blooded murder of Afro-American George Floyd last year is a bane in American society and the Biden-Kamala administration considers it a singular threat to the survival of United States in coming years. Declining power of the United States at the global level notwithstanding its huge defence expenditures of $770 billion is an issue which President Joseph Biden has inherited from previous administrations but he is determined to turn around America and enable it to play a leadership role in global affairs.
Unlike Pakistan and many Third World countries where it is habitual for the incumbents to blame their predecessors of past failures, the Biden administration is not accusing President Donald Trump of the mess which one can see in America today. Now when the 'honeymoon' period is over and American people are expecting the Biden-Kamala administration to start delivering, at least in four areas, President Biden and his team in the first 100 days in White House is able to set the ball rolling. First, President Biden has assured American people that Covid-19 will drastically diminish by the US Independence Day celebrated on July 4. It is yet to be seen how legitimate is Biden's confidence and assurance about controlling pandemic crisis in around three months? If he declares victory against pandemic what is the surety that the virus will not strike again. He gives the reason on his assurance that as of now 200 million Americans have been vaccinated and by July 5 the remaining population of 100 million will be vaccinated.
In his 100 days in power to cover 200 million people by giving both doses of vaccine is a great achievement and needs to be appreciated. It is another thing if after reaching the threshold of curbing coronavirus, public safety measures like wearing mask and maintaining other SOPs are not maintained one can expect the resurgence of virus as it has happened in case of India today. Second, during 100 days, the Biden-Kamala administration was swift in compensating American people for their losses caused during pandemic by approving 1.9 trillion dollars of stimulus programme from the House of Representatives. Known as the 'American Rescue Plan Act 2021' the stimulus programme will provide $1,400 to most of American people and their dependents including unemployment aid, direct payments, tax credit expansions, vaccine distribution funds and state and local government relief, among a range of other provisions. Knowing that last year also around $2 trillion of rescue plan to help out American people who lost their jobs and businesses because of pandemic, pressure on the US economy needs to be handled by enhancing economic growth rate and creating massive employment opportunities.
When most Americans will be vaccinated in coming weeks, it will help in diminishing the state of virus and opening up the US economy. During election campaign, Joseph Biden and Kamala Harris created several policy advisory groups on critical issues ranging from economy, race relations, climate change and foreign policy challenges. Now, such groups in the first 100 days of President Biden have started delivering. Third, according to The New York Times of April 15, 2021, the Biden administration began unveiling its $2 trillion programme to rebuild infrastructure and reshape the economy. On April 14, President Biden disclosed his ambitious infrastructure proposal which has four major points like: $115 billion to repair and rebuild bridges, highways and roads; $100 billion to expand high-speed broadband across the entire country; $100 billion to upgrade and build new schools; and $100 billion to expand and improve power lines and spur a shift to clean energy. If Biden's $2 trillion programme is through with the Congress it will have enormous impact on America economy and will create hundreds of thousands of jobs. From where the money will come to finance $2 trillion of infrastructure plan depends on raising taxes from affluent Americans; reducing tax cuts and slashing defence expenditures.
Third, the curse of American society is racial polarisation and the gun culture. There isn't much which the Badin-Kamala administration can do to eradicate racial tension which is reflected in periodic killing of Afro-Americans by police on what they allege violating laws. In case of gun culture which is found in frequent use of fire arms in different American cities and towns resulting in the killings and injuries, President Biden has limitations because the National Rifle Association justifies keeping weapons sanctioned by the second constitutional amendment. Both race relations and gun culture reflect the mindset of ultra-right wing groups as they release their hatred against non-white communities ranging from Afro-American to Asian-Americans by targeting them. On both issues, President Biden tried to mobilise public opinion during his first 100 days in office but it will take plenty of time to eradicate racial biases and violent characteristics which are reflected in gun culture.
Fault-lines in American society were reflected on January 6 this year when under the instigation and patronage of President Donald Trump his supporters stormed the building of Capital Hill and besieged members of House. Such a stigma on the US will take years to be removed because what happened on January 6 in Washington DC can happen again. Finally, in the realm of foreign policy, one can find a marked difference in 100 days of the Biden-Kamala administration because of shift from unilateralism to multilateralism and America's return to WHO, Paris climate change treaty, lifting of travel ban imposed by the Trump administration on some Muslim countries.
According to The Economist (London) issue of April 24, "As Mr. Biden nears the 100-day mark of his administration, the moment at which the American establishment likes to take the measure of a new president, the pattern emerging in his foreign policy differentiates if not only from that of his immediate predecessor, Mr. Trump, but also from that of Mr. Obama, whom he served as vice-president. Almost 100 days in, President Biden has shown that he can make a hard decision, as he did on Afghanistan. He has many more ahead of him as he seeks to strike not just a theoretical balance but actual compromises between an idealist's hopes and realist's expectations." If Biden wants to take the world with America and not without, he needs to make bold decisions like focusing on soft rather than hard power and not take U-turns on policy matters.
Published in The Express Tribune, May 2nd, 2021.
Like Opinion & Editorial on Facebook, follow @ETOpEd on Twitter to receive all updates on all our daily pieces.
COMMENTS
Comments are moderated and generally will be posted if they are on-topic and not abusive.
For more information, please see our Comments FAQ