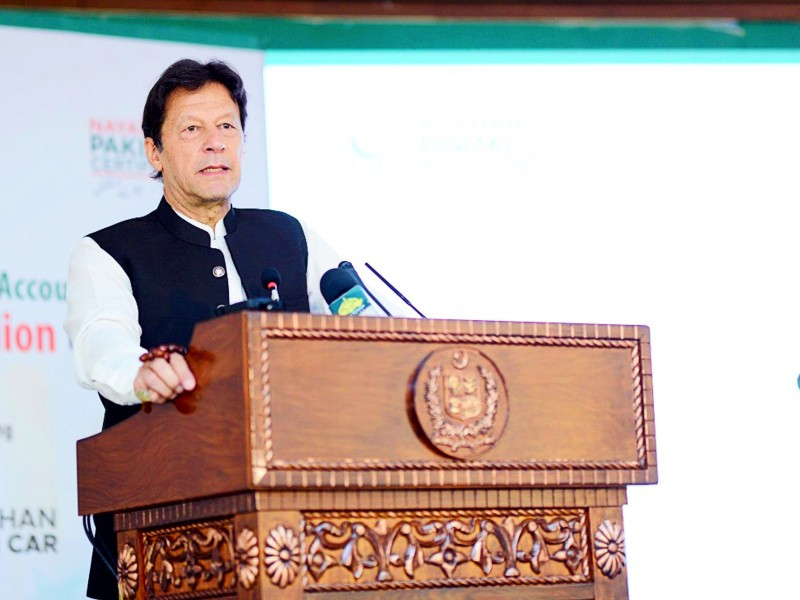 ---
ISLAMABAD:
Prime Minister Imran Khan on Thursday denied the "baseless" claims made recently by a former Federal Investigation Agency (FIA) chief that he was instructed by the premier and two of his aides to start a probe against Supreme Court's Justice Qazi Faez Isa.
"This is a baseless allegation. I never told him [ex-FIA director general Bashir Memon] to file a case or launch an inquiry against Justice Isa," the premier told a group of TV hosts in Islamabad.
"I only told him to investigate the iqama case against PML-N leader Khawaja Asif," he added.
The decision to probe into the case against the PML-N leader was made during a federal cabinet meeting, PM Imran maintained.
He added that he had instructed Memon to investigate whether or not Asif was in possession of a UAE resident permit and withdrawing salary from foreign sources.
Read more: PM Imran voted 'personality of the week' for highlighting Islamophobia
Talking to the host of a private news channel on April 27, the ex-FIA chief whipped up a political storm by claiming that the premier as well as Law Minister Dr Farogh Naseem and Adviser to the PM on Accountability Mirza Shahzad Akbar had asked him to start an investigation against the SC judge – a request that he squarely rejected.
Both the premier's aides have already refuted Memon's allegations. In fact, Akbar has even served a legal notice to Memon for "his lies and slanderous accusations".
PM Imran further said Memon only briefed him on the progress of a joint investigation team's probe into the affairs of the Omni Group.
"It wasn't even his [Memon's] job to file the reference," he added.
The premier also denied having instructed Memon to file a terrorism case against PML-N's Maryam Nawaz for sharing a picture of his wife on social media.
He added that he had neither directed the former FIA DG to file cases against the PML-N and the PPP.
The premier further said he had recently assured a group of PTI lawmakers that no injustice would be meted out to estranged party leader Jahangir Tareen.
In the interview, Memon claimed that he was called to the PM's Office for a meeting where the premier told him that he was "a very good officer" who had been registering "good cases" in the past and that he should "take courage" and register a good case this time as well.
"At that time, I was not aware of the nature of the case and whom I was supposed to proceed against," he added.
Memon claimed that it was at Akbar's office that it was revealed to him that he is to proceed against Justice Isa.
The FIA former chief also claimed that he later visited Dr Naseem's office as well. "He [Naseem] also told me that a case should be filed against Justice Isa and asked me to play a role," he added.
Memon said he tried to convince them that what he was being asked to do was not possible as Justice Isa was a Supreme Court judge. The former FIA officer alleged that Dr Farogh wanted to proceed against Justice Isa on the grounds of money laundering.
"They said it was my mandate. My opinion was that the SJC [Supreme Judicial Council] could do this, or it could ask us to proceed, but the FIA could not do this at the government's request," he added.
Dr Naseem and Akbar also denied Memon's claims.
"I completely refute [the] baseless allegations levelled by Bashir Memon," Dr Naseem said in a series of posts on Twitter. "I have never discussed any issue regarding Justice Qazi Faez Isa with Bashir Memon.
The minister said Akbar, Memon and Azam Khan, the PM's secretary, never came to his office together. He claimed that Azam Khan had only come to his office only once to discuss legal reforms.
"Prime Minister Imran Khan, Azam Khan or Shahzad Akbar have never ever stated to me that they have discussed anything with Bashir Memon about Justice Isa," the law minister said.
The PM's aide on accountability was also quick in responding to the interview.
"Just seen absolute rubbish uttered by Bashir Memon... He was never called for any meeting with the PM or myself on the QFI [Qazi Faez Isa] issue, and there was no meeting with the law minister and him as he claims. Similarly he was never told to start any case against any specific individual," Akbar said.
He said the only case that the federal cabinet had referred to the FIA was that of sedition.
Akbar later also posted the copy of the legal notice of Rs50, 00,00,000 that he has served on the FIA former DG "for his lies and slanderous accusations with mala fide and without any evidence".
"I firmly believe in the rule of law and he [Memon] shall be answerable before a court of law for his slander," he added.