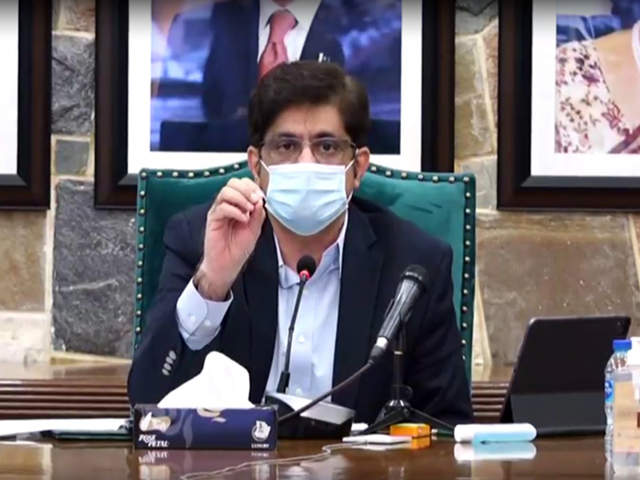 ---
KARACHI:
The number of new cases of Covid-19 in Sindh continued to rise this week, as the positivity ratio in the province hit 7% on Friday amid the ongoing third wave of the coronavirus pandemic.
During a meeting of the province's Covid-19 task force, presided by Sindh Chief Minister Murad Ali Shah, the attendees were informed that current positivity has been recorded at 10.75% in Karachi, 20% in Hyderabad, 9.48% in Sukkur and around 2.79% in other districts from between April 22 to 28.
Addressing the meeting, CM Murad lamented the current situation and pressed for the need for stricter measures to contain the spread of the virus.
He directed IG police, DG Rangers and the Karachi commissioner to ensure businesses only operate during the allowed hours – 6am to 6pm.
Read: Sindh sees over 1,000 new Covid-19 cases
Shah also formed a committee comprising of provincial ministers Nasir Shah, Saeed Ghani and Owais Shah to enforce measures after taking traders and transporters into confidence.
"In order to prevent lockdown, the public will have to comply with the SOPs and government's directives," the chief minister maintained.
CM Murad was informed that a few private offices are not complying with the SOPs and not reducing staff to 20% as per instructions. He then directed the Karachi commissioner to seal all such private offices.
The meeting was further informed that inter-district bus transport will be banned starting tomorrow (Friday). The chief minister also directed to ensure strict compliance with inter-city bus transport.
Provincial health minister Dr Azra Pechuho also briefed the meeting and said at least 101 patients have died since April 21 from Covid-19.
She added that around 50% of the ICU beds were occupied across the province. The health minister further said that around 454 ventilators remain free for future use in medical facilities and out of 1,872 beds with oxygen, 343 were occupied while 1,529 remain vacant.
Read more: Sindh okays army deployment for Covid SOPs' implementation
The minister also revealed that there is no shortage of oxygen In the province. The chief minister directed the health department to supervise the facilities of all the hospitals on a daily basis.
The spokesperson for the chief minister, Abdul Rasheed Channa, said Karachi East district reported 24% cases on average for the week, while district south reported 12% cases, central reported 9% and Korangi and Malir district reported 5% each.
He also added that police staff is being inoculated on an urgent basis, from four centres set up for the police, on the directives of CM Sindh.
Police personnel will be inoculated from 9am to 4pm, with services available all week except Friday, the spokesperson said.
COMMENTS
Comments are moderated and generally will be posted if they are on-topic and not abusive.
For more information, please see our Comments FAQ