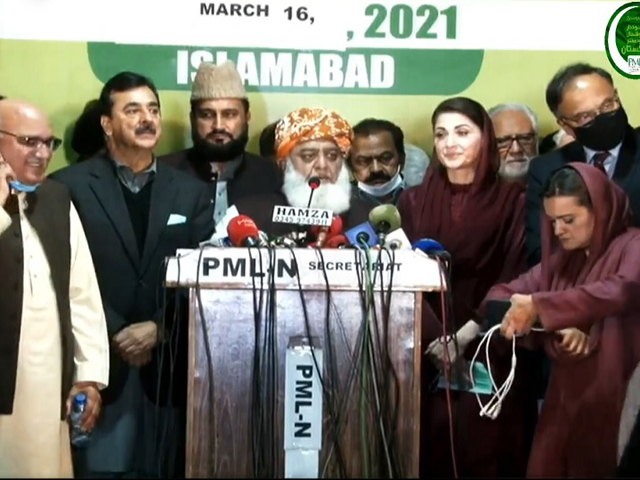 ---
LAHORE:
The PML-N has adopted the stance that until the PPP and ANP clarify their stance on seeking help from the BAP – an allied party of the ruling PTI – during the Senate polls, alliance with both the parties on the PDM platform is not possible.
Serious differences emerged between the PPP and the PML-N when the former appointed Yusuf Raza Gilani as the leader of the opposition in Senate, apparently, in violation of what had earlier been agreed upon in a PDM meeting.
The turmoil between the two deepened when PDM issued an "explanation letter" to the PPP and the ANP and when five opposition parties formed a separate bloc of 27 opposition senators in Senate.
Resultantly, the PPP and the ANP parted ways with the PDM by submitting their leaders' resignations from all posts of the 10-party anti-government alliance which was formed in September 2020 to oust the government and curtail the role of the establishment in politics.
On Wednesday, sources said that a confidant of PPP co-chairman Asif Ali Zardari – Senator Qayyum Soomro – had met PDM chief Maulana Fazlur Rehman thrice in the last three days.
Both discussed the future of the PDM and the differences between the PPP and the PML-N.
Fazl said PML-N had adopted a hard stance that unless the PPP implements the PDM's decision and apologize on seeking help from the BAP, its return to the opposition alliance was not possible.
Sources said PPP had asked the PDM chief to move forward after accepting Gilani as the opposition leader but the PML-N and JUI-F did not agree to it.
It is further said that the PPP and ANP have still not responded to the "explanation letter" and that there had been no direct contact between the PML-N and PPP.
COMMENTS
Comments are moderated and generally will be posted if they are on-topic and not abusive.
For more information, please see our Comments FAQ