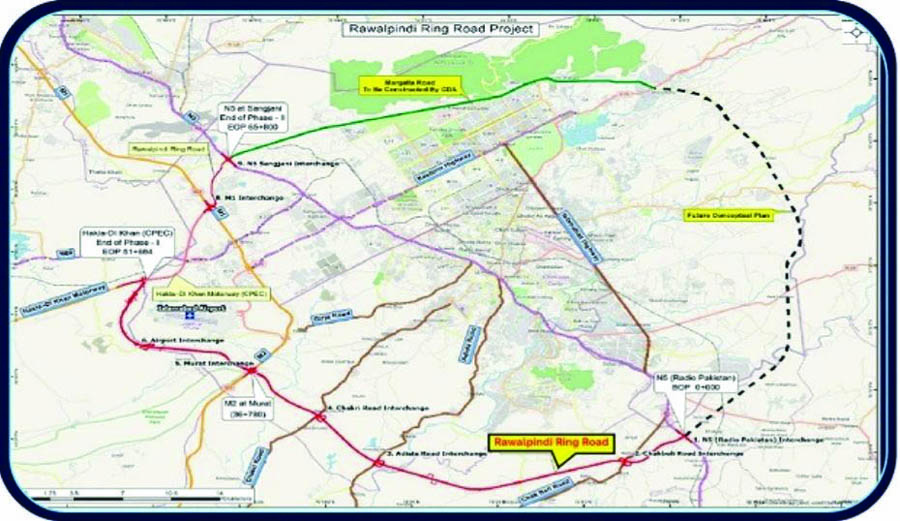 ---
RAWALPINDI:
A fact-finding inquiry committee has been formed to look into the changes in the alignment of the Rawalpindi Ring Road project which will submit its report in 10 days. However, the matter has halted progress on the project and the release of tenders has been delayed as well.
Punjab Chief Secretary Jawad Rafique Malik had formed a fact-finding committee comprising Rawalpindi commissioner, additional commissioner and deputy commissioner.
The committee will investigate alleged changes in the alignment of Ring Road by including Paswal Zig Zag and Attock loop in the route to benefit private parties, publication of advertisement about attachment with China Pakistan Economic Corridor (CPEC) route without the approval of National Highway Authority (NHA), alleged corruption and conflict of interest involving ex-commissioner, ex-Rawalpindi Development Authority (RDA) director general (DG) and other officials.
The committee will also inspect the project's engineering procurement construction plan operation and different aspects of finance maintenance.
The inquiry committee would also give recommendations in light of the facts revealed during the investigation.
Two months ago, the government had announced opening doors for foreign investment in 10 industrial, education and health zones part of the Rawalpindi Ring Road. The foreign ministry and board of investment have already given their approval.
The foreign investment in 10 industrial zones in the Ring Road project would be done under a public-private partnership, confirmed Rawalpindi Development Authority (RDA) Chairman Tariq Murtaza while talking to The Express Tribune in March.
He had said Singaporean firm Subarana was conducting a study to prepare easy and explicit guidelines for foreign investment.
The RDA chairman had added that international tenders for this purpose had been issued while prequalification of local and international firms along with technical and financial working would be completed by April 12.
Published in The Express Tribune, April 29th, 2021.
COMMENTS
Comments are moderated and generally will be posted if they are on-topic and not abusive.
For more information, please see our Comments FAQ