 ---
Not too long ago, actor Sarah Khan had to be hospitalised due to an unknown ailment, as revealed by her husband, Falak Shabbir. Two days later, Shabbir shared an illustration of a woman carrying a baby and her husband thinking about it. Falak did not elaborate on why he shared what he shared, but many speculated the couple was expecting their first child.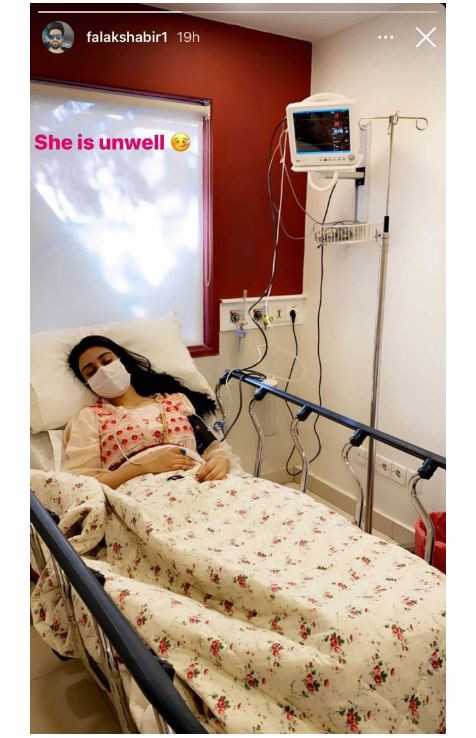 The rumours were later confirmed in a rather subtle manner by Khan, who then posted a photo of a rose Shabbir may have given her, along with a follow up photo of a Quranic Ayat narrating the phenomenon of birth.
Now, in an interview with the BBC, Khan has detailed why she was hospitalised, how she and Shabbir got married, and why it is – in fact – imperative for them to display affection online.
"I actually fell really sick, and people thought I was in Turkey when that happened but I was shooting for my latest project in Pakistan. I had severe migraine, typhoid, along with two, three other things. So everything happened at once but I loved the way people reacted, their concern was a blessing for me," Khan told the outlet.
Courtesy of social media, because of which private information does not remain private for too long, the host asked Khan if she is bothered by this quick traveling of information she may have not sent out, or might have little control over. "One thing, which I am certain about, is people can only see what we want them to see. What we show, will be talked about, then we can't say that that is wrong," asserted Khan.
About her marriage with Shabbir, and how it came to happen, Khan relayed that it was a match made in traditional Pakistani households like any other. "We hadn't met much before; and on the backstage of Bridal Couture Week in Lahore, where I was with my sisters, he proposed me. I told him straight away that I am not interested, we ignored it" recalled the Raqs e Bismil actor. "Then he spoke to my father," she added, "after that whatever happened was my father's decision, because who can choose for us better than our parents can?" she remarked rhetorically.
As for sharing cheesy photos every now and then, Khan explained "While we were getting married, we shared everything online. We want to share all our happy moments with our fans. We often highlight the negativities of men on social media. But I want to show people that some men are also like Falak, who love their wives unconditionally. I also want people to see that this is how men should behave with their wives. Even if he gives me a single flower – which may mean nothing to anyone – I want to post about it."
Following this, the host asked Khan about the versatility of characters she has essayed onscreen, and how she felt while playing Miraal, her empowered character from Raqs e Bismil. "After doing Miraal I felt, THIS is what women are really like; women who know what they want from life, women who are strong and unhinged."
But about the abuses that are hurled at actors for portraying negative characters onscreen – which many would qualify Miraal as – Khan said that she is okay with people confusing actors' real-life personas for their onscreen personas because that means they played the characters well.
"What is even the point if I'm not hated afterwards? That would mean my acting wasn't convincing enough. When I play a negative character I want people to say bad things about it so I feel good," claimed the celebrity.
Have something to add to the story? Share it in the comments below.
COMMENTS
Comments are moderated and generally will be posted if they are on-topic and not abusive.
For more information, please see our Comments FAQ